Enter your ZIP Code
to get insurance quotes in your area
Car Insurance Massachusetts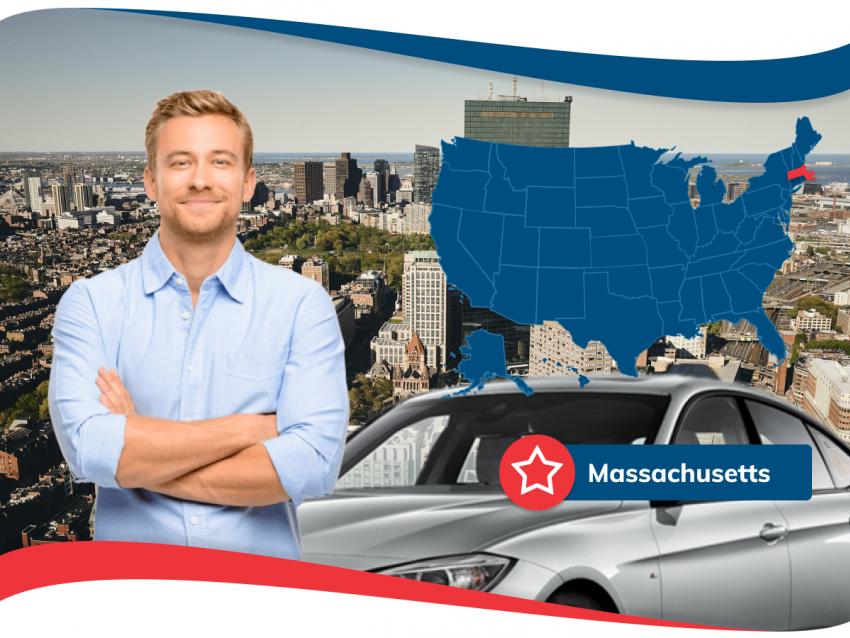 The Benefits of Car Insurance in Massachusetts are Massive
Boston built the first subway in the United States in 1897, but the main source of transportation is still the automobile. It will be this way for a really long time. The state is also home to the first public park (Boston Common, in 1634) and the first college in North America (Harvard, 1636).
If you are getting car insurance for the first time here in this wonderful state, or are just looking for new and better rates, our free quote we are happy to help. The best auto insurance rates are here! When it comes to your first car insurance company experience or first move into the state, knowledge is one thing that helps you make the best decision possible. Here is some great information the help increases what you know about auto coverage when it comes to car insurance in Massachusetts.
The Minimum Limits for Auto Insurance in Massachusetts
Massachusetts, as a state, has car insurance requirements for drivers. In order to be driving legally in the state, these requirements must be maintained. When you have car insurance, you help keep the community protected, including yourself. Good drivers often receive discounts, so taking care to be safe is a great way to get the cheapest insurance rate possible.
The minimum insurance coverage requirements for car insurance in Massachusetts are as follows:
Bodily Injury Coverage: $20,000 per person
Bodily Injury Coverage: $40,000 per accident
Personal Injury Protection (PIP): $8,000 per person in an accident
Uninsured Motorist Coverage: $20,000 per person
Uninsured Motorist Coverage: $40,000 per accident
Property Damage Coverage: $5,000 per accident
While PIP coverage will cover injuries to both you and your passengers in case of an accident, you can still be considered at fault for car accidents in the state.
The first time you register your vehicle in the state, you will need to provide proof of insurance through your insurance company (using the Application for Registration and Title, RMV-1). This then gets turned in (by you) to the Massachusetts Registry of Motor Vehicles (RMV). After the first time, the form used is the RMV-2 form.
Other Options for Additional Car Insurance Coverage
Looking into the benefits of increasing the amount of coverage on your auto insurance policy is a great idea. There are plenty of options when it comes to protecting your financial assets, property, passengers, and yourself when it comes to traffic accidents.
Additional coverage can include:
Collision – If your car is damaged in a traffic accident, collision helps cover the costs.
Comprehensive – If your car is damaged or stolen in other situations, comprehensive coverage helps cover the costs.
Rental – If you need a replacement vehicle while your car is in for repairs, rental helps cover the costs.
Towing and labor – If your car needs to be moved to an auto shop for repairs, towing and labor helps to cover the costs.
Most of the time, if you are leasing or financing your vehicle you will be required by the leasing or financing company to have both collision coverage and comprehensive coverage. The same goes for drivers that take out a car loan.
The Massachusetts Safe Driver Insurance Plan
The Massachusetts Safe Driver Insurance Plan (SDIP) it a program that looks to decrease traffic accidents. It does this by requiring that unsafe drivers pay higher rates, while safe drivers receive discounts on their insurance premium. The SDIP affects both your liability coverage and your collision coverage. SDIP also increases rates for new drivers, because of their lack of experience. Additionally, you can get surcharge points for certain traffic violations and accidents.
These surcharge points may be allotted to you are in an accident that you are at fault in or if your insurance pays more than $1,000 on a claim. They can also be issued if you are convicted of a traffic violation, pay a fine for a traffic violation, or are assigned to an alcohol education program as a result of a DUI conviction.
You can also receive discounts of varying levels for meeting safe driver requirements. These discounts can be up to 17% if you qualify for the best level (Credit Code 99)
In some situations, you can get a reduction in your surcharge points. This makes your auto insurance premium lower. Keep in mind that your auto insurance company does not need to follow the Safe Driver Discount guidelines, but they do have to have a merit-based driver rating system. Ask your car insurance company what their guidelines are.
| Rating Factor | $ Savings | % Savings |
| --- | --- | --- |
| No Traffic Tickets | $290 | 20.12% |
| No Accidents | $810 | 41.31% |
| Good Credit | $0 | 0.00% |
Final Word
When it comes to auto insurance premiums, there is a lot of variation between companies. For cheap car insurance, it is important to get the best information and do your research. Luckily, we have done a lot to make your search hassle-free. We offer a free quote that can help you get great car insurance in Massachusetts. Get the best car insurance premiums by contacting us today.
| Rank | City | Avg. Annual Premium |
| --- | --- | --- |
| 1 | Brockton | $2,437 |
| 2 | Revere | $2,365 |
| 3 | Lynn | $2,160 |
| 4 | Malden | $2,149 |
| 5 | Springfield | $2,019 |
| 6 | Lawrence | $1,983 |
| 7 | Worcester | $1,864 |
| 8 | Fall River | $1,850 |
| 9 | New Bedford | $1,833 |
| 10 | Medford | $1,779 |
| 11 | Boston | $1,766 |
| 12 | Quincy | $1,764 |
| 13 | Somerville | $1,723 |
| 14 | Lowell | $1,654 |
| 15 | Peabody | $1,650 |
| 16 | Weymouth | $1,649 |
| 17 | Taunton | $1,625 |
| 18 | Chicopee | $1,593 |
| 19 | Cambridge | $1,579 |
| 20 | Brookline | $1,570 |
| 21 | Framingham | $1,552 |
| 22 | Haverhill | $1,531 |
| 23 | Newton | $1,502 |
| 24 | Waltham | $1,492 |