Enter your ZIP Code
to get insurance quotes in your area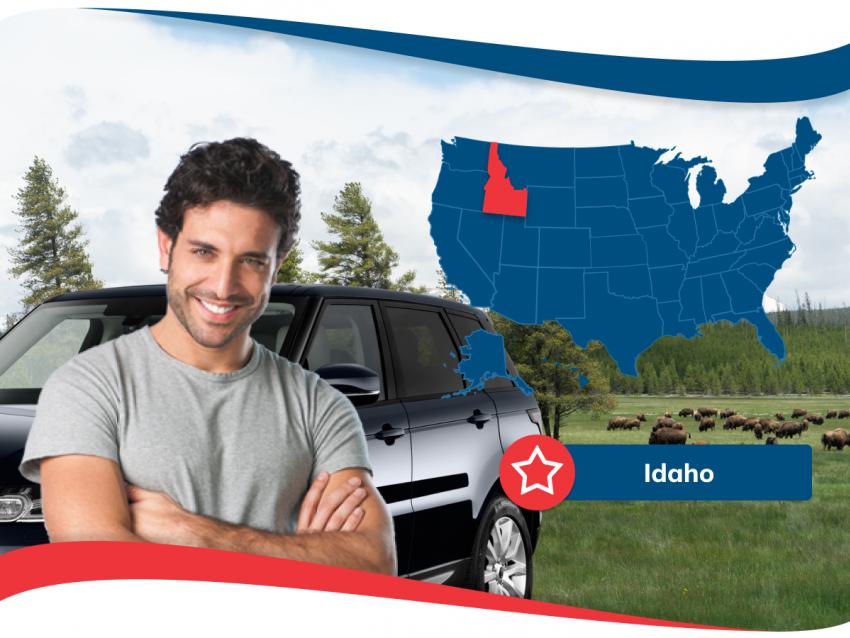 Car Insurance Idaho
In the state of Idaho, every vehicle operator is required to have at least the minimum amount of basic liability insurance on their vehicle. There are also a number of other options to add additional auto insurance to protect you and your vehicle in case an auto accident occurs. Insurance providers often charge varying rates, but for your auto insurance decisions, we can help you get the best rates Idaho has to offer, rates that are lower than you would otherwise get.
Auto Insurance Requirements in Idaho
Driving without insurance can be a costly endeavor, but low-cost insurance can help not only protect you and your family but also meet the following minimums for insurance and avoid penalties and fees. Legally speaking, it is required by law that you have liability coverage so you can pay injuries and damages if you are found at fault in an accident. The minimums listed below are the lowest amounts of coverage you can have in Idaho state:
$25,000 for bodily injury coverage to 1 person in a single accident
$50,000 for total bodily injury coverage to 2 or more people in a single accident.
$15,000 for property damage
Uninsured/Underinsured Motorist coverage is provided by auto insurance companies in Idaho as part of your liability policy. If another driver has no insurance (or insurance that does not meet requirements), this helps you pay for the costs that are incurred. This can be opted out of in writing and sent to your insurance agent. As far as liability coverage is concerned, you must have auto insurance coverage at the same minimums as your liability coverage.
Additional Coverage Options in Idaho
Additional coverage for car insurance in Idaho that is recommended in many situations, but not required by law include:
Collision – This is insurance that helps pay for the cost of damages sustained to your vehicle through accidents involving cars or other objects.
Comprehensive – This is insurance that helps pay for the cost of damages sustained to your vehicle by a number of external factors, such as theft and vandalism.
Medical payments – This is insurance that helps pay for medical or funeral costs to you and/or your passengers if there is an accident (regardless of who is at fault)
Equipment – This goes towards any custom equipment that was damaged in an accident.
Rental Reimbursement – This covers a rental car while your car is being repaired.
Towing – This helps cover the cost of towing your car to where it will be repaired.
Determining Fault in Accidents
An important thing to know about car insurance in Idaho is that it has a fault system in which more than one person can be deemed at fault for an accident. The state of Idaho has a comparative negligence law that allows for multiple "degrees" of fault. Damages are awarded if you are found to be less at fault than the other drivers involved in the accident. That said, damages can be reduced by the percent you are deemed at fault. If you are deemed 40% at fault, your settlement can be reduced by 40%.
High Risk Drivers in Idaho
Like in many other states, people with poor driving records or that have a history of filing many claims can be put into a high-risk category by Idaho insurance companies. For drivers who are not able to find an auto insurance policy on the open market, there is the Idaho Automobile Insurance Plan. You can apply with any licensed agent for this plan, but keep in mind that they generally cost a lot more. The cheapest auto insurance plans are found in the regular market, you can save a lot of money by driving safely. This makes it a great idea to research all other options before applying in the Idaho Automobile Insurance Plan.
| Rating Factor | Annual Rate | % Increase |
| --- | --- | --- |
| At-Fault Accident | $1,484 | 31.01% |
| DUI | $1,566 | 34.64% |
| Speeding Violation | $1,269 | 19.35% |
| Bad Credit | $1,934 | 47.07% |
Penalties and Fines
When you register your vehicle with the state of Idaho, if you let your insurance lapse and are driving without any insurance you can receive both fined and penalties. The first offense will only cost $75, but they escalate after that with the second and subsequent offenses carrying fines of up to $1,000. A requirement to provide an SR-22 form (proof of financial responsibility) or up to six months of jail time are also penalties that can be applied to people that have multiple offenses. An SR-22 form can also be required for offenses other than driving without car insurance coverage.
Other Auto Insurance Information
Idaho car insurance companies often provide discounts things such as anti-theft devices, good driving record, the policy being paid in full, good students and for transferring provider. There are other possible discounts available as well, so be sure to ask your insurance company which discounts they provide and how those discounts could affect your auto insurance rate.
Idaho also has the Idaho Department of Insurance which assists drivers that have questions, need help, or want to lodge a complaint against their insurance company. They do this through their Consumer Affairs Section. If you are unsure if your complaint or need applies to their department you can call them any time.
Find the cheapest coverage that fit your needs with our free car insurance quote. We can help you get all the information and rates you need to find the best car insurance in Idaho. The best insurance rates Idaho has to offer are right here!
| Rank | City | Avg. Annual Premium |
| --- | --- | --- |
| 1 | Moscow | $1,210 |
| 2 | Lewiston | $1,201 |
| 3 | Blackfoot | $1,190 |
| 4 | Ammon | $1,174 |
| 5 | Idaho Falls | $1,165 |
| 6 | Rexburg | $1,160 |
| 7 | Pocatello | $1,146 |
| 8 | Chubbuck | $1,142 |
| 9 | Burley | $1,134 |
| 10 | Hayden | $1,133 |
| 11 | Jerome | $1,119 |
| 12 | Twin Falls | $1,117 |
| 13 | Caldwell | $1,117 |
| 14 | Nampa | $1,111 |
| 15 | Coeur d'Alene | $1,098 |
| 16 | Hailey | $1,091 |
| 17 | Eagle | $1,078 |
| 18 | Kuna | $1,074 |
| 19 | Mountain Home | $1,064 |
| 20 | Post Falls | $1,063 |
| 21 | Payette | $1,062 |
| 22 | Boise | $1,044 |
| 23 | Meridian | $1,040 |