Enter your ZIP Code
to get insurance quotes in your area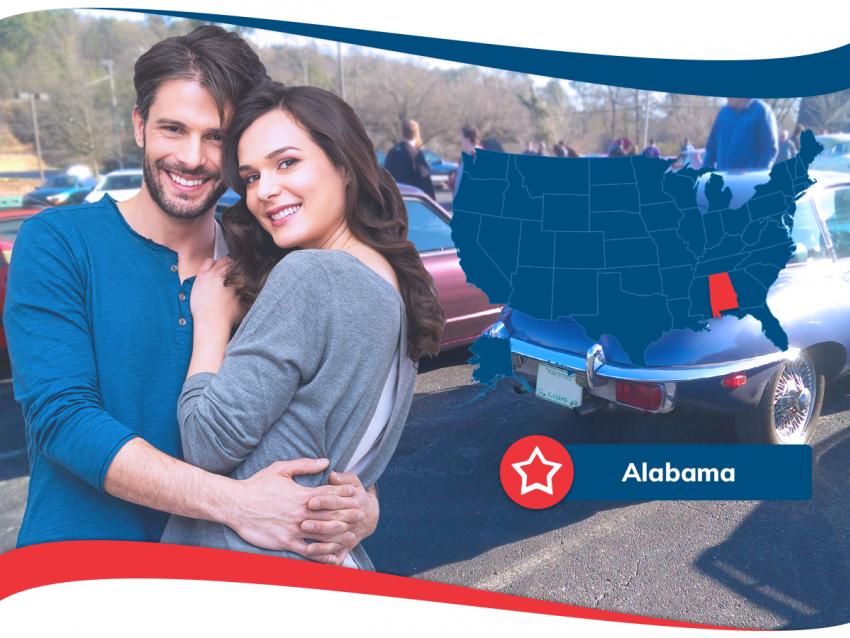 Find the best quote for all your auto insurance needs
If your "Sweet Home" is Alabama you want to feel protected and safe when it comes to your safety and your vehicle.
Looking for car insurance in Alabama doesn't have to be a headache. Whether you are a new driver looking to insure your first car or a seasoned driver looking for better rates, we have something for you. You can now find the cheapest options fast and easy online from the comfort of your home. Car insurance Alabama is here for you with a variety of options to protect you and your vehicle. Get a fast quote with the best rates for your Car insurance Alabama needs.
It is important to understand your coverage options and what is required in the state of Alabama to insure your vehicle. You also have additional options that you can include to protect you in case of an accident in which you or another driver are at fault.
Under Alabama insurance laws, you are required to provide documentary proof of Financial Responsibility when registering your vehicle or at the request of law enforcement officials. Insurance companies are required to notify the Alabama Department of Insurance Commissioner whenever a policy is issued, is canceled or is logged as a non-renew.
Car Insurance Requirements in Alabama
Every state has their own car insurance coverage requirements. Alabama requires basic liability coverage to register and operate a vehicle. You must have at least the following required minimum auto insurance coverage and limits to meet the basic liability requirement. Basic Liability Coverage consists of bodily injury liability coverage of $25,000 or more per person and $50,000 per incident. The state of Alabama also requires liability coverage of at least $25,000 per person. This is the minimum required liability coverage for the state of Alabama, but there are additional options available to further protect you and your car. To understand what this basic coverage insures and what you can do to further protect yourself in case of an accident learn more below.
$25,000 bodily injury per person

$50,000 bodily injury per accident

$25,000 property damage per accident
Understanding basic liability coverage
The basic liability coverage required in Alabama will protect you if you are at fault for an accident by covering any repair costs to vehicles or 3rd party medical bills that may arise in relation to an auto accident. You can include additional insurance coverage to further protect you and others who could be involved in an accident.
Comprehensive Coverage
Beyond the basic liability coverage, motorists should include comprehensive coverage. This will ensure that your vehicle repairs and rental car costs are covered in the event of an accident. The comprehensive coverage will also protect you in the case of theft, windshield damage, fire or vandalism.
Uninsured Motorist Coverage
Because so many motorists drive without insurance or with only basic liability coverage the best option is to include the uninsured coverage in your policy. Alabama has a high rate of uninsured motorists so you want to protect yourself. This coverage will protect you after an accident, regardless of the other driver's insurance status. The state of Alabama does not require uninsured motorist coverage, but the additional peace of mind that comes with knowing that you and your vehicle are protected in any collision regardless of the other driver's status.
You can get a personalized Alabama car insurance quote online in minutes. We provide affordable car insurance rates for all coverage options for all Alabama motorists on our site.
How much does car insurance cost in Alabama cities?
| Rank | City | Avg. Annual Premium |
| --- | --- | --- |
| 1 | Birmingham | $1,648 |
| 2 | Bessemer | $1,617 |
| 3 | Hoover | $1,596 |
| 4 | Mobile | $1,592 |
| 5 | Homewood | $1,547 |
| 6 | Phenix City | $1,531 |
| 7 | Prichard | $1,527 |
| 8 | Northport | $1,499 |
| 9 | Montgomery | $1,488 |
| 10 | Tuscaloosa | $1,479 |
| 11 | Prattville | $1,463 |
| 12 | Gadsden | $1,456 |
| 13 | Alabaster | $1,443 |
| 14 | Huntsville | $1,431 |
| 15 | Daphne | $1,395 |
| 16 | Anniston | $1,391 |
| 17 | Madison | $1,386 |
| 18 | Opelika | $1,383 |
| 19 | Athens | $1,359 |
| 20 | Auburn | $1,354 |
| 21 | Decatur | $1,348 |
| 22 | Dothan | $1,346 |
| 23 | Florence | $1,325 |
| 24 | Enterprise | $1,292 |