Enter your ZIP Code
to get insurance quotes in your area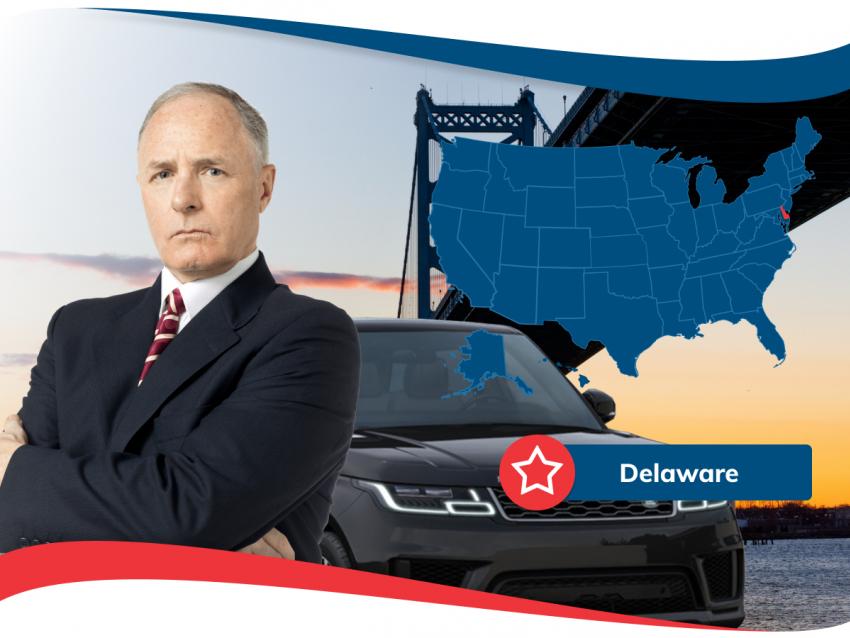 Overview
Getting on the road fast after buying a new car or starting your search for car insurance in Delaware does not need to be filled with frustration. The state has insurance premiums that are well above the national average, but finding the best rates is easy with our convenient (and free) quotes. We can help get you the best insurance rates in Delaware, as the confidence that your insurance will meet the minimum requirements for motorist coverage in the state.
Any time you drive in the state, you are required to have valid auto insurance, make sure that before you get into a car to drive you are covered. The best insurance premiums for car insurance are here, so get your free quote today!
Insurance Requirements in Delaware
In regard to car insurance in Delaware, your auto insurance is required to meet certain minimums. If you have any questions about what insurance coverage you need, here are the minimum coverage limits.
Drivers in Delaware are required to have the following state minimum requirements in their auto insurance policy:
Bodily Injury - $15,000 per person and $30,000 per accident
Property Damage - $10,000 per accident
Personal Injury Protection (PIP) - $15,000 per person and $30,000 per accident*
Delaware drivers are often given the option for Uninsured/Underinsured Motorist Coverage. This optional insurance helps to protect you if an accident involving you and another motorist that doesn't meet the requirements put forth by Delaware. This coverage can be rejected (in writing) in the state of Delaware, as can Uninsured Motorist Property Damage Coverage.
Remember, many people choose to get higher levels of car insurance to protect themselves and their vehicle in case of an auto accident.
*PIP covers your medical expenses and other costs related to them if you are injured in an automobile accident. It covers medical expenses from injuries suffered in the accident, wages lost due to missed work, and household help to do tasks you could do on your own before you were injured in the accident.
Penalties and Fines for Lack of Car Insurance in Delaware
Without the minimum liability insurance required by law in Delaware, people driving are breaking the law. The penalties in Delaware can get expensive fast, so make sure you get the insurance coverage. Our agents can help move the process along and get the best rate. The penalties for not having insurance can include a maximum fine of $1,500 for the first offense and up to $3,000 for the second offense. Additional penalties that can occur up to six months of driver's license suspension.
Any lapse of insurance is reported to the Delaware Division of Motor Vehicles (DMV) by your insurance provider. It is required to surrender your license plate to the DMV before you cancel your insurance (for any reason) on vehicles that are registered as active. The plates are returned for no charge if new or renewed insurance is provided and the registration has not yet expired.
Other Notable Laws
Portable electronic devices such as cell phones, laptops, and gaming systems are not allowed under law to be used in Delaware while driving. This includes the sending or receiving of text messages and e-mail, and also the use of the internet while driving. The penalty for not adhering to this law results in a $106 fine on the first offense, with a greater penalty for later offenses.
In addition, for drivers that have been convicted of a more serious auto violation or have been involved in a serious accident while not having insurance, there is an FR-19 insurance document that may be required by law. This document certifies your auto insurance has been continuous since the verification date and that your auto insurance is current.
Teen Drivers in Delaware
Teens in the state can get a learner's permit at age 16. They must meet the age requirement, complete a written exam, and show proof of being enrolled in a driver's education program. The next step is a restricted license, which allows them to drive during restricted hours and with only one passenger (not counting family members) in the car with them. This converts to a Class D (full) license after the completion of one year of proper driving.
| Age | Annual Rate with Parents | Annual Rate Alone |
| --- | --- | --- |
| 16 | $7,311 | $8,357 |
| 17 | $7,065 | $7,094 |
| 18 | $7,188 | $6,232 |
| 19 | $5,943 | $4,276 |
Get a Free Quote
Save money and save time as well, while still getting the cheapest insurance premiums for your car insurance in Delaware. We are the number one option for your auto insurance policy needs and are standing by to service your call. Shopping for insurance is never a one-time thing, so even if you are already insured we would love to help you find a better car insurance rate. It's what we do!
| Rank | City | Avg. Annual Premium |
| --- | --- | --- |
| 1 | Elsmere | $2,255 |
| 2 | Edgemoor | $2,223 |
| 3 | Bear | $2,156 |
| 4 | Wilmington | $2,153 |
| 5 | Brookside | $2,100 |
| 6 | Hockessin | $2,014 |
| 7 | Claymont | $1,999 |
| 8 | Newark | $1,976 |
| 9 | Pike Creek | $1,941 |
| 10 | Middletown | $1,906 |
| 11 | Smyrna | $1,791 |
| 12 | Dover | $1,678 |
| 13 | Camden | $1,656 |
| 14 | Seaford | $1,600 |
| 15 | Georgetown | $1,600 |
| 16 | Laurel | $1,578 |
| 17 | Milford | $1,574 |
| 18 | Harrington | $1,573 |