Enter your ZIP Code
to get insurance quotes in your area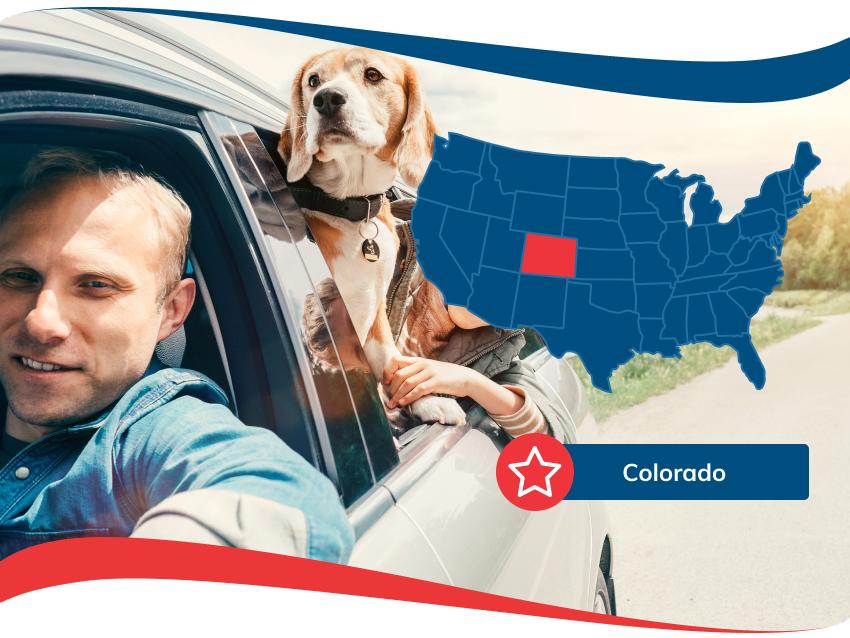 Overview
Colorado is known for its seasonal wonders and beautiful landscapes. If you are fortunate to live in the state, there are plenty of roads that feature natural beauty to drive down. Whether taking your trip to work or to spend time in nature, the protection that your auto insurance policy provides is a must. Get your free insurance quote to make sure you have a car insurance policy with the protection you need. Learn more about car insurance in Colorado below, in addition to state laws and requirements you may want to be aware of so when you apply you have the right plan for you.
Having a valid insurance policy is a requirement in Colorado, and penalties for not being insured can be pretty large. People with no proof of car insurance in Colorado can face monetary penalties of up to $500. In addition, your driver's license can be suspended or you can receive community service. Getting the best insurance rates can help you save even more money and time. Whether you are in for holiday, living in the state, or attending school at Colorado State University or any of the state's other fine institutions, make sure to have the protection you need and are aware of state laws.
Insurance Requirements in Colorado
If you are driving in the state there are minimum requirements needed for insurance.
Colorado drivers are required to have the following minimum limits:
Bodily Injury - $25,000 per person and $50,000 per accident
Property Damage - $15,000 per accident
Colorado drivers are also required to have the following minimum limits, but these ones can be rejected by signing an option form:
Uninsured Motorist Coverage - $25,000 per person and $50,000 per accident
Medical Payments - $5,000 per accident
There are even more insurance policies that can help you have even better protection for yourself and your vehicles. Our agent can help you get the best insurance for you at the best car insurance premiums.
In addition, proof of insurance must be presented to register your vehicle (if needed) at the Colorado Division of Motor Vehicles (DMV).
Optional Car Insurance Coverage
In addition to the minimum liability insurance that is required for each driver with car insurance in Colorado, there are a number of other optional insurances available. These include collision coverage, comprehensive coverage, medical payment coverage, as well as others. Often if you are financing a vehicle, the lender requires drivers to have comprehensive and collision coverage.
If You Do Not Have Insurance
There are penalties and fines for not having the minimum car insurance requirements in Colorado. These include a minimum of a $500 fine and four points on your driver's license. It can also cause your driver's license to be suspended. In some cases, community service is given for violations.
Getting a Driver's License for Your Teen
Teens can get their driver's license when they turn 16 in the State of Colorado, they can take a course starting at age 15 to get their learners permit.
Requirements for Ski Racks
There are height requirements for both the height of vehicles and the visibility that drivers must have when driving in Colorado. Failure to comply with these rules means that you may get pulled over. Take care that there is no obstruction of vision before you begin driving. This includes equipment that is fastened to your vehicles, such as skis and snowboards. It also means that the rear and side view mirrors need to have full visibility, so make sure they are all checked. In addition, vehicles (including anything attached) have a height limit of 13 feet. Any violation of these rules may result in penalties or fines.
When Shopping for Auto Insurance in Colorado
The biggest variable in the cost of car insurance premiums is due to the variables car insurance companies use. This can create a wide range of prices, make sure to contact us for a free and hassle-free quote.
High Risk Drivers
If you have had specific traffic violations you may be considered a "high-risk driver" and Colorado insurance companies may choose not to insure you. Colorado has a program called the Western Association of Automobile Insurance Plans (WAAIP) that can help. Policies through WAAIP have higher rates, so it is better to shop around first.
Insurance Fraud
Contact the National Association of Insurance Commissioners (NAIC) to file a claim if you suspect an individual or business or insurance fraud. They will then submit your report to the proper state agency through an online fraud reporting system.
The Best Rates
We are here providing the cheapest quotes for your auto insurance needs. Not only do you save money, but the quote is free. When you apply, we can help you save, make sure you get visit us to get the top insurance rates for liability insurance, comprehensive coverage insurance, collision coverage and more.
| Rank | City | Avg. Annual Premium |
| --- | --- | --- |
| 1 | Pueblo | $2,183 |
| 2 | Aurora | $2,009 |
| 3 | Lakewood | $2,008 |
| 4 | Denver | $1,949 |
| 5 | Colorado Springs | $1,903 |
| 6 | Commerce City | $1,842 |
| 7 | Security-Widefield | $1,831 |
| 8 | Northglenn | $1,779 |
| 9 | Centennial | $1,759 |
| 10 | Parker | $1,748 |
| 11 | Arvada | $1,742 |
| 12 | Littleton | $1,702 |
| 13 | Castle Rock | $1,680 |
| 14 | Highlands Ranch | $1,679 |
| 15 | Brighton | $1,674 |
| 16 | Greeley | $1,634 |
| 17 | Boulder | $1,631 |
| 18 | Broomfield | $1,620 |
| 19 | Longmont | $1,587 |
| 20 | Fort Collins | $1,536 |
| 21 | Loveland | $1,471 |
| 22 | Grand Junction | $1,392 |