Enter your ZIP Code
to get insurance quotes in your area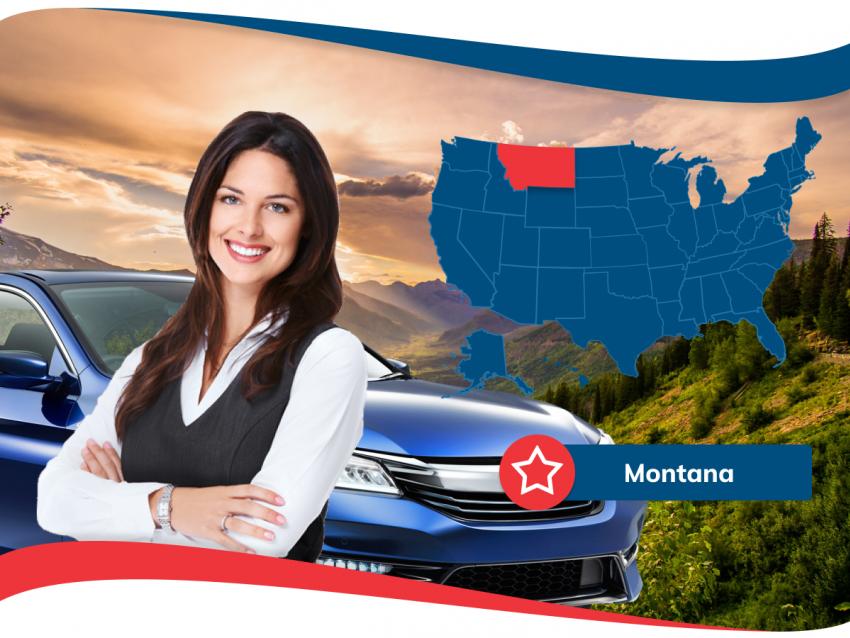 The Car Insurance Montana Loves can be Yours
Home of the largest migratory elk herd in the nation, Montana boasts an average of 1.4 elk, 1.4 pronghorn antelope, and 3.3 deer. Home to a number of wondrous nature areas, there is a lot to see in Montana. There are risks of automobile accidents in Montana as well, but with the proper auto insurance policy, you and your family and friends will be covered. Our free quote is a great start to finding the car insurance in Montana that fits your needs.
Minimum Auto Insurance Required by Montana
In Montana, liability insurance is a requirement of the law. Liability insurance is insurance that helps costs stemming from auto accidents that you are at fault for. Many states have legal minimum limits for insurance. In Montana these minimum limits are as follows:
$25,000 for bodily injury per person
$50,000 for total bodily injury per accident involving multiple people
$20,000 for total property damage
Car Insurance that is Optional in Montana
To be safe, many people get additional coverage over the minimums for car insurance in Montana to help cover additional expenses that can come if involved in an auto accident. These include, but are not limited to:
Collision Coverage – Accidents can be expensive, collision helps cover the costs associated with damages to your vehicle if you are involved in an accident.
Comprehensive Coverage – Sometimes other non-collision events are costly as well. Comprehensive coverage helps in a number of these situations. Those elk we mentioned earlier, as well as the large numbers of antelope and deer, provide risks that may damage your vehicle. Damage from animals, fire, theft, and vandalism may be covered by comprehensive insurance.
Uninsured Motorist Coverage – If an accident involves an uninsured motorist, this coverage helps with costs.
Medical Payments Coverage – Medical Payments helps cover your medical costs if you are in an accident.
Comprehensive and collision coverage are generally not an option if you are financing or leasing a car. Uninsured/underinsured motorist coverage has to be offered as part of your liability coverage, but you may decline it in writing.
Providing Proof of Insurance
If you are pulled over or are in an accident, you are required to show proof of insurance. The most common form of proof of insurance is an insurance card. Although Montana keeps an electronic database that is accessible by most police officers. It is still your responsibility to make sure you can prove you are insured. It is recommended that you have your proof of insurance on you whenever you drive.
Penalties and Fines for Violations
It is a misdemeanor in Montana to drive without a valid auto insurance policy. Fines, license suspension, points on your license (which increase your car insurance rates), and jail time are all possible penalties stemming from not having auto insurance.
What affects your Auto Insurance Rate
One of the biggest things affecting your car insurance premium is your driving record. Being a safe driver can help you decrease the cost of your insurance. Notably, auto insurance companies in Montana weigh different variables in different ways when determining your rates. Due to this, rates can vary quite a bit from one auto insurance company to the next. Other variables that can affect your rate are where you live, your age, your gender, and information pertaining to your car (make, model, year).
The types and amounts of coverage you are looking for also affect your rate.
In addition, there are discounts available for good students, as well as anti-theft devices. There are other discounts that are also offered, so make sure to ask your agent or look for them on online quote forms. When it comes to car insurance in Montana, these discounts can really make difference in your car insurance premiums.
Final Word
Insurance does not need to be hard to find. Neither do great car insurance rates. We can help you find the cheapest rates for the highest quality auto insurance that fits your needs. With the right coverage options and some of the top-rated car insurance, we are here to service your car insurance needs. Quotes are free, so start saving money today!
| Rank | City | Avg. Annual Premium |
| --- | --- | --- |
| 1 | Columbia Falls | $1,592 |
| 2 | Evergreen | $1,584 |
| 3 | Whitefish | $1,576 |
| 4 | Havre | $1,549 |
| 5 | Miles City | $1,527 |
| 6 | Polson | $1,524 |
| 7 | Lewistown | $1,522 |
| 8 | Glendive | $1,521 |
| 9 | Sidney | $1,518 |
| 10 | Livingston | $1,480 |
| 11 | Billings | $1,471 |
| 12 | Great Falls | $1,435 |
| 13 | Belgrade | $1,433 |
| 14 | Hamilton | $1,428 |
| 15 | Bozeman | $1,424 |
| 16 | Laurel | $1,417 |
| 17 | Missoula | $1,390 |
| 18 | Helena | $1,360 |