Enter your ZIP Code
to get insurance quotes in your area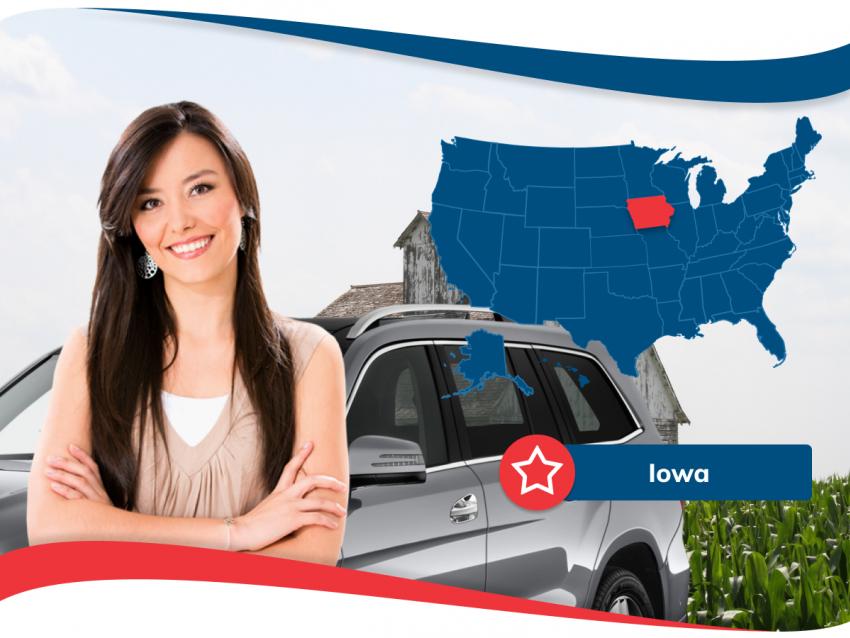 Making the Most of Car Insurance in Iowa is Easy
Iowa has a requirement to show proof of financial responsibility but does not require that drivers buy car insurance. The easiest way to fulfill the minimum limits in regard to requirements in Iowa is to purchase an auto insurance policy. Getting car insurance in Iowa can be an easy endeavor when using our site. Get a free quote today!
What is the Financial Responsibility Law
As a state, Iowa has no law stating that you much purchase Iowa car insurance. Even though this is the case, if you get into an accident or if your license has been suspended or revoked, you have to provide proof of financial responsibility to the Iowa Department of Transportation (DOR). Without providing this proof, the Department of Transportation will suspend your registration and driving privileges.
If you are driving or own a vehicle that is involved in an accident, you may need to file an Accident Report Form. This form is required when an accident results in bodily injury, death, or property damage in excess of $1,499. This form needs to be filled out regardless of who is at fault in the accident and needs to be submitted to the DOT Office of Driver Services within 72 hours. This is the case for all accidents unless the accident was investigated by the police and the investigating officer files a report.
You must also provide proof of financial responsibility. If you are unable to provide this, your driver's license may be suspended. Financial responsibility may be proven in the following ways:
Providing Proof of Insurance: Proof that you have liability insurance is the most common way to prove you have covered the proof of financial responsibility requirements. Purchasing an Iowa auto insurance policy is easy and hassle-free.
Posting (in the needed amount) cash, a certified check, a postal money order, a cashier's check, or a bank draft. These need to be made payable to the "Office of Driver Services".
Obtain a Release: If every involved party provides a release, you can use the release as proof of financial responsibility.
Filing a Statement: The statement is one agreeing to cover the costs to the injured or damaged parties, with an agreement on an installment plan included.
Getting a Decision: A decision from a civil action damage action can excuse you from liability in the accident.
A Warrant for Confession: Completing a warrant for confession that has a payment schedule agreement included.
Submitting Evidence of a Settlement
Submission of proof of financial responsibility is not required if your vehicle was legally standing, stopped, or parked, or if someone was driving your vehicle without permission at the time of the accident. You are also not required to submit proof of financial responsibility if you were the only person to incur injuries or property damage as a result of the accident.
Auto Insurance in Iowa
Most drivers in Iowa find that having car insurance in Iowa is the best way to prove financial responsibility. Your auto insurance policy will include liability coverage and property damage coverage which will cover damages to other people and their property in case of an accident.
In addition, you can choose to purchase additional coverages. Additional (optional) coverages that you can purchase include:
Collision Coverage covers damages to your vehicle in case of a collision.
Comprehensive Coverage covers damages to your vehicle in case of fire, theft, and other things unrelated to accidents.
Medical Payment Coverage covers medical costs in case of an accident
Lease Gap Coverage covers the balance between the value of your vehicle and the amount you owe on it.
Rental Coverage
Towing and Labor Coverage
When you obtain car insurance in Iowa, you will receive proof you have a car insurance policy in the form of an issuance card. This card should be available to present if needed, so keep it in a place that is accessible when you are traveling in your vehicle.
Final Word
The best car insurance coverage is easy to find with our free quotes! We can help you meet the financial responsibility requirements and protect you in case an accident occurs. Contact us today!
| Rank | City | Avg. Annual Premium |
| --- | --- | --- |
| 1 | Council Bluffs | $1,402 |
| 2 | Waterloo | $1,139 |
| 3 | Sioux City | $1,128 |
| 4 | Davenport | $1,104 |
| 5 | Dubuque | $1,102 |
| 6 | Des Moines | $1,088 |
| 7 | Fort Dodge | $1,081 |
| 8 | Ottumwa | $1,071 |
| 9 | Cedar Falls | $1,071 |
| 10 | Cedar Rapids | $1,051 |
| 11 | Clinton | $1,050 |
| 12 | Marshalltown | $1,047 |
| 13 | Bettendorf | $1,040 |
| 14 | Marion | $1,031 |
| 15 | Burlington | $1,027 |
| 16 | Muscatine | $997 |
| 17 | Mason City | $969 |
| 18 | Iowa City | $967 |
| 19 | West Des Moines | $959 |
| 20 | Clive | $956 |
| 21 | Urbandale | $952 |
| 22 | Ames | $942 |
| 23 | Coralville | $941 |
| 24 | Johnston | $932 |
| 25 | Ankeny | $931 |