Enter your ZIP Code
to get insurance quotes in your area
Car Insurance in Maine in 2020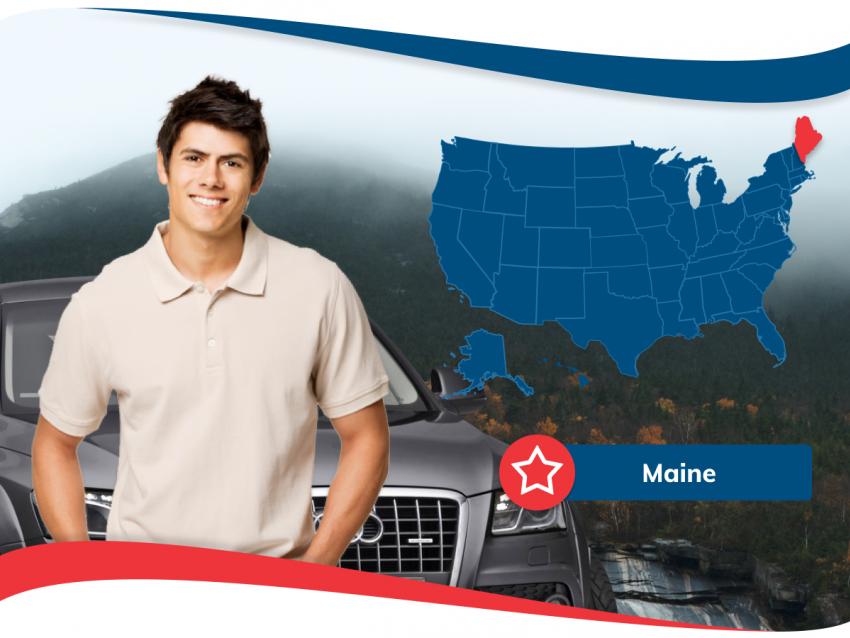 Anybody who has ever shopped around for car insurance knows how tough it could be to find great coverage for an affordable rate. With so many factors impacting the price and the number of insurers out there, all offering similar coverage, getting insured could be very time-consuming. What makes this problem even worse is that you might have some tickets or an accident on your record which could cause your rates to skyrocket. In order to help drivers in Maine find the best coverage for them, we have assembled all of the relevant information for each type of driver.
Background Information
According to a study by the National Association of Insurance Commissioners, drivers in Maine spend the much less time on the road than the national average and the traffic density is a lot lower than other states in New England. All of this results in fewer accidents, which enables car insurance companies to offer rates that are much cheaper than the national average.
Even though Maine has the most rigorous minimum car insurance requirements in the country, the average auto insurance rate is about $300 below the national average. This is mostly due to the fact that Maine has one of the fewest uninsured motorists on the road and a lot of "low mileage" drivers. We will look at these categories of drivers later on, but it is worth mentioning straight from the outset that that car insurance rates are very individualized and the rates you get will vary depending on the provider. The only way to find out is to get quotes from lot of different companies and see which option best works for you.
With all of this in mind, here are the best car insurance companies in Maine according to market share and their financial viability based on A.M. Best:
| Insurer | J.D. Power Customer Satisfaction Score | A.M. Best Financial Strength Rating | Consumer Reports Reader Score |
| --- | --- | --- | --- |
| State Farm | 3/5 | A | 89/100 |
| Allstate | 3/5 | A+ | 88/100 |
| Progressive | 3/5 | A+ | 87/100 |
While these car insurers are household names and command a large portion of the market, this does not necessarily mean that they will give you the best rates. Let's take a look at the best car insurance rates by driver categories.
Best Auto Insurance in Maine by City
While Maine has some of the cheapest auto insurance rates in the country, there are still cities that have the cheapest prices of all. These include:
| City | Annual Rate |
| --- | --- |
| Bangor | $1158 |
| Portland | $1184 |
| Lewiston | $1230 |
| Augusta | $1303 |
While these numbers do not automatically indicate that you need to move to one of these towns in order to get the best price on car insurance, it does give you an idea of how much goes into the calculation.
Best Rates for Good Drivers
Good drivers who also have good credit could get an auto insurance policy for as cheap $46 a month:
| Insurer | Monthly Price | Annual Price |
| --- | --- | --- |
| Concord Group Insurance | $53 | $634 |
| State Farm | $53 | $635 |
The table above is a good demonstration of the importance of shopping around. Even though State Farm made the list of the overall best car insurers in Maine, you are able to get comparable coverage from a different company for a lot less. Therefore, be sure to do your homework and explore all of your options before deciding to buy.
Best Rates for Drivers with Bad Credit
Not many people know that having bad credit could negatively impact your premiums. Car insurance companies have noticed a correlation between people who have bad credit and the high coverage risk. Even if you have not been in accident, your credit history makes you high risk in the eyes of the insurance company. Therefore, be sure to monitor your credit score and notify the car insurance company if notice a slight increase. Having said this, here are the companies that will give you the best coverage if you have subpar credit:
| Insurer | Monthly Price | Annual Price |
| --- | --- | --- |
| State Farm | $53 | $635 |
| Concord Group Insurance | $78 | $937 |
This table is interesting because it shows the exact opposite as the table above. Previously, State Farm was one of the most expensive companies for good drivers. However, if you have bad credit, it can save you $200 a year than the leading competitor. This shows that State Farm will not increase your car insurance rates in the State of Maine if you have bad credit. It is worth mentioning that having poor credit can have a bigger impact on your car insurance than having a DUI on your record. Therefore, be sure to protect your credit score since it could save you big money on auto insurance and other places.
Best Rates for Driver with One At-Fault Accident
While it is true that your car insurance rates will go up if you get into an accident, this does not mean that you will not be able to get affordable coverage.
| Insurer | Monthly Price | Annual Price |
| --- | --- | --- |
| State Farm | $63 | $761 |
| Concord Group Insurance | $70 | $841 |
Your car insurance will increase and remain higher for about three years. If it has been longer than three years since your past accident, you can try shopping around for car insurance to see if you can get rates lower than the state average.
Best Rates for Low-Mileage Drivers
We mentioned from the outset that Maine has a lot of low-mileage drivers i.e. people who drive less than 5,000 miles a year. Since they do not drive a whole lot, they are able to save on their car insurance:
| Insurer | Monthly Price | Annual Price |
| --- | --- | --- |
| State Farm | $46 | $550 |
| Concord Group Insurance | $51 | $611 |
This is a good plan for senior citizens who drive short distances as well as student drivers who travel to school and back home.
Best Minimum Coverage Rates
While it is recommended that you by full coverage in order to protect yourself from damages in a wide array of situation, you have the right to purchases on the minimum coverage. Later on, we will go into what the minimum coverage in the State of Maine must include, but right now let's take a look at the best prices for minimum insurance:
| Insurer | Monthly Price | Annual Price |
| --- | --- | --- |
| State Farm | $24 | $290 |
| Concord | $25 | $298 |
This is a good option for you if you are on a tight budget. Even if you have the minimum coverage, it is still better than going without insurance.
Best rates for bad Drivers
In car insurance lingo, a bad drive is referred to as "high risk." If you recently had an accident, filed a claim or received ticket for a moving violation, you could be labeled as high risk by the insurance companies. While the car insurance rates that you get will almost certainly be expensive, you might be able to find something that will work for you if you shop around. In the State if Maine, if you are found to be at-fault for an accident, you could expect your annual insurance rate to be somewhere around $1,527 which is the average rate for someone who has been in a recent accident. While this may be twice the price of what a good driver might pay, it is still about $500 cheaper than the national average of $2,012.
The table below demonstrates the average rates for drivers who have received tickets for some of the most serious violations:
| Violation | Annual Rate in Maine | National Average |
| --- | --- | --- |
| Reckless Driving | $1,414 | $2,295 |
| Racing | $1,662 | $2,397 |
| Speeding | $1,141 | $1,727 |
As the table above demonstrates, the rates for bad drivers in Maine are significantly cheaper than in the rest of the country. However, this does mean that you can throw caution into the wind. While the prices might be lower than the national average, if you would like them to stay that way, you need to make sure that you are driving safely and taking every safety precaution on the road.
What to Do if You Can Not Afford Car Insurance
Even if the prices for insurance are too high, there are still options out there available to you. First of all, you can apply for Maine Automobile Insurance Plan (ME AIP). This program was created way back in the 1970s as an agreement between the State of Maine and the car insurance companies to split all of the risks and costs associated with insuring high-risk drivers. The proportion of high-risk drivers that are assigned to each insurance companies will correspond to the overall market share that company has in the State of Maine.
While there are not all that many drivers in the program, it a last resort for drivers who cannot get good coverage because of the price or their driving record. If you are in the ME AIP program and you are assigned an insurance company, that assignment will remain in effect for three years. You should take this time to build up a quality record, so that you can be eligible for much cheaper rates once the three years are up. If you were not able to stay accident-free and remain high risk after this amount of time, you can reapply for the ME AIP program as a new applicant. As long as you are still eligible, you should receive the same amount of coverage as before.
Speaking of eligibility, in order to apply for the ME AIP program, you must provide proof that you have tried to get car insurance in the past 60 days, but not able to. In addition, you will need to provide your registration and driver's license information. Your application for ME AIP may not be successful if:
If you missed a car insurance payment in the last 12 months
Your car insurance policy has been cancelled in the past 12 months because you did not bring your car for a state-mandated inspection
You have misrepresented important details in your application pertaining to your driving record or your car, which means that the application was filed in bad faith
If you are fully compliant with your payments and state regulation, your application for ME AIP will proceed immediately. However, if the car insurance company believes that you have filed your application in bad faith, this could cause a delay in as much as 12 months.
Maine Insurance Requirements
According to the Maine Financial Responsibility Law, all drivers must have a policy that includes bodily injury, property damage, medical payments, and uninsured / underinsured motorist coverage. As far as the most basic requirements, you will need to cover yourself for the amounts listed below.
Bodily Injury – The coverage limits required in Maine are $50,000 per injured person, up to a total of $100,000 per accident, which are among the highest in the United Sates. If you are found to be at fault for an accident, the insurance company will pay the other party involved for the damage that you cause as well as any medical bills they might receive up to the limits stated above. It is worth pointing out that there are two limits that regulate the maximum amount of money the insurer will have to pay in the event you are found liable for an accident.
Property Damage – The minimum amount of coverage you need to have is $25,000 worth of coverage for any property damage in the event of an accident. This could include the other car(s) involved in the accident or private property, as long as the amount of damage is less than the amount stated you will not have pay anything else.
Medical Payments (MedPay) - You might hear the car insurance coverage refer to this as "First Party Coverage." Basically, this means that Medpay will pay your, your passengers' and your family's medical bills in the event of an accident. The minimum insurance amount you need to have is $2,000 per person. This money should be paid out regardless of whose fault the accident was. This coverage could be useful in one-car accidents. For example, you hit a tree and you need to go to the hospital, MedPay will pay your hospital bills for the amount stated.
Uninsured / Underinsured Bodily Injury (UM/UIMBI) - While the probability of you getting into an accident in Maine with an uninsured driver are very low, it could still happen you need to prepare for it. For this reason, Maine requires UM/UIMBI insurance protection to help cover your medical bills if the other driver is uninsured. If the driver is underinsured, your coverage will be in effect as well to cover any costs the other insurance does not pay. While your UM/UIMBI will be the same as your bodily injury protection, you can choose to opt out of this coverage by submitting a statement, in writing, to the insurance company. Regardless of coverage, your UM/UIMBI can never be higher than your bodily injury limits.
Obtaining Alternative Coverage
If you believe that you are not able to find a policy that suits your price range, you have some opportunities to obtain alternative coverage. This will mean that you will have to find a company that is registered in the State of Maine, who will assure the state that they will pay for any damages that result if you get into an accident. The requirements will differ based on vehicle class and how many passengers they carry, therefore be sure to read all of the rules carefully. Basically, the coverage limits are stated below:
$125,000 for bodily injury liability, and $25,000 for property damage liability for vehicles that are designed to carry no more than 3 passengers behind the driver's seat
$300,000 for vehicles that are designed to carry 4 to 7 passengers behind the driver's seat, including those vehicles under contract with the State, a municipality or a school district for the transportation of students
$750,000 for vehicles that are designed to carry 8 to 15 passengers behind the driver's seat
As we see from the numbers above, it would be much cheaper to get regular car insurance, but if you have an extra $300,000 or so laying around, you choose to submit this money to the state as proof of your insurance.
Alternatively, you choose to get coverage through cash or securities. Basically, you would need to submit at least $127,000 to the State Treasurer and then show the receipt to the Secretary of the State. If everything is ok, you will receive authorization from the Secretary of State. You will need to keep this authorization with you at all times and present it as proof of insurance in the event of an accident or a traffic stop.
Stay Safe
The purpose of car insurance is to protect you from the unknown. Whenever you get in your car and travel to work or wherever your destination is, you do not know which obstacles you will encounter. For this reason, you need to have car insurance that will give you peace of mind. This means that it is a good idea to buy a policy that goes beyond the minimum coverage required by the state. While it may seem to be expensive or unnecessary, you should put it into perspective. First of all, you need to remember that the price for this coverage is one of the lowest in the United States. Furthermore, having this coverage could eliminate a lot of headaches and problems in the future. Therefore, what you ate actually doing when you are buying comprehensive coverage is making an investment in tomorrow.
Additionally, if you feel that you cannot afford car insurance, you need to protect yourself and those around you by purchasing alternative forms of insurance. Whether it is though ME AIP or something else, having this coverage will protect yourself and the person you get into an accident with from financial burdens. Simply repairing your car or the other car involved could be expensive and if the other person does not have enough money to repair their car, it could cause them a lot of problems even if the accident was not their fault. This is why the State of Maine has such regulations in place to help defend responsible drivers from the ones who do not care about anybody else.
Furthermore, one of the reasons that car insurance is so low in the State of Maine is because there are a lot of responsible drivers. When someone who does not have insurance gets into an accident, it causes havoc for everybody involved. The insurance company will have to pay for damages that their driver did not cause, which will cause the other person that is involved to pay higher insurance prices. Not only is this not fair, but if there are a lot of people who do this, they could ruin it for everybody else. If the odds of getting into an accident with so somebody who does not have insurance are pretty good, the insurance company might deem the entire state or city to be high. This means everybody's insurance will go up.
The best way to deal with these problems is to make sure they do not even start. There are plenty of options available for drivers of all categories which means there is no excuse to finding insurance. A lot of times, people are not aware that the time of lookback has expired, which means that you could get cheaper insurance. It is important to know all of the potential discounts as well as the things that could potentially cause you problems because they will be extremely helpful when you are shopping around. Therefore, do not worry if you have an accident or tickets on your record. If you cannot find a car insurance company willing to take you, there is a state program out there that will get you back on the road.