Enter your ZIP Code
to get insurance quotes in your area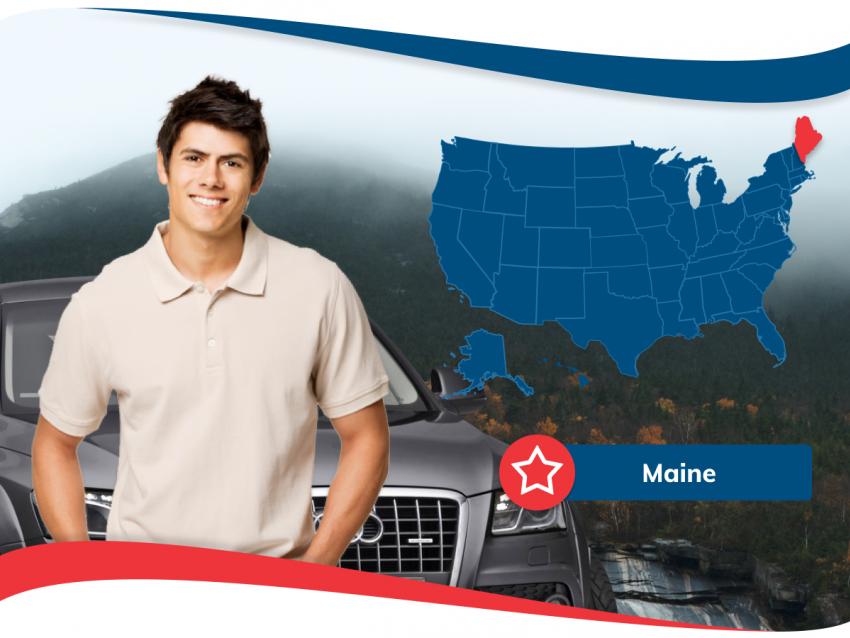 With our Car Insurance Maine Benefits
Did you know: Maine is the first place in the United States to receive rays of sun in the morning. It also supplies almost 90% of the lobster supply in the country and has over 5,000 miles of coastline. Maine a gem, and whether you are traveling to the state or have decided to make a home here, there are a lot of fun and interesting places to explore.
We can help you make sure your auto insurance policy meets the minimum limits and that you are covered. Having protection for you and your loved ones is a great idea. Avoiding penalties is an added benefit to having an auto insurance policy.
Auto Insurance Requirements in Maine
When it comes to car insurance in Maine, there are a few requirements that need to be met in order to legally drive. If you have recently moved to the state, you are required to register your vehicle within 30 days of establishing residency. Have your auto insurance card in hand, they do require insurance in Maine for vehicle registration.
As far as insurance coverage goes, Maine requires a number of types of coverage to be in your insurance policy. These include liability coverage, medical payments coverage, and uninsured/underinsured motorist coverage.
Liability Insurance has minimum limits of $50,000 for bodily injury or death per person and $100,000 for total bodily injury or death per accident. In addition, Maine mandates that coverage includes a minimum of $25,000 for property damage.
All drivers in Maine must also have a minimum of $2,000 of medical payments on their car insurance policy. Medical Payment Coverage pays for medical expenses and funeral costs that result from an accident. This coverage will still pay for your expenses if you are deemed to be at fault for the accident.
The other required coverage when it comes to car insurance in Maine is Uninsured Motorist Coverage. This coverage protects you in three main ways. The first is if you are the victim of a hit-and-run incident. The second is if you are in an accident with a driver that does not have insurance and is deemed at-fault in the accident. The third is if you are in an accident with a driver that does not insurance limits that can cover your expenses (and the driver is deemed at-fault in the accident. This coverage extends to family members in your vehicle during the accident as well. Your uninsured motorist limits are required to be equal to those of your liability coverage unless you sign a rejection form from your insurer before your auto insurance policy goes into effect. You cannot, however, go below the minimum amount required by state law.
Additional Coverages Offered in Maine
There are ways to insure you and your vehicle above the minimum requirements listed above. These include collision coverage, comprehensive coverage, rental reimbursement coverage, towing and labor coverage and loan/lease coverage (also called gap coverage). These options protect you and provide convenience in the case of an accident. Make sure damages to your car are covered with collision and comprehensive coverage. Remember, if you are leasing or paying for your car with a loan, you may be required by the lender/financer to get additional insurance coverage.
Final Note
Whether spending time around Maines over half-a-million acres of state and national parkland or heading to work, take comfort that we have helped you find the cheapest rates for the perfect car insurance policy to keep you and your assets safe. Make sure to take advantage of our free quote today to get the best car insurance in Maine for your needs