Enter your ZIP Code
to get insurance quotes in your area
Car Insurance in North Carolina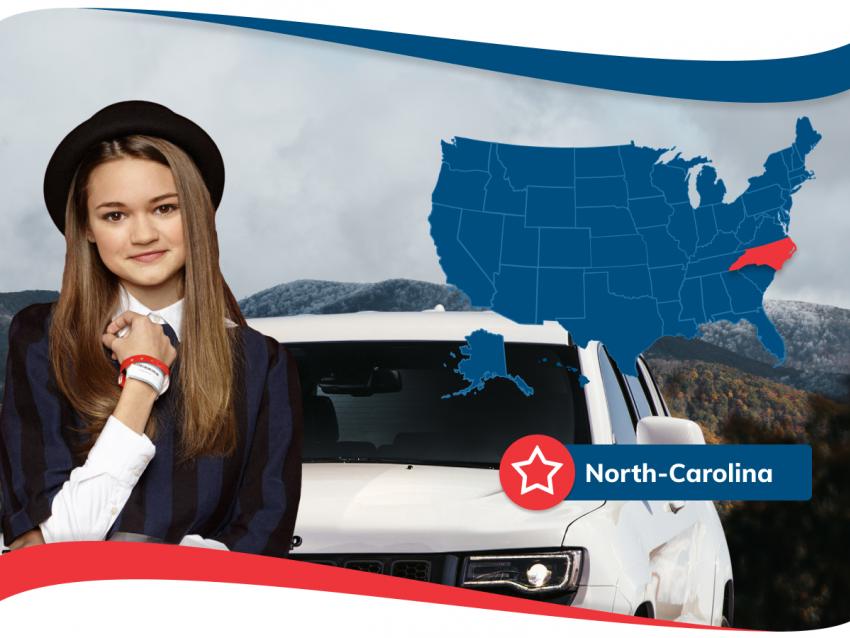 Getting the Best Car Insurance in North Carolina
Just over 100 years ago, Babe Ruth hit his first home run in North Carolina. The place was Fayetteville, North Carolina and the year was 1914. We can help you hit your own home run with the best rates for car insurance in North Carolina. For the cheapest car insurance rates, take advantage of our free quote. It is also important to know how auto insurance has an impact on you as either a traveler or resident of the state.
Basic Information for Car Insurance in North Carolina
Having the means to cover any cost of injuries and damages is law when it comes to car insurance in North Carolina. By far the most popular way to meet the auto insurance requirements in the state is to purchase liability coverage. Liability coverage pays for injuries and damages if you are found to be at fault in an automobile accident. The requirements that North Carolina has in terms of auto insurance minimums include:
$30,000 for bodily injury per person per accident
$60,000 for bodily injury total per accident
$25,000 of property damage liability per accident.
In addition, Uninsured motorist coverage is required. This pays for injuries from an accident where the other driver does not have auto insurance coverage. The minimum limits required by law are the same as your bodily injury liability insurance.
In North Carolina, state law requires that you provide proof of insurance when you register your car. You can provide any of the following accepted documents:
Your North Carolina Car Insurance Policy
A DL0123 form issued by your insurance agent
An insurance binder
An insurance card
All of these are obtained from your auto insurance carrier.
Other Insurance Options
It is a good plan to have additional auto coverage in most situations, which most companies that provide car insurance in North Carolina offer. These additional types of insurance include:
Collision – Coverage for collisions with other moving vehicles
Comprehensive – Coverage for incidents that do not involve collisions, such as theft, fire, or vandalism
Towing and labor
Rental car
It is likely that if you finance a car, the finance company and/or bank will require the purchase of both comprehensive and collision coverage if you are leasing or paying off a loan for the purchase of the vehicle.
The Safe Driver Incentive Plan
The Safe Driver Incentive Plan (SDIP) helps promote safe driving in the state. North Carolina uses a point system that increases the cost of insurance for unsafe drivers. Your car insurance premiums can go up if you get points on your driver's license.
Points are received when traffic violations occur and when a driver is determined to be at-fault in an accident. More severe violations and accidents result in more points on the driver's license. Each point received can increase your auto insurance premiums but quite a bit, so safe driving is highly encouraged.
High-Risk Drivers
High-Risk Drivers often pay higher premiums. The laws in North Carolina prevent each auto insurance company from refusing liability coverage to any driver. This means that car insurance premiums go up a lot for drivers that are deemed to be high risk. The insurance company may also choose to insure you through the North Carolina Reinsurance Facility (NCRF). Among other things, the NCRF offers auto insurance companies a way to share risk with other companies that insure through the NCRF.
In order to keep risk low, the minimums car insurance companies ask for not only go up but are expanded to include additional types of coverage.
| Rating Factor | Annual Rate | % Increase |
| --- | --- | --- |
| At-Fault Accident | $1,302 | 33.97% |
| DUI | $1,658 | 48.15% |
| Speeding Violation | $1,282 | 32.96% |
| Bad Credit | $1,006 | 14.60% |
Final Word
When it comes to getting the best North Carolina car insurance, we are at the top of the game. Our free quotes will help you get the best and cheapest car insurance to cover your vehicles and yourself. It is important to have liability insurance and the other coverages that help keep you safe and protected. We are here for you when you need us, that is our commitment.
| Rank | City | Avg. Annual Premium |
| --- | --- | --- |
| 1 | Fayetteville | $1,188 |
| 2 | Charlotte | $1,110 |
| 3 | Gastonia | $1,060 |
| 4 | Indian Trail | $1,029 |
| 5 | Wilson | $1,019 |
| 6 | Goldsboro | $1,004 |
| 7 | Concord | $994 |
| 8 | Greenville | $979 |
| 9 | Rocky Mount | $976 |
| 10 | Salisbury | $976 |
| 11 | Kannapolis | $976 |
| 12 | Wilmington | $972 |
| 13 | Raleigh | $952 |
| 14 | Durham | $951 |
| 15 | Greensboro | $945 |
| 16 | High Point | $944 |
| 17 | Huntersville | $933 |
| 18 | Hickory | $923 |
| 19 | Burlington | $868 |
| 20 | Cary | $856 |
| 21 | Apex | $855 |
| 22 | Winston Salem | $847 |
| 23 | Chapel Hill | $846 |
| 24 | Asheville | $819 |