Enter your ZIP Code
to get insurance quotes in your area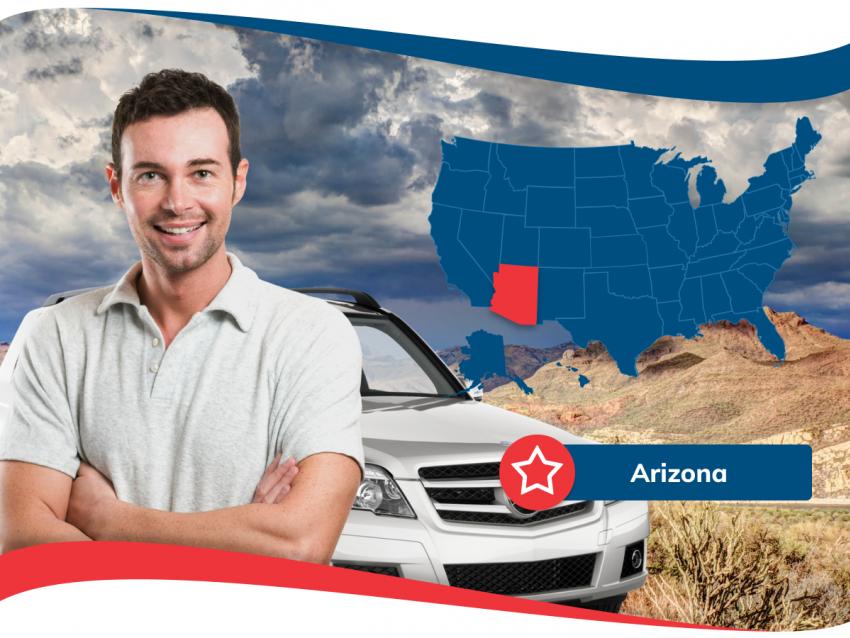 Arizona Car Insurance Quotes & Coverage
Residents of the Grand Canyon state do not need to put a big dent in their budget for affordable auto insurance. Finding cheap car insurance in Arizona does not have to be a headache. You can get a fast and easy quote online within minutes.
You need to know that in order to legally drive in the state of Arizona you need to maintain the state minimum insurance requirements. Though there are minimum requirements there are also additional and affordable insurance options for drivers. These additional options can save you money in the event of an accident or natural disaster. There are also incentive discounts for qualifying applicants you will want to ask your agent about.
Arizona requires drivers to carry proof of car insurance in their cars whenever they're driving. This requirement can also be satisfied by having the proof of insurance available on your cellphone or tablet.
Arizona Car Insurance Requirements
Car insurance in Arizona requires its drivers to maintain the following coverage and minimum limits:
$15,000 bodily injury liability coverage per person. Bodily injury liability covers expenses related to injury/death of another driver or pedestrian in the event of an accident.
$30,000 bodily injury liability coverage per incident
$10,000 property damage liability coverage per incident. Damage liability covers expenses related to the damage of another person's property (vehicles, homes, buildings, etc) in the event that you are at fault in an accident.
There can be penalties for driving without insurance in the state of Arizona. These include the suspension of the person's driver's license and vehicle registration. After the suspension period has passed, that person must prove financial responsibility to reinstate their status.
Additional Coverage Options
Though not legally required by the state there are additional insurance coverage options that you can choose to add. These options cover additional incidents that may not be covered by the minimum insurance required by the state. They may also cover unforeseen incidents such as roadside assistance and acts of nature.
Comprehensive - covers damages to your car resulting from non-accident events, such as weather, animal collisions and fire.
Collision - Assists in repairing or replacing the vehicle if it's damaged in an accident with another vehicle or object, such as a fence or tree
Towing and labor
Customized parts and equipment
Gap Insurance
Funeral services payments
Medical services payments
Uninsured/Underinsured motorist bodily injury - Assists in covering medical expenses in an accident with an uninsured or underinsured driver.
Care Insurance Rate Factors
There are a variety of factors that can affect your personal auto insurance rate. You can find some of these items can help you get better insurance rates in the state of Arizona.
Vehicle - year, make, model of the vehicle to be insured
Accidents and Driving Violations by the insurance holder or other drivers on the policy.
Age
Number of years driver has held license
Location where your car is garaged or parked in public
Arizona Insurance Discounts
You can ask your insurance agent about discounts available to drivers in Arizona. These discounts include benefits for multi-car policies, good student status, homeowners' discounts and emergency roadside assistance discounts.
You can apply for the free Arizona car insurance quote online. The simple process can help you find the cheapest rates for your auto insurance. Our quotes are always free and you get your quote fast and hassle free. With American Insurance, it really is that easy!
| Rank | City | Avg. Annual Premium |
| --- | --- | --- |
| 1 | Phoenix | $1,810 |
| 2 | Glendale | $1,724 |
| 3 | Avondale | $1,665 |
| 4 | Tempe | $1,591 |
| 5 | Scottsdale | $1,590 |
| 6 | Mesa | $1,582 |
| 7 | Peoria | $1,579 |
| 8 | Gilbert | $1,549 |
| 9 | Chandler | $1,540 |
| 10 | Surprise | $1,536 |
| 11 | Buckeye | $1,531 |
| 12 | San Tan Valley | $1,528 |
| 13 | Tucson | $1,521 |
| 14 | Catalina Foothills | $1,503 |
| 15 | Goodyear | $1,489 |
| 16 | Casas Adobes | $1,481 |
| 17 | Maricopa | $1,442 |
| 18 | Oro Valley | $1,420 |
| 19 | Casa Grande | $1,418 |
| 20 | Flagstaff | $1,313 |
| 21 | Prescott | $1,246 |
| 22 | Bullhead City | $1,205 |
| 23 | Sierra Vista | $1,195 |
| 24 | Lake Havasu City | $1,163 |