Enter your ZIP Code
to get insurance quotes in your area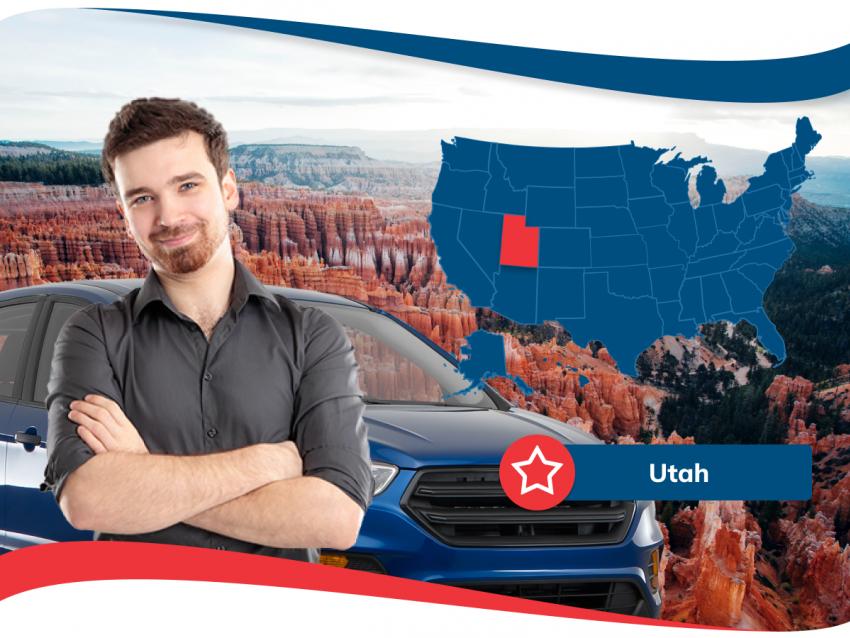 Car Insurance that Utah Residents Appreciate
Car insurance In Utah is designed to make sure that people are covered in case a traffic accident occurs. As a state, they require more than most. The intention is to drive the number of lawsuits and claims between drivers down.
Required Utah Car Insurance Coverage
When it comes to car insurance in Utah, Utah makes sure you are well covered. Drivers in Utah are required to carry both liability and no-fault automobile insurance. This helps pay for both medical costs from the accident, as well as property damage.
No-Fault Insurance
To limit how many lawsuits happen between drivers, Utah requires drivers to have either no-fault auto insurance coverage or personal injury protection (PIP) with minimum limits of 3,000 per person.
Personal Injury Protection (PIP) covers medical costs of you and your family members in case of a traffic action. This coverage is regardless of who is at fault in the accident so it is easy for you to get medical care. If your PIP benefits run out, you can file a claim against an at-fault driver to cover additional costs.
Liability car Insurance in Utah is also required by law. Liability coverage helps to pay for the damages that other drivers incur from an accident that you are at-fault for.
Your car insurance policy must have the following liability coverages in order to be in compliance with Utah auto insurance law:
$25,000 for bodily injury per person per accident
$65,000 for bodily injury to others per accident
$15,000 for property damage per incident
OR
$80,000 total for bodily injury and property damage
If an accident happens, a driver first uses their personal injury protection (PIP). After they have used their PIP, if there is still more that needs to be covered than they may make a claim against your liability insurance.
Other Optional Insurance Coverages
There are still things in the minimum limits in Utah that are not covered. The following insurances can be added to your car insurance policy to help cover the costs of other expenses that can come from being in an accident.
Collision – Helps with damages that happen to your vehicle through accidents involving cars or other objects.*
Comprehensive –Helps with damages to your vehicle by a number of external factors, such as theft, fire, and vandalism.*
Personal Injury Protection (PIP) - Covers medical expenses and other related costs if you get injured in an automobile accident.
Medical Payments – Helps cover the costs related to medical or funeral needs for you and/or your passengers in case of an accident.
Rental Reimbursement – Helps when you are in need of a rental car while your car is in the auto shop being fixed.
Uninsured/Underinsured Motorist Coverage - Covers damages that are the fault of another driver who does not have auto insurance or whose insurance does not cover all of the costs of damages caused by an accident.
Towing – Helps cover the cost of towing your car after an accident happens.
Most lenders require that you get both comprehensive and collision coverage if you are getting a loan to finance your car.
Penalties for Not Having Auto Insurance Coverage
Utah uses law enforcement to keep uninsured drivers from driving. They require drivers to provide proof of insurance if they are in an accident or are pulled over. In addition, the state of Utah monitors the status of your auto insurance policy electronically. Electronic monitoring is done through The Division of Motor Vehicles (DMV) in conjunction with Insure-Rite.
It is your insurance company that reports the status of your car insurance policy to Insure-Rite. If your policy is canceled or you are not shown to have a policy, Insure-Rite will send you a letter. Once you receive the letter you must update Insure-Rite, either on the status of your car or by providing them a copy of your insurance policy.
If you are pulled over, you must provide proof of insurance. This can be done in the form of an insurance card, binder, or declaration.
Utah Insurance Violations
Driving without insurance in the state of Utah is a misdemeanor and can have the following penalties:
Suspension of your driver's license
Suspension of your vehicle registration
A $400 fine (minimum) for your first offense
A $1,000 fine (minimum) for offenses after the first
If your driver's license is suspended you must have a valid auto insurance policy to provide to the DPS and pay a $30 reinstatement fee.
If the registration of your car is suspended you must do four things to get it reinstated. You need to prove you own the vehicle being registered, have a photo ID, have a valid auto insurance policy to provide and pay a $100 reinstatement fee.
Final Notes
From Salt Lake City to the small towns surrounding the great state of Utah, if you want to get quotes from the best this is the place. We provide free auto insurance quotes so we can help you find the lowest rates on car insurance. One of the best ways to save money is to take advantage of insurance discount that can lower your expenses. We make it easy for you to save money and are here to answer any questions about car insurance in Utah.
| Rank | City | Avg. Annual Premium |
| --- | --- | --- |
| 1 | West Valley City | $1,576 |
| 2 | Kearns | $1,555 |
| 3 | Salt Lake City | $1,531 |
| 4 | Taylorsville | $1,517 |
| 5 | Millcreek | $1,509 |
| 6 | West Jordan | $1,463 |
| 7 | Cottonwood Heights | $1,449 |
| 8 | Orem | $1,437 |
| 9 | Provo | $1,407 |
| 10 | Draper | $1,404 |
| 11 | Sandy | $1,398 |
| 12 | South Jordan | $1,398 |
| 13 | Bountiful | $1,347 |
| 14 | Ogden | $1,345 |
| 15 | Lehi | $1,338 |
| 16 | Roy | $1,331 |
| 17 | Clearfield | $1,322 |
| 18 | Layton | $1,318 |
| 19 | Logan | $1,205 |