Enter your ZIP Code
to get insurance quotes in your area
Car Insurance in Washington State in 2020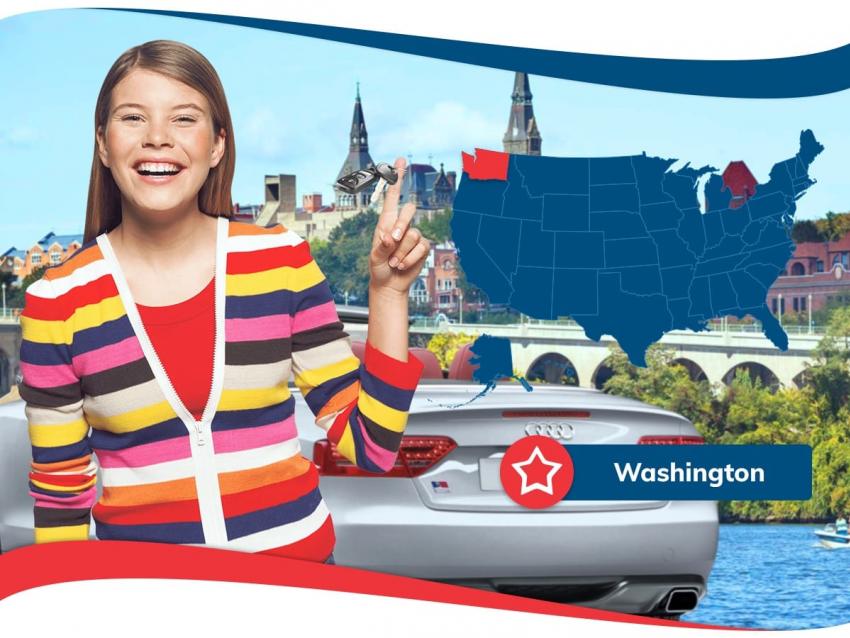 Most people think that the cost of your car insurance depends on your driving history alone. However, a lot of people do not know that the cost of car insurance will vary by state and even from city to city. Furthermore, it is important to remember that just because you have an accident on your record or any other type of violation, you could still be eligible for affordable coverage. All you have to do is look in the right place. In order to help you find the best coverage at the best price, we have assembled all the information you need to find cheap, yet quality insurance in Washington State.
Washington Cities with the Cheapest Car Insurance
The following cities offer driver a better rate than the state average of $1,259:
| City | Annual Average |
| --- | --- |
| Ellensburg | $624 |
| Bainbridge Island | $624 |
| Kennewick | $636 |
| Oak Harbor | $696 |
| Cheney | $720 |
While this does not mean that you should move to one of these cities to get cheaper insurance, you can see that some of them offer almost half the price of the state average. In case you were wondering about the largest city in Washington, Seattle, the average price for insurance was $1,016 which is still almost 40% cheaper than the state average.
Best Auto Insurance Rates for Good Drivers
While the definition of a good driver will vary from one insurance company to the next, the usual definition is that there are no moving violations on your record. If you have been a safe driver for a prolonged period of time, you could be rewarded by the insurance companies with lower rates. Here are the insurance companies that are the most likely to give you great coverage at an even better rate:
| Insurer | Average Monthly Price | Average Annual Price |
| --- | --- | --- |
| Pemco Insurance | $66 | $795 |
| State Farm | $78 | $939 |
This is a very good illustration of the importance of shopping around. While companies like State Farm are household names, you could save $200 by finding lesser known companies that offer similar coverage. The prices above reflect full coverage for a 40 year-old man or women.
If you do not purchase comprehensive coverage, we strongly recommend that you do. In the event of an accident, it will pay for repairs for all vehicles involved in the accident. A lot of people purchase the state minimum requirements which are:
Bodily Injury Liability Coverage: $25,000 per person and $50,000 per accident
Property Damage Liability Coverage:$10,000
Underinsured Motorist Bodily Injury Coverage*: $25,000 per person and $50,000 per accident
Underinsured Motorist Property Damage Coverage*: $10,000 per accident
Basic Personal Injury Protection*: $10,000 per accident
This coverage is usually enough if you get into a fender-bender, but anything more than that will result in out-of-pocket expenses. Also, for teen drivers it is recommended to get comprehensive coverage in order to avoid potential problems with obtaining insurance in the future.
Best Auto Insurance Rates with One At-Fault Accident
Unfortunately, accidents happen. Even though you might be depressed about the accident, you should look at the silver lining, which is that you can still get affordable insurance. While your premiums ,may not be as low as the ones accident-free drivers get, you will be able to get back on the road without breaking the bank. Here are the companies you can turn to in order to get great coverage at the best possible rates:
| Insurer | Average Monthly Price | Average Annual Price |
| --- | --- | --- |
| Pemco | $90 | $1,085 |
| State Farm | $95 | $1,136 |
Interestingly enough, the companies that provide the lowest overall insurance in the State of Washington offer the best rate for one at-fault accident as well. Keep in mind, that when you get into an accident, your rates will go up and stay that way for the next 3-5 years. Therefore, as soon as this period of time is up, be sure to start shopping for new insurance prices.
Best Car Insurance for Bad Drivers
For car insurance companies, bad drivers are the one who are at a high risk of getting into an accident. Below are some of the biggest traffic offenses and the price you will have to pay for your car insurance if you get one:
| Traffic Offense | Average Annual Premium | Reckless Driving |
| --- | --- | --- |
| $1,781.94 | DUI or DWI | $1,680.73 |
| Open Container | $1,664.80 | Speeding (21-25 MPH > limit) |
| $1,391.83 | Speeding (16-20 MPH > limit) | $1,363.56 |
If you have one of these violations on your driving record and cannot afford your monthly premiums, do not worry. There are still some options for you. Your state offers the Washington Automobile Insurance Plan (WAIP). Basically, all of the car insurance companies in Washington pitch in to share the burden of insuring high risk drivers. There are also rules in place to make sure that all this burden is split evenly among the insurance companies. For example, let's say you got one of the offenses listed above, you current car insurance company might designate you as high risk and transfer you over to the WAIP program. WAIP will then determine which car insurance company you will be assigned to.
A lot of states offer a similar program for high risk drivers and is considered as a last resort measure. If you are deemed high risk, your car insurance agent will contact WAIP on your behalf and file and application with all of your information. WAIP will then contact you and the car insurance company about your new policy.
In order to be eligible for the WAIP program, you must be a Washington State resident with a valid driver's license. You also need to have a clean record as far as your payment history is concerned i.e. you paid your premium on time for the last two years. Also, you will need to show proof that you have tried to get car insurance on the voluntary market, but were denied by the car insurance companies. This needs to be done 60 days before applying for WAIP.
Best Auto Insurance for Low-Mileage Drivers
If you do not use your car all that often, you might be eligible for low mileage rates. You might be eligible for such a discount if you drive less than 5,000 miles every year. The savings could be as much as 54%. Here are the car insurance companies that offer the lowest insurance for low-mileage drivers:
| Insurer | Average Monthly Price | Average Annual Price |
| --- | --- | --- |
| Pemco | $60 | $721 |
| State Farm | $69 | $828 |
When you call in about a new policy, one of the first questions you will be asked is how often will you be using the vehicle. If you will not be using it all that much, then it does not make sense to pay for the full price of auto insurance. This policy especially useful for senior citizens who drive only close distances or teen drivers who travel to school and back. Also, if you have multiple vehicles and you do not drive some of them very often, ask your car insurance company about the low-mileage discount.
Best Auto Insurers in Washington
As you might have guest from the tables above, the Washington State auto insurance market is dominated by only a handful of companies. Still, the best auto policy will be determined by your driving category:
| Category | Best Option |
| --- | --- |
| Good drivers | Pemco |
| Drivers with one at-fault crash | Pemco |
| Low-mileage drivers | Pemco |
| Minimum coverage | Pemco |
| Military families | USAA |
Best Car Insurance if You Have Bad Credit
Your credit score not only affects your chances of getting a loan or a credit card, but it also determines the amount you will pay for car insurance. The best car insurance companies to go to if you have less than perfect credit are:
| Insurer | Average Monthly Price | Average Annual Price |
| --- | --- | --- |
| American Family Insurance | $135 | $1,626 |
| Pemco | $144 | $1,732 |
If you are wondering just how big of an affect your credit can have on your auto insurance, consider the following: if you have bad credit, the effect could be the same as getting a DUI. A good credit score is generally considered to be above 700. If you notice a change in your credit score, be sure to notify your insurance provider as this could mean that you could get cheaper coverage.
Alternative Forms of Insurance
Most people do not know that there are other ways of getting car insurance besides through an insurance company. However, this option will require a large up-front payment and additional requirements such as:
An auto insurance policy with liability limits of at least 25/50/10.
Self-insurance certificate if you have 26 or more cars.
A certificate of deposit for at least $60,000. You can make a deposit of collateral with the State Treasurer office or in a bank account set up for the state of Washington.
A liability bond for at least $60,000 filed with a surety bond company authorized to do business in Washington.
If you either own or lease 26 cars, you can submit an application to the Department of Licensing (DOL) to get self-insurance. All of the cars must be on your name. If your application is approved, the DOL will issue you a certificate that you can and will continue to be able to pay for injuries and property damage that you cause, just like an insurance company, under a limited liability policy. If you believe that you are eligible for to be self-insured, then contact the DOL for more information.
If you decide to go the certificate of deposit route, you will have to pay an upfront sum of $60,000. You will then be issued a certificate number by the DOL. If you would like to apply for the certificate of deposit, you will need to file and submit the Financial Responsibility Application and Affidavit to make sure that you qualify. If you application is approved, you will then have to submit an Assignment of Monies or Securities for Financial Responsibility. In addition to these documents, you will also have to submit your financial statements as well within 30 days. In the event that you get into an accident, any damages that are liable of paying will be deducted from this amount.
Finally, if you would like to be insured with a liability bond, you will need to find a company in the State of Washington who will issue a liability bond in the amount of $60,000. This is the only form of alternative insurance that does not require prior approval from the DOL. Basically, you will carry this liability bond with you as your form of insurance. However, be sure that this bond is valid because otherwise you will be treated like an uninsured driver. A valid liability bond will display the name of the company who issued the bond and the bond number.
Car Insurance Laws in Washington State
The State of Washington requires all drivers to have car insurance. If you are involved in an accident you will have to present proof of insurance to all parties involved in the accident and in the event that you are pulled over. The insurance card must include the name of the insurance company, policy number and the valid dates. Driving without insurance is a big violation and the fines could be extreme if you are caught. If you cannot get coverage, for whatever reason, do not resort to driving without insurance. Instead, inquire about alternative options such as WAIP.
There is some optional coverage that you can purchase if you feel like the minimum is not enough these include:
Personal Injury Protection (PIP): Regardless of whether the accident was your fault or not, this form of coverage will pay your medical bills. In addition, you will also get first-party benefits such as lost income compensation. |It is worth noting that the State of Washington actually requires drivers to purchase such coverage, unless you reject it in writing. If you decide to keep it, there will be two choices to select from: $10,000 or $35,000. The latter is the maximum amount you can receive for a single accident.
Physical Damage: This one is broken down into two categories: collision and comprehensive. If bought together, they will pay for all damages caused to your car in the accident regardless of whose fault the accident is. If you are leasing your car, the leasing company will require you to purchase this type of insurance. The most you can receive for any given accident is the market value of your car. It is important to understand that there will still be a deductible that you will have to pay prior to the coverage taking effect. Keep in mind that this form of coverage will protect your car from other hazards such as deer or a tree falling on your car.
Uninsured/Underinsured Motorist (UM/UIM): if you get into an accident with somebody who does not have enough coverage or perhaps any at all, you will be stuck with paying for your car yourself. If this was a serious accident, there could be expensive damages to your car and it could cause you a lot of financial problems if you do not have uninsured driver protection. Depending on the type of coverage that you purchased, UM/UIM coverage could pay for your car and your health expenses. Even though the amount of drivers on the road without insurance is low, it is still a good idea to have this coverage just to be safe.
Getting Quality Coverage is Possible
We have looked at a wide range of drivers from people who have bad credit, have one at-fault accident and many other categories. The most important thing that you should remember is that there is always a solution out there. Just because you have called around and the rates that were offered to you were unaffordable does not mean you will not be able to find something else. As an absolute final resort, can always turn to WAIP which will offer you coverage. It might be more expensive than voluntary insurance, but at least it is better than driving without car insurance altogether.
Also, there are so many factors that influence your premiums that a lot of times it is hard to keep up. Furthermore, things like your credit score are always changing and an increase in your credit rating could mean substantial savings. A lot of the negative collections and other negative things on your credit report are taken off after seven years. Therefore be sure to monitor things that weigh you down, but are temporary. This also includes your driving record. As your accidents and tickets get farther and farther away they will stop influencing the insurance premiums. This will usually happen after five years.
Keep all of this in mind the next time you decide to increase your speed or run a red light. A bad decision now could mean five year or more of higher premiums. Is this bad decision worth wasting so much money? It takes years of building a quality driving record and it takes only a second to destroy it. This sort of mindset will help keep everything in perspective and remind you of what can happen with one decision.
The importance of shopping around is also important. Your friends and family might be using one insurance company, but it might not be the right one for you. Furthermore, just because a company is a household name, does not mean that they will give you great coverage at a good price. If the big name companies cannot give you a good price, try searching for the ones that are not so famous. You are not computing in a popularity contest. At the end of the day, you just need to get into your car and drive to work or wherever it is that you need to go. Try shopping around for online insurance companies. Since they do not have physical locations, they can save money on overhead costs and pass the savings along to you.
From what we saw in the table above, the car insurance market in the State of Washington is dominated by a few insurance companies. While they offer cheaper rates than the state average, there are more possibilities out there and you need to get out there and explore. There is no point in wasting money just because you did not check one website.
While a lot of emphasis has been placed on bad drivers, it is important to get the discounts you deserve if you are an exemplary driver. Furthermore, if you qualify to get cheap car insurance, you should use the savings to purchase more comprehensive insurance. One of the main reasons car insurance companies try to sell complete coverage is not to make money. They understand that medical care is expensive and people who have only the basic coverage will not be able to pay the high costs of going to the hospital. Even calling an ambulance is expensive.
Having the right level of coverage will help give you and your family peace of mind knowing that you are covered in all sorts of situations. This knowledge gives you a sense of calm that transforms into safe driving. Having this feeling is worth paying for since there is no reason to risk your car or any other assets. Make sure that all of your decisions on the road are well informed and you are constantly aware of the financial costs of a ticket or an accident. This will prevent bad decisions in the future.