Enter your ZIP Code
to get insurance quotes in your area
Car Insurance in Mississippi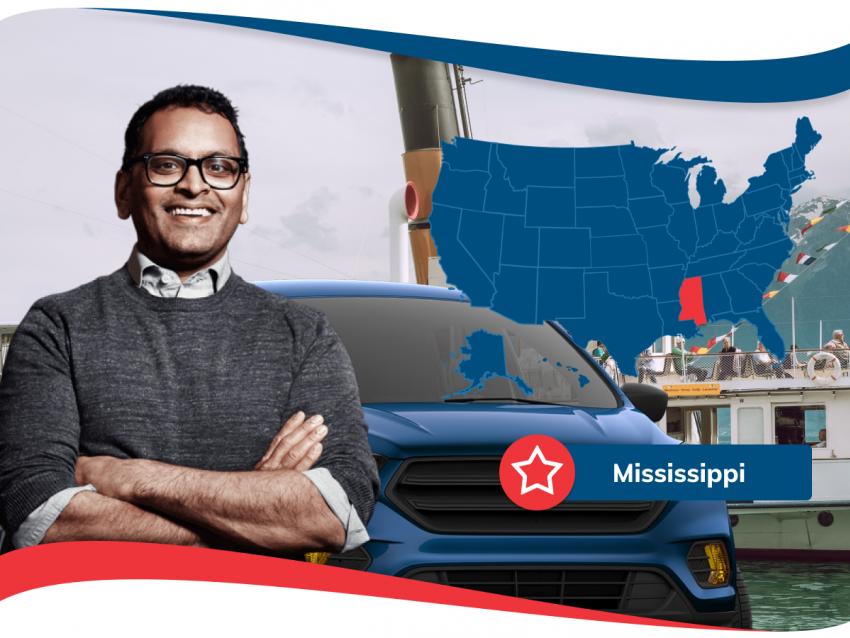 Car Insurance in Mississippi Saves Residents Money
Home of Barq's Root Beer and the world's largest shrimp, Mississippi is full of interesting facts and some beautiful and scenic roads. Whether here to attend college, live, or see the world's largest shrimp (which is on display at the Old Spanish Fort Museum in Pascagoula), it is crucial that you have auto insurance and can provide proof of insurance while traveling in the state.
As most states, drivers are required to have car insurance in Mississippi. Unlike many other states though, you do not need to provide proof of insurance to register your vehicle or apply for your Mississippi driver's license.
Needed Minimums for Auto Insurance in Mississippi
Liability insurance in the state is required by law, the minimum auto insurance coverage needed to legally drive is:
$25,000 per person for bodily injury and $50,000 per accident for bodily injury
$25,00 per accident for property damage
While the majority of drivers choose to buy a car insurance policy to meet these requirements, drivers have other options as well. These options include:
Posting a bond for the minimum coverage amounts
Making a deposit equal to the minimums
Additional Car Insurance Coverage Options
Other options to add to your auto insurance policy include collision coverage, comprehensive coverage, and uninsured/underinsured motorist coverage. Collision helps pay for damages caused by hitting other cars of objects. Comprehensive coverage helps pay for damages resulting from non-accident related damages. Uninsured/underinsured motorist coverage helps when an uninsured motorist causes an accident, or if they do not have the insurance coverage needed to pay for the damages.
| Coverage type | Study limits |
| --- | --- |
| Bodily liability | $50,000 per person/$100,000 per accident |
| Property damage | $25,000 per accident |
| Uninsured/underinsured motorist bodily injury | $50,000 per person/$100,000 per accident |
| Comprehensive and collision | $500 deductible |
In addition, there are options that help in terms of providing for medical payments, rental cars, lease gaps, and roadside assistance.
Mississippi has Strict Penalties for Driving without Insurance
The penalties are large for driving without a car insurance in Mississippi. If you do not have a car insurance policy and are driving, you could be hit with a $1,000 fine and/or a driver's license suspension of an entire year. If you buy an insurance policy after you are cited and are able to provide proof of insurance at your court hearing, your fine can be reduced and your license reinstated. If your auto insurance coverage is purchased after your hearing (or the payment of your fine) your license can also be reinstated.
If you fail to show proof of insurance when you are pulled over, but you have insurance, you can show proof that you had auto insurance at the time of the citation and have the fine for not having proof of insurance on you during the traffic stop waived.
Another penalty the state of Mississippi is the filing of an SR22. This form can be used to prevent suspension of a driver's license or to reinstate a license that has been suspended or revoked.
Car Insurance Policy Discounts
Discounted rates are often offered to drivers if they are good drivers, students, have a safe vehicle, or have multiple vehicles on their policy. There are other discounts as well. Safe driving is one of the best ways to save money on your auto insurance premium though, so the discount for that is well worth having.
Final Word
It is important to have liability. We are here to assist and can help you get the best car insurance rates and find the best car insurance discounts. If you have any questions, please contact us, we will get them answered. Contact us today for your free quote and get the best auto insurance rates and save some money.
| Rank | City | Avg. Annual Premium |
| --- | --- | --- |
| 1 | Jackson | $1,746 |
| 2 | Clarksdale | $1,715 |
| 3 | Clinton | $1,713 |
| 4 | Gulfport | $1,672 |
| 5 | Biloxi | $1,653 |
| 6 | Vicksburg | $1,623 |
| 7 | Pascagoula | $1,612 |
| 8 | Brandon | $1,606 |
| 9 | Ridgeland | $1,601 |
| 10 | Gautier | $1,594 |
| 11 | Horn Lake | $1,593 |
| 12 | Olive Branch | $1,592 |
| 13 | Southaven | $1,585 |
| 14 | Madison | $1,569 |
| 15 | Greenville | $1,563 |
| 16 | Oxford | $1,538 |
| 17 | Meridian | $1,537 |
| 18 | Hattiesburg | $1,533 |
| 19 | Laurel | $1,503 |
| 20 | Columbus | $1,444 |
| 21 | Tupelo | $1,402 |