Enter your ZIP Code
to get insurance quotes in your area
Car Insurance in California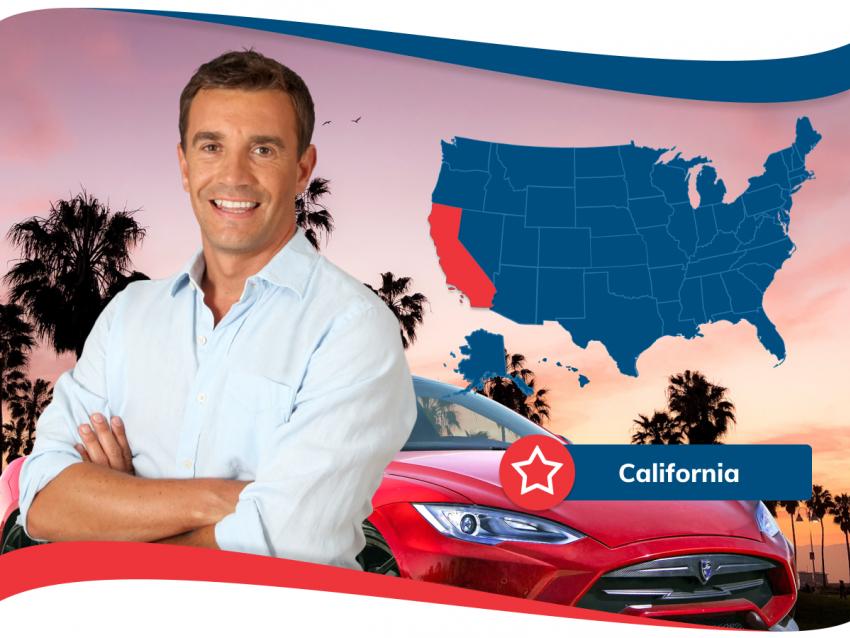 All drivers want to get the best possible rate on their care insurance, but their driving record prevents them from doing so. They call one insurance company after another only to hear that an accident or ticket they had makes them ineligible for smaller premiums. They choice they have is to pay the higher costs or shop around for lower rates, such as the one offered by online insurance companies. It is important to note that auto insurance is required by law in the state of California. The minimum amount of insurance a driver must hold is liability insurance. For low-income drivers, the state of California has a program, and the state also offers discounts to use for California car insurance.
Shopping around can help you get the most affordable car insurance quotes. Many California insurance companies have to, by requirement, offer you a good driver's discount if your driver's record is clean. Continue reading to learn more about car insurance rates in the state, as well as laws and programs California provides.
California Cities with the Cheapest Insurance
You already know that not all drivers pay the same rates based on their driving record, but did you know that the city you live in is a factor as well? In fact, some cities in California have a much cheaper average premium. The cities below pay the lowest for their car insurance:
Fremont - $1714
Chula Vista - $ 1728
San Diego - $1739
San Jose - $1767
Huntington Beach - $ 1767
While this does not mean that you should move to one of these cities to pay less for your car insurance, it does show you how many factors are in play during price calculation. With all of this in mind, let's take a look at where you can find the best car insurance in California for good drivers.
Best Auto Insurance rates for Good Drivers
Before we tell you which companies give good drivers the best rates, it is important to know the minimum coverage requirements for drivers in California. In California, the law auto insurance that can cover the costs related to injuries or damages that are caused by accidents that are your fault. Your California auto insurance policy must cover a minimum of $15,000 for Injury/death to one person and $30,000 for injury/death to more than one person. In addition, it must cover a minimum of $5,000 for damage to property.
Now, here are the best companies that will give you the above mentioned coverage at the best possible price:
| Company | Annual Price | Monthly Price |
| --- | --- | --- |
| Esurance | $1196 | $100 |
| 21st Century | $1510 | $126 |
| Geico | $1541 | $128 |
| Allstate | $1684 | $140 |
| Mercury | $1721 | $143 |
To put all of this into perspective, the average car insurance rates in California for good drivers are $1817 annually and $151 per month. So if you have no accidents on your record, hop on over to one of these insurers today to start saving.
Also, if you are saving money thanks to your driving record, you should consider increasing your coverage just to stay safe. There are many insurance options that go above the coverage requirements for car insurance in California.
Collision coverage - In case of a traffic collision, this provides insurance to cover damages to your vehicle.
Comprehensive coverage - For damages that may occur to your car from sources that are not related to traffic accidents, such as theft or falling objects. The California Highway Patrol issued a report in 2011 stating that 156,796 vehicles were stolen. This had an estimated cost of one billion dollars.
Medical and funeral services coverages.
Uninsured/Underinsured motorist coverage - This covers damages caused by a driver that does not have car insurance or is an underinsured driver. Statistics provided from the California Department of Insurance (CDI) in 2004 have shown that just over 14 percent of California drivers had no car insurance, so this is something many drivers who live in the state choose to have.
Since you are already saving money, getting this additional coverage will be affordable and, most importantly, it will give you peace of mind knowing that if something does happen, you are covered.
Best Auto Insurance Rates with One At-Fault Accident
We all get into an accident and the important thing is to deal with it properly and move on. So, if you have an accident, there are companies that will still give you a good rate. These companies are:
| Company | Annual Price | Monthly Price |
| --- | --- | --- |
| Esurance | $1770 | $148 |
| AAA-Northern California (CSAA) | $2279 | $190 |
| Mercury | $2507 | $209 |
| 21st Century | $2633 | $219 |
| Geico | $2713 | $226 |
While some of the names of the car insurance companies are the same as the ones in the table above, it is interesting to see that even if you have one at-fault accident, Esurance will still give you a rate that is lower than the state average. By the way, the average price of car insurance for a recent at-fault crash is $2,945 annually or $245 a month. In other words, if you got into an accident recently, you will pay $1,128 more than somebody who has no accidents on their record. When you are considering increasing your speed or making and unsafe maneuver, keep all of these prices in mind drive safely.
Best Car Insurance for Bad Drivers
If you have a major violation on your record such as DUI, multiple accidents or you simply have bad credit, it can be difficult to get quality car insurance at a great price. Your premium rate will depend on the violation on your record, so if you have any of the following violations, here is what you can expect to pay:
| Violation | Annual Rate | % Increase |
| --- | --- | --- |
| At-fault accident | $2,575 | 35.96% |
| DUI | $4,690 | 64.83% |
| Speeding | $2,238 | 26.29% |
| Bad credit | $1,649 | 0.00% |
The most glaring figure on the table is the DUI. if you get a DUI, your insurance will skyrocket, and you will pay almost twice the annual average. If you are worried about your credit affecting your premium rates, keep in mind that while you might be paying more than someone who has good credit, but your auto insurance will not be affected if your credit score goes done.
Best Auto Insurance for Low-Mileage Drivers
One of the first questions you will be asked when you call to inquire about coverage is how far you plan to drive every single day. You drive less than 5,000 miles annually; you could be eligible for a low-mileage discount. This can be a great option for seniors or even if you have a car that you do not use that often. Here are the best companies to turn to if you are a low mileage driver.
| Company | Annual Price | Monthly Price |
| --- | --- | --- |
| Esurance | $1,101 | $92 |
| Geico | $1,168 | $97 |
| 21st Century | $1,183 | $99 |
| Mercury | $1,363 | $114 |
| Liberty Mutual | $1,432 | $119 |
The average rate for low-mileage drivers in California is $1,498. Also, it is interesting to note that Esurance seems to be the cheapest company to go to no matter what your driving record looks like.
Best Auto Insurers in California
Most people only look at the price the car insurance provider gives them and decides whether or not to sign with them based on this rate. However, it is important to consider the service that the insurance provider will give you. For example, if you get into an accident, will they be prompt with payment? Will you have to stay on hold for a while? Lots of cheap car insurance companies will simply disappear if you call them about an issue. With all of this in mind, let's take a look at the best car insurance companies in the State of California.
| Company | Claims Satisfaction (J.D Power) | Financial Strength (A.M. Best) |
| --- | --- | --- |
| 21st Century | 3 | Excellent |
| Allied | 3 | Superior |
| Allstate | 3 | Superior |
| California Capital | Not rated | Excellent |
| Esurance | Not rated | Superior |
The conclusion we make from this table is that while Esurance may not be the best at handling claims, you will not have to worry about them being able to pay since they a superior rating from A.M. Best. However, since 21st Century also made the list of all the categories above, you should consider them as well since they also have great rating from A.M. Best, and you will get you claim resolved without hassles.
Auto Insurance for Those with a Lower Income
If you have a valid California driver's license, own a car that is valued at less than $25,000, are least 19 years old, and meet the income requirements, you can qualify for California's Low-Cost Automobile Insurance Program (CLCA). The program was passed in 1999 to help combat the high numbers of low-income drivers that did not have car insurance.
Car insurance is a big financial investment even if you have a clean driving record. Unfortunately, not everybody can afford car insurance. To prevent their income from precluding their ability to drive, the State of California has implemented the Low-Cost Auto Insurance Program. This program offers many payment plans and no broker fees. All you need to qualify for the program is:
A current California driver's license.
An automobile worth $25,000 or less.
Income of no more than 250% of the federal poverty level.
If you are wondering whether your income makes you eligible for the program, you can go to the program's website and they can calculate everything for you. Be sure to have all of your documents about income since you will need them to input information.
In addition to the CLCA, California has a program to help get all drivers insured as needed. When drivers cannot find an insurance company that will provide insurance to them because of a poor driving record, the California Automobile Assigned Risk Plan (CAARP) will take their application. Each insurance company in California is required to accept a certain amount of CAARP applicants. This amount is determined by what their share of the market is.
Alternative Car Insurance in California
While having a valid car insurance policy is the most widely used insurance method, there are alternative methods of insurance as well. Alternative methods include surety bonds, cash or securities or self-insurance. If you have a surety bond, you will have to pay a certain part of the total amount in order to keep the bond and you will then pay the full amount in the event of an accident and liability costs as well of the people who were also in the accident. From this example alone we see that simply buying auto coverage is the right way to go because it does not put your financial situation at risk. All you have to do is pay your premiums on time and you will get the coverage up to the limits that you choose.
As far as the State of California is concerned, drivers do not necessarily have to buy an auto insurance policy, but they will have to demonstrate that they have the money to pay in the event of an accident. In addition to surety bonds, drivers can make a cash deposit with the Department of Motor Vehicles (DMV) or get a self-insurance certificate that is issued by the DMV. Let's take a look at these alternative insurance methods a little more closely.
If you decide to make a cash deposit with the DMV, you will have to do so in the amount of $35,000. While not many people can pay such a high amount, there are pluses and minuses of such an approach. If you have such an amount of money simply lying around, then you have the opportunity to buy a policy to begin with, but some people do not like paying for something that they might not need. Afterall, you might not get into an accident, but you will still be paying your car insurance premiums.
While making the $35,000 deposit will eliminate having to pay your premiums, you will still be liable for paying for damages and injuries out of pocket if the amount is more than $35,000. Therefore, putting your financial situation at risk may not be worth skipping the policy option and you will usually be covered for a much higher amount with a traditional auto insurance policy. The surety bond and the self-insurance option car the same risks as the cash deposit. You will still have to make an up-front payment of $35,000 and if the liability increases this amount, you will have to pay the additional amount.
If you are wondering when such alternative options would make sense, it would be if you have a large number of cars. Let's say somebody has ten cars. They can either choose to buy car insurance policies for each car, or they can make the cash deposit. The latter option would make more sense because you might not even drive some of the cars over the course of the year, yet you will still have to pay car insurance on it. Also, if you are a high risk driver. Let's say that you got a DUI or other serious traffic violation, insurance companies might give you sky-high rates. If the amount you will have to pay is more than $35,000 then you can insure them yourself.
Insurance Laws in California
According to many sources, California's insurance laws are one of the most consumer friendly in the country thanks to Proposition 103. Passed in 1988, it introduced a number of regulations for the California insurance industry. It was voted in to combat increasing car insurance costs. Companies providing auto insurance were required to cut their rates to 20% of what they were in 1987 (the year before). From that point on, rate changes would need to be approved by the California Department of Insurance.
Due to Prop 103, the law now requires offering a discount of 20% to people considered good drivers. This discount requires companies to look at the last three years of people's driving records. If the criteria are met, they qualify as a good driver.
In addition, Prop 103 makes it illegal for companies to use your credit history as a factor in determining your insurance rate.
It also mandated that car insurance rates be approved by the state's department of insurance. Additional regulations imposed by Proposition 103 includes:
Car insurance pricing - Insurance companies in the State of California cannot use someone's credit score as a factor in insurance pricing. This sort of protection is not included in any other state.
No gender-based pricing - This is something that was recently introduced and prevents price increases that usually affect young men and middle age women.
Consumer Bill of Rights - This includes your right to choose the body shop where you take your car and get independent damage estimates
Itemized invoicing - the invoice must state whether the repaired parts are new used or repaired.
Additional guarantees from the insurance company – If aftermarket parts were used, the insurance company must guarantee that the parts are of the same quality, safety, fit and performance as OEM parts.
Furthermore, in order to register your car (or renew your auto registration) you need to prove that you have auto insurance. Cards are issued by the insurance company that provides the policy. They will have a number of informational items on it, including your cars make, model, year, safety rating, and value. It will also have your name and the policy's expiration date, which shows the end of your insurance term. You need to renew your car insurance policy before it expires to prevent having days that you are not covered.
Each time you renew your policy, a new insurance card will be issued. Additionally, because of a requirement that states that California insurance companies must report your insurance information electronically to the California DMV, they also have a record they can use to verify you are covered.
Because of California's Vehicle Code states that if you do not have your card, you may be able to access your insurance information on your smartphone. Multiple car insurance carriers have apps that allow you to access your information.
If you are lacking proof of car insurance and get pulled over in the state of California and also lack other forms of financial responsibility as required, you may receive fines. The fines for not having proof of car insurance in California (first offense) are between $100 and $200. They go up to between $200 and $400 for each additional offense within 3 years after your first.
In addition, your registration can be suspended if you do not have proof of insurance. This can also happen if you register your car with false insurance or the DMV is notified of your insurance being canceled and it is not replaced promptly. If this happens you will need to re-register your vehicle in order to legally drive again.
If a driver does not have proof of insurance, the court could impound your vehicle and hold it until you show proof of insurance as required by law.
Final Words
While getting car insurance is expensive no matter how you look at it, there are many factors that will influence the price that you get. The best thing to do is to be aware of all the discounts that are available and drive carefully to avoid an accident. If you do get into an accident it is not the end of the world. You will still be able to get car insurance at an affordable rate. If you cannot find coverage that works for you, there is always the alternative insurance options. However, this should be exercised with great care.
Also, you should remember that you live in one of the most consumer-friendly states as far as car insurance is concerned. Thanks to Proposition 103, you have the most protections than any other state. Even if you cannot find affordable coverage, the government will work with you to find a solution. So, stay safe on the road and avoid any mistakes that cause your car insurance to go up.