Enter your ZIP Code
to get insurance quotes in your area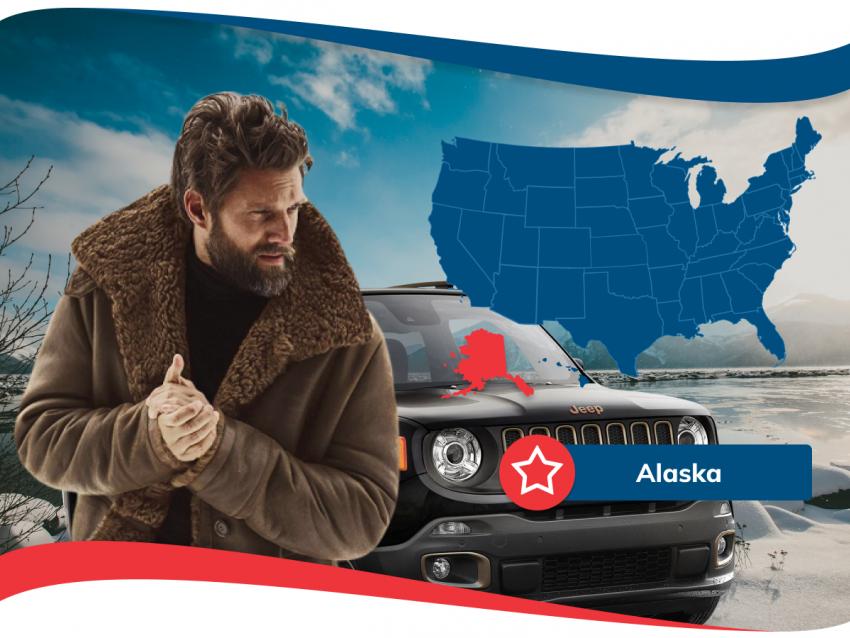 Find the cheapest car insurance in Alaska
For those adventurers who drive the Alaska Highway or journey through Denali National Park it is important to have the best car insurance. With our cold weather and rugged terrain it is important to protect yourself with the insurance that will help you when you need it the most. If you are looking for the cheapest insurance coverage in Alaska you have come to the right place. Alaska car insurance is here to help you with your car insurance quotes and ensure that you get the most bang for your buck.
We live in a unique state so we have unique laws. Before you can drive legally in the state of Alaska, you must first prove financial responsibility. A simple and quick way to do this is to buy car insurance and carrying your proof of insurance card in your car at all times.
Alaska Required Coverage
If you want to drive in the state of Alaska there are certain coverage that are required to drive legally. Before you can operate your vehicle, you must have at least the following minimum coverage to comply with Alaska laws:
Bodily Injury Liability: $50,000 per person and $100,000 per accident. This covers expenses related to the injury/death of another driver/pedestrian in an accident
Property Damage Liability: $25,000. This covers expenses related to the damage of another person's property (vehicles, homes, buildings, etc.) when an accident is your fault.
Uninsured/Underinsured Motorist Coverage for Bodily Injury: $50,000 per person and $100,000 per accident*. This Covers medical expenses if you're in an accident with an uninsured or underinsured motorist.
Underinsured Motorist Property Damage: $25,000*
*You can reject Uninsured/Underinsured Motorist coverage in writing if you choose to do so.
Why get Uninsured/Underinsured Motorist coverage
Over 10 percent of Alaskan drivers were uninsured in 2012.
While Uninsured/Underinsured Motorist coverage is not legally required in Alaska, this option offers drivers the financial protection they will need in case of an accident with an uninsured driver.
What impacts your coverage
Your insurance rate can be impacted by factors in the state of Alaska.
Premiums are calculated using some general factors. These factors could play a role in your rate when shopping for insurance. We can help you find the cheapest auto insurance quotes in Alaska.
Age
Accidents or tickets on your record
The make, model and year of the vehicle
Prior insurance lapses
Whether your car is parked or garaged
Coverages on your policy
| Age | Annual Rate with Parents | Annual Rate Alone |
| --- | --- | --- |
| 16 | $4,373 | $5,423 |
| 17 | $4,152 | $4,815 |
| 18 | $3,999 | $4,104 |
| 19 | $3,595 | $2,985 |

Other car Insurance coverage options
There are additional types of coverage that you can consider when shopping for auto insurance in Alaska. Additional insurance coverage can give you peace of mind when dealing with an auto accident. Though not required by the state of Alaska to operate a vehicle, these additional insurances can be of great assistance in the event of a large accident or natural events that are out of your control. We can work to keep your insurance rates low while still providing you the maximum coverage for car insurance in Alaska.
Comprehensive Insurance – This assists with damages to your car resulting from non-accident events, such as weather, animal collisions and fire.
Medical payments options – Assists you with your medical costs if you are hurt in an accident.
Collision insurance coverage– Helps you pay for damages to your car after a traffic accident.
| Coverage type | Study limits |
| --- | --- |
| Bodily liability | $50,000 per person/$100,000 per accident |
| Property damage | $25,000 per accident |
| Uninsured/underinsured motorist bodily injury | $50,000 per person/$100,000 per accident |
| Comprehensive and collision | $500 deductible |
Car insurance discounts in Alaska
Alaska offers discounts to drivers who meet the discount qualifications. Taking advantage of these available discounts can save you money on your auto insurance rates.
When applying for auto insurance in person or online, make sure to ask about common discount factors that may apply to you. These factors include:
Good driver record - this is the biggest discount factor. Make sure your clean driving record is noted as this can provide discounts for your coverage.
Good student record - if you are currently enrolled as a student this option could save you on your insurance.
Anti-theft device vehicle
Multi-car discounts - the more the merrier. These discounts are available for multiple cars under the same policy.
Homeowner's insurance discount
These discounts can help you get cheap car insurance. Alaska car insurance does not have to be complicated. You can get a quote quickly and easily online.
| Rank | City | Avg. Annual Premium |
| --- | --- | --- |
| 1 | Anchorage | $1,501 |
| 2 | Fairbanks | $1,321 |
| 3 | Wasilla | $1,309 |
| 4 | College | $1,281 |
| 5 | Sterling | $1,241 |
| 6 | Kodiak | $1,164 |
| 7 | Juneau | $1,057 |
| 8 | Sitka | $1,044 |
| 9 | Ketchikan | $1,020 |