Enter your ZIP Code
to get insurance quotes in your area
Car Insurance in Ohio in 2020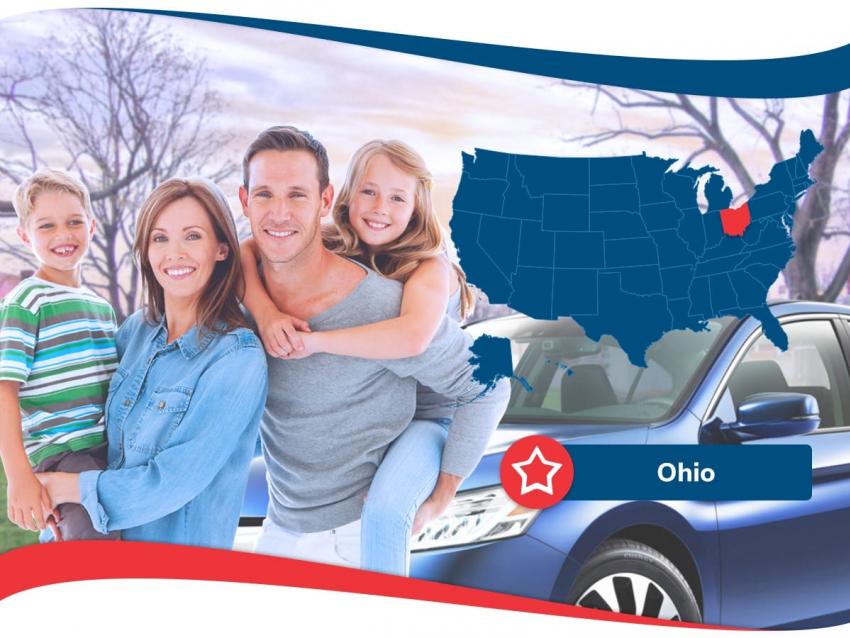 When we first look for car insurance, we first think of all the accidents, tickets and other things that affect the price that we get. However, there are so many factors that are in play during price calculation that it can almost be impossible to predict how much we will have to pay. In addition to all of the discounts offered by the car insurance companies for the safety features in our vehicles, such as antilock brakes, airbags and many others, your geographic location will also be a factor. Each state has their own car insurance prices depending on how big of a risk the average drivers are. By living in a state where people drive safely and have no incidents on their records could translate to cheaper insurance for you as well.
Today we will; look at the State of Ohio in order to give drivers an idea of how the overall prices compare to the national average. Keep in mind, we understand that not all drivers are the same which is why we will present prices for all categories of drivers.
The Best Car Insurance Companies in Ohio
The following car insurance companies have a solid rating from A.M. Best, meaning they are financially string and will be able to pay out in the event of an accident. We will also present their Consumer Reports reader score, which will give you an idea of well their customer service is and how easy it is to file a claim.
| | | |
| --- | --- | --- |
| Insurance Company | A.M. Best Rating | Consumer Reports Reader Score |
| American Family | A | 89/100 |
| State Farm | A++ | 87/100 |
| Progressive | A+ | 87/100 |
| Liberty Mutual | A | 88/100 |
What is interesting is that we see a lesser known insurance company, in this case American Family, rated higher in the Consumer Reports rankings than some of the other companies which are much larger and have better brand recognition. However, this goes to show you that even though a company might have a bigger name, it does not necessarily mean that they will have the best service, or they are right for you. It is always a good idea to explore all of your options to make sure that you are not missing out on a company which can give you comparable service at a lesser price.
Best car Insurance rates by City
Believe it or not, the price you will pay for car insurance also depends on the city that you live in. Here are the cities in Ohio that pay the least amount for car insurance:
| | |
| --- | --- |
| City | Annual Rate |
| Findlay | $1,012 |
| Van Wert | $1,034 |
| Bowling Green | $1,038 |
| Brunswick | $1,059 |
While this does not mean that you should move to one of these cities to get a cheap rate on your car insurance, it goes to further show just how many factors are in play during price calculation. If you were wondering about Cleveland, it ranks as the most priciest city in Ohio for car insurance. If you live in Cleveland, you can expect to pay $1,674 which is 35% higher than the state average.
Best Insurance for Good Drivers
| | | |
| --- | --- | --- |
| Insurance Company | Monthly Rate | Annual Rate |
| Grange Insurance | $44 | $524 |
| Erie Insurance | $66 | $789 |
| State Farm | $77 | $928 |
Now we see two additional insurance companies enter the playing field, Erie and Grange Insurance. The prices reflected above are for 40-year-old men and women and for comprehensive coverage. This is another great example of how shopping round could save you a lot of money. Opting to go with a company like Grange could save you more than $250 a year.
Best Insurance for Drivers with Bad Credit
Most people do not know that their credit score influences their car insurance. Drivers with bad credit usually pay significantly higher than people with good credit. In fact, a bad credit could increase your insurance rates more than a DUI. Having said this, here are the best insurance companies to go to if you have bad credit:
| | | |
| --- | --- | --- |
| Insurance Company | Monthly Rate | Annual rate |
| Grange Insurance | $69 | $831 |
| Nationwide | $126 | $1,515 |
The table above confirms what we talked about above about people with bad credit paying more. In the State of Ohio, you might pay twice as much if you have bad credit depending on your insurance company. Therefore, be sure to monitor your credit and notify your insurance company about any changes. Usually things like collections and late payments that appear on your credit score will be on there for seven years. After that they are taken down. Therefore, if the seven years are up, you will be able to get much cheaper rates.
Best Insurance for Drivers with One At-Fault Accident
We all get into accidents. It will happen even to the best drivers once in a while. Therefore, it is important to learn from the accident and be extra cautious next time. Unfortunately, having an accident on your record will cause your insurance rates to go up depending on the severity of the accident. The following car insurance companies will give you the best rates if you have one accident on your record:
| | | |
| --- | --- | --- |
| Insurance Company | Monthly Rate | Annual Rate |
| Erie Insurance | $83 | $992 |
| Grange Insurance | $85 | $1,018 |
| State Farm | $92 | $1,106 |
While this table shows Erie and Grange Insurance will be able to give you the best prices if you have one at-fault accident on your record, we see something interesting when we compare having one-at fault accident to having bad credit. What we see is that having bad credit is actually worse than getting into an accident. For example, if you have Grange Insurance, you will pay almost $40 more every month if you have bad credit than if get into an accident.
As far as having an accident on your record is concerned, those usually get taken off your record after 3-5 years. Within that time period, you should start noticing g your rates decreasing and after five years you should be paying the same amount as good drivers.
Best Insurance for Low-Mileage Drivers
If you drive less than 5,000 miles a year, you might qualify for the low-mileage discount. This is a good option for senior citizens who drive only in the morning or for students who travel only to one location and back.
| | | |
| --- | --- | --- |
| Insurance Company | Monthly Rate | Annual Rate |
| Grange Insurance | $43 | $514 |
| Erie Insurance | $57 | $687 |
| State farm | $65 | $786 |
The fewer miles you drive, the less likely you are to get into an accident. This means that you are less of a risk in the eyes of the insurance companies. Therefore, consider taking public transportation whenever possible, since it could end saving you a lot of money if you fall in the high-risk category. This includes student and first-time drivers, people with a lot of accidents on their records and other drivers.
Best Insurance for Minimum Coverage
While it is highly recommended that you get comprehensive coverage that will pay for the damage caused to your car and the other car(s) involved in the accident, you have the option of only buying the minimum requirements as determined by your state. We will discuss these requirements later on, but the following companies will be able to give you the best rates if you are looking to get only the minimum coverage:
| | | |
| --- | --- | --- |
| Insurance Company | Monthly Rate | Annual Rate |
| Grange Insurance | $15 | $175 |
| Erie Insurance | $22 | $261 |
| State Farm | $33 | $395 |
If you are on a tight budget, buying only the minimum coverage is a great option. Furthermore, drivers in Ohio can get super cheap rates from companies like Grange and Erie which can offer you savings of almost 50%. In fact, the rates for buying only the minimum coverage are almost three times cheaper than buying the low-mileage policy. Therefore, even if you plan to drive less than the national average of 12,000 miles a year, your best option in the State of Ohio is to simply get the most basic coverage. This way you will still get a great rate and you will have the option of driving an unlimited number of miles in case you want to take a trip or whatever the case might be.
Car Insurance Prices for Bad Drivers
We talked about how getting into an accident will increase the price of your insurance but getting a major violation like a DUI will cause it to increase as well. Here are the average car insurance prices drivers in Ohio pay who have major violations:
| | |
| --- | --- |
| Violation | Annual Price of Car Insurance |
| DUI or DWI | $1,711 |
| Reckless Driving | $1,568 |
| Speeding (21-25 MPH > limit) | $1,243 |
| Speeding (16-20 MPH > limit) | $1,243 |
As you can see from the table above, the price of getting these violations will cost you a lot as far as car insurance is concerned. For example, if you get a DUI or a reckless driving ticket, you could end up paying as much as three times more than somebody with a clean driving record.
Minimum Coverage Required by the State of Ohio
The basic coverage you will need to buy is liability, which will cover damages to property and health costs of the other driver involved in the accident. The minimum liability limits you have to buy are:
$25,000 bodily injury liability per person
$50,000 bodily injury liability per accident
$25,000 property damage liability per accident
Keep in mind that if you get into a big accident, the damages could easily surpass the limits of the basic policy. Therefore, it is a good idea to give yourself peace of mind and buy comprehensive coverage since you will not have to worry about paying for damages caused in an accident. Furthermore, let's say that you get into an accident with a driver who is under insured or has no insurance at all. In this case, you will have to pay to fix your car even if you were not at fault in the accident. A comprehensive insurance policy will include uninsured motorist protection which will pay for damages cause by an uninsured driver.
What if You Cannot Get Insured
If you have tried to find car insurance, but you were repeatedly denied by the insurance companies, there are still some options available for you. The best option would be to apply for the Ohio Automobile Insurance Plan (OAIP). This is a state program that is designed as a last resort for driver who are not able to find insurance on the voluntary market. Basically, this is a residual pool where all of the insurance companies on the State of Ohio will split the cost of insuring high-risk drivers. The insurance companies will split the cost of insuring drivers in the pool depending on their market share. For example, State Farm has a 19% market share in the State of Ohio, which means that they are responsible for insuring 19% of the high-risk drivers in the pool.
In order to apply for OAIP, you will have to ask an insurance agent to do so on your behalf. Motorists cannot do so by themselves. In order to be eligible for OAIP, you will have to prove to the car insurance agent that you have tried unsuccessfully to get insured in the last 60 days or you could not find a plan that is cheaper than the one offered by OAIP. Keep in mind, plans from OAIP will be significantly higher than comparable ones on the voluntary market. However, it is a good alternative for people who cannot get insured. Additionally, in order to be eligible for OAIP, you will need:
A valid driver's license. If your license has been suspended it can be restored by filing proof of financial responsibility which would keep you OAIP eligible.
To pay your premiums on time. Even if you miss one payment, you will not be eligible.
A safe vehicle. If your car is deemed to be a safety hazard, you will not be given coverage under OAIP.
Also, you will not be able to get physical damage insurance for your car if:
It is more than 25 years old
It is a brand-new car costing more than $25,000
You fail to bring in your car to the state-mandated inspection
As soon as you are assigned an insurer, you will be covered by them for three years. You should use this time to build up a good driving record so that you will be able to find much cheaper coverage on the voluntary market. As soon as you are able to do this, you will be able to cancel your OAIP policy. However, the insurance company that covered you under the OAIP will not refund any of the premiums you paid. If you were not able to build up a good driving record and no car insurance company is still willing to cover you after three years, you can reapply for OAIP as a new candidate. According to the laws of the State of Ohio, you will still be assigned to the same insurance company as before.
As far as paying your premiums are concerned, you will have two options to choose from:
Pay the full amount: You can pay 100% of the total estimated premium if you choose to pay annually in a lump sum.
Pay minimum deposit: You pay 40% of the premium upfront, and then pay the rest within 30 days.
There will not be an installment plan offered for OAIP. As we mentioned above, you will have to pay all of your premiums on time in order to remain eligible, but if you did not pay on time and were dropped, you can still reapply once the problem is resolved. According to the statistics provided by the Ohio Department of Insurance, 15% of Ohio drivers are uninsured. Even though OAIP will be more expensive than a regular policy from the voluntary market, it is still a lot better than driving without auto insurance altogether.
Alternative Coverage
If you are unable to find a policy that best fits your needs, you still have the option of obtaining alternative insurance in the form surety bonds and self-insurance. This could be a great option if you are safe driver and have a lot of extra cashing laying around. We will get into the amount of money you need later on, but it could save the cost of paying every month for car insurance that you might never need. Now let's go over your options in greater detail.
Let's start with surety bonds. Basically, you will need to find a company that is registered in the State of Ohio who will agree to pay for damages caused in the event of accident for $30,000. A surety bond is a three-way legally binding contract that guarantees that the surety company will be able to pay for the damages if the person who purchased the surety bond cannot.
Self-insurance is possible in Ohio if you have 25 cars or more. After you have submitted your application to the BMV proving that you have 25 vehicles and that you have the means to pay for damages that you cause or for judgements against you, they will issue a certificate of self-insurance. In addition to the number of cars, you will need to provide evidence of the following:
At least $100,000 in net worth with an income statement, and demonstrate enough reserves to pay out judgments against you for your cars
You have no record of bankruptcy or questionable financial standing. Any unpaid previous judgements against you will also prevent you from getting the BMV's approval
In addition to the above-mentioned methods, there is still an option to obtain a real-estate bond. You will need to file a real estate bond for an amount of at least $30,000 and you will need to get it signed by two other people that own real estate in Ohio in the amount of at least $60,000. Keep in mind that such a bond is only valid when it has been approved by a judge and filed by a court clerk.
While obtaining a regular insurance policy is usually the easiest way of getting covered, you still have these options available if you feel that you will not be needing insurance. Still having an insurance policy might safeguard you against unforeseen incidents, uninsured motorist and one car accidents. With this in mind, if you have the sum necessary to obtain the alternative insurance, there is no need to pay for a policy that you will never need. Furthermore, if you are a high-risk driver and you are getting sky-high rates from OAIP and others, it might make sense to simply accumulate the amount needed to get a surety bond or another form of alternative insurance than having to pay the high rates. It might more sense financially this way.
It is Possible to Obtain Coverage
A lot of people are in despair over their driving record and the subsequent rates and have therefore given up. You should always remember that there is always an option to get back on the road if you are responsible. The state will work with you to get you into a last resort program like OAIP as long as you keep you end of the bargain by paying your premiums on time and maintain a good driving record. Furthermore, it goes to show the damage caused by bad driving.
The next time you decide to increase your speed or perform a dangerous maneuver, be sure to keep in mind what it could cost you if you get caught. Such a momentary lapse in judgement could cost you thousands of dollars in fines, court fees and insurance costs. In addition, possible damages to your car and others involved in the accident. It could prove to be a bad situation all around. Therefore, be sure to exercise caution when you drive especially since it could save you a lot in the end. Simply decreasing your speed could prevent a lot of accidents and tickets which could prove costly in the end.