Enter your ZIP Code
to get insurance quotes in your area
What Type Of Used Car Has The Cheapest Auto Insurance Rates?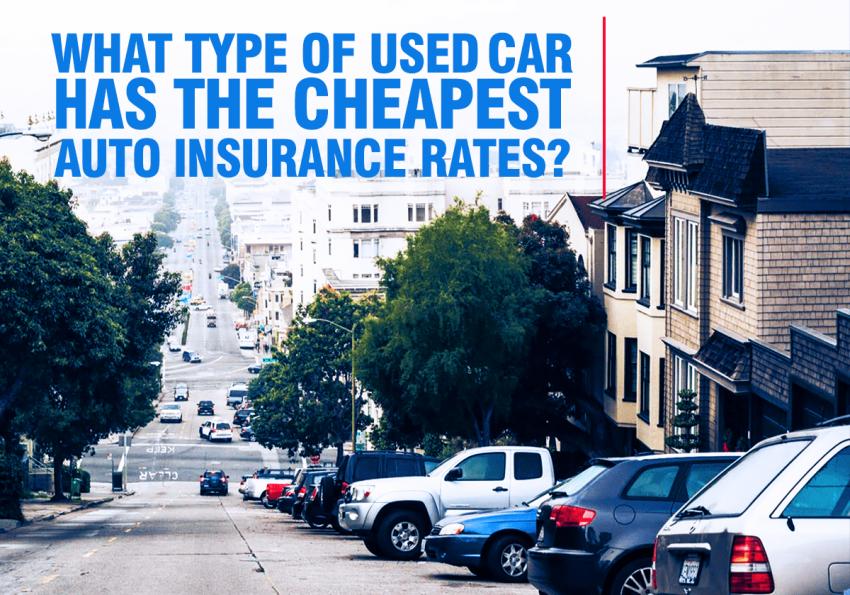 Many factors determine what your car insurance rates are. Some of these include your age, address, driving record, and even your gender. Another significant factor in determining the auto insurance premium rates you pay is the type of vehicle you purchase. Whether new or used, the kind of car you are driving impacts your automobile insurance rates.
How Much Auto Insurance Coverage To Buy For Your Used Car?
Determining how much automobile insurance coverage to get for your used vehicle is done with a few steps. First off, utilize websites like the Kelley Blue Book to determine the value of your vehicle overall. You will need to have the year, make, and model of the vehicle to determine the average purchase cost. Also, having the VIN of the vehicle as well as the number of miles it has been driven can be extremely helpful. Many people purchase used vehicles because they can be less expensive to repair in some cases but also are often less expensive to insure. There are numerous variables use to determine insurance rates, and knowing what these factors are is vital to purchasing a vehicle with lower insurance rates.
Which Used Cars Are The Cheapest To Insure?
There are a wide variety of cars on the market, so when selecting a used car, you will want to look at the car's automobile insurance rates before you make the purchase. Choosing a vehicle that costs a lot of money to cover may end up costing you a lot more in the long run, making it an important consideration. There are many factors to consider when purchasing a vehicle, but the insurance rates on the car should be a top research priority.
The money a person can save by purchasing a used vehicle that has lower insurance costs can be extensive. Imagine saving $75 per month simply for choosing a more reliable used car. Though some of these used vehicles can be a little bit more of an investment when they are first purchased, paying less for insurance each month can mean saving a lot of money overall.
If you are looking to purchase a used vehicle, there are several models to look at that will help you get the best insurance rates. Here are some of the cheapest used cars to insure:
Buick Lucerne
The 2008 Buick Lucerne is one of the least expensive cars to insure. If you are looking to get the cheapest car insurance policy on a car that has a good balance between size and gas efficiency, the Buick Lucerne should be high on your list. It has enough seats to fit the entire family, and there are several great safety features that not only lower insurance rates but also help keep your family and loved ones protected. This includes a side zone alert to inform drivers that there is a vehicle in an area that is harder to see.
Toyota Camry
Another great selection to consider if you are looking for low insurance rates is the Toyota Camry. This car is known as a vehicle that is easy to resell, and it also has high ratings in vehicle reliability and overall vehicle safety. Finding a good car that will help you save money on gas and save money on a car insurance policy is not always easy, but with a Toyota Camry, you can get both. This car should be considered a top car for cheap insurance. Keep in mind that this vehicle tends to sell faster on the used car market than others, mostly because of their proven quality.
Honda Odyssey
Some people need a little bit more space in their vehicles, and minivans can be a good choice for families with this need. Minivans can do well as quality family vehicles, they are not vehicles that are expensive to insure. The Honda Odyssey is one of the cheapest minivans to insure, and it is also one of the safest vehicles to drive.
In addition to the vehicle safety being fantastic, people who drive minivans are generally considered to be pretty safe drivers, which makes sense. They are considered family vehicles, and when people are driving with their loved ones, they tend to drive more safely.
Honda CR-V
Another vehicle from Honda, the Honda CR-V also makes the list of top inexpensive cars to insure. This is a more sporty vehicle with low insurance rates. A relatively inexpensive used vehicle to buy, the Honda CR–V is sought out by people who are knowledgeable about safety features, low car insurance rates, and stylish vehicles. With the Honda CR-V, you get a great combination of all of these things, a quality used vehicle that is cheap to insure.
Volvo V70
While the entire Volvo brand is known for reliability, between the years 1996 and 2016 the Volvo V70 made a name for itself as an incredibly reliable vehicle with some of the best insurance rates and the top safety features. There are multiple versions of the vehicle, including one with front-wheel drive and one with all-wheel drive. A car with a quality build, the Volvo V70 is an excellent used vehicle choice.
Subaru Legacy
This midsized sedan is all-wheel-drive. When looking for used vehicles, not only does the make and model of the vehicle have an impact, but also the year. Between the years 2014 and 2016, the Subaru Legacy ranks well and can be a fantastic choice. Its reputation for reliability keeps insurance costs low, and it also has standard all-wheel-drive. For a vehicle that is sporty, comfortable, and does not cost a lot to get an insurance policy on, the Subaru Legacy can be a fantastic used car choice.
Volkswagen Golf
Available as both a sedan and a hatchback, the Volkswagen Golf is another vehicle whose 2014 the 2016 models have low insurance rates on average. The hatchback is similar to the Volkswagen Jetta sedan in terms of parts and is a front-wheel-drive vehicle. Known as a great vehicle for small families, due to the space available inside, this reliable vehicle often has a fuel-efficient four-cylinder engine. More powerful engines are available, and the vehicle can be found in both automatic transmission and manual transmission models.
Ford Edge
Another used vehicle that is popular for many reasons, the 2014 to 2016 Ford Edge is less to insure on average than most other models in its category. As a midsize SUV, the Edge is an alternative to the Ford Explorer and the Honda Pilot. Even though these two vehicles have a higher seating capacity than the Ford Edge, the Edge does have seating for five and a good amount of cargo space. Available in either front-wheel-drive or all-wheel-drive, these are great vehicles for many families and have a stylish design. With a V-6 engine and an available turbocharged four-cylinder, these automatic transmission vehicles are great used vehicles to look at.
Fiat 500X Pop
Many people love the affordable Fiat 500X, which has lower car insurance rates on average than other vehicles in its class. The 2016 version of the vehicle has lower rates on average than the 2014 and 2015 versions, but they are even lower on average with the Pop trim. The list price for the vehicle new is $20,000, and this can be a fantastic vehicle to consider. Take the time to compare rates from multiple different auto insurance providers when purchasing the 500X, using the free car insurance quotes here at American Insurance.
Mazda CX-3 Sport
In terms of crossover vehicles, the Mazda CX-3 Sport offers a complete package. Being a compact five-passenger crossover, and one that has a sporty look, this vehicle is sought out by people looking to purchase used cars. Not only is the vehicle classy, but it comes in both front-wheel and all-wheel-drive. With lower than average insurance rates in its class, the CX-3 Sport is a car that can help you save money.
What To Look For Before Buying A Used Car?
Purchasing a used vehicle can seem a little bit overwhelming at first. Knowing what to look for in a used vehicle is important, as some vehicles are considered to be more reliable on average than others. Not only that, but because insurance rates can fluctuate from one vehicle to the next, paying attention to which vehicles cost less to insure can help you save a lot of money in the long run.
Individual vehicles that you are looking at should be taken out for a test drive, and the Vehicle Identification Number should be written down. This number can be used on websites like CarFax, which can help you identify if a vehicle has been in a major accident or is a salvaged car. These two things can make a car a more questionable purchase overall. This is especially true if the seller has not already disclosed this information and provided you with repair records.
Another fantastic resource is the Kelley Blue Book. Compare the prices on this website to what the person who is selling the used car is charging, and if there are large discrepancies, ask the seller why that is. In addition, take the time to look into how much a car insurance policy would be on the vehicles you are looking at. Make sure to include the year, make, and model of the vehicle, and get the Vehicle Identification Number as well for the most accurate quote possible. Paying just $50 less on car insurance each month is up to $600 in savings each year, savings that can be used for other expenses.
What Factors Affect The Price Of Insurance?
Many variables are taken into consideration when determining a person's auto insurance rates. Even more important than the total number of variables is the awareness that auto insurance providers use different formulas to determine the final rates a person will pay on auto insurance. This makes it vital to take the time to get free quotes on automobile insurance from multiple companies before deciding which car insurance provider to buy insurance from. Just a few of the factors that automobile insurance services use to determine rates include gender, driving record, credit score, insurance history, the model of the vehicle being insured, and more.
A person's driving record is one of the largest factors many automobile insurance providers use to determine rates. Due to this, keeping a good driving record by focusing on safe driving practices is a fantastic way to help keep your insurance rates down. Insurance companies will look at whether you have gotten into any accidents, whether you have tickets that have given you points, and whether you have made any claims on your insurance policy.
A person's insurance history also has an impact on what they pay for auto insurance premiums. If a person has had a lapse of more than 30 days in their automobile insurance, they may be placed into a high-risk category by the insurance companies. Drivers who are deemed to be high risk pay more for car insurance on average. This makes it even more important to compare rates from different car insurance companies to find savings.
Not all states allow automobile insurance companies to use a person's credit score to determine the rates they pay on car insurance. For states that do, know that people with higher credit scores are statistically less likely to get into accidents and file claims. This means people with a better credit score will pay lower rates on car insurance on average. Having a better credit score can also have a positive effect on many other aspects of people's lives, including getting loans and mortgages. Check with your state's Department of Motor Vehicles to determine whether insurance companies can legally utilize your credit score to determine how much you pay for car insurance.
Final Notes
Many factors go into picking the right vehicle for you, and great insurance rates are an essential part of the selection process. Fortunately, cars that are of higher-quality and have higher safety ratings tend to be the cheapest vehicles to insure. The vehicles on this list are a great place to turn when looking for the best automobile insurance rates.