Enter your ZIP Code
to get insurance quotes in your area
TOP Car Insurance Mascots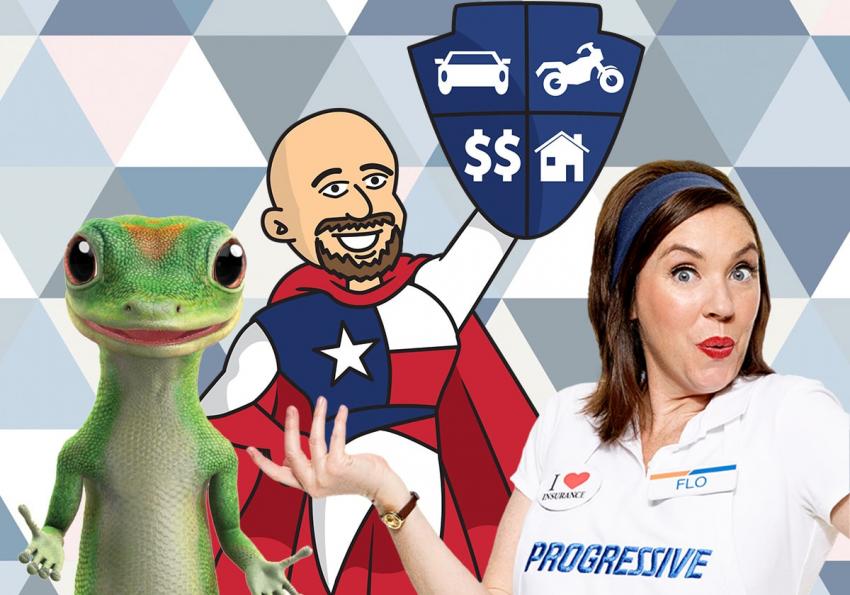 One of the great things about car insurance commercials is the mascots that they have. They have been seen in Superbowl ads, TV show commercials, and even heard in radio ads. They can be seen on billboards as well. These are celebrity characters, and they are incredibly memorable. Not all of them can be on the list of top ten car insurance mascots though, onward to the countdown!
8. The General's General
Taking the number tne spot on the list is The General, representing The General. This character is an animated character with a long white mustache. A shorter man, he is dressed in a green uniform shirt, green helmet, and wears yellow pants. Wearing combat boots, his commanding voice and big personality give commercials for the company attitude. Sometimes the commercials involve him with an actual person as the commercials costar, and sometimes he stars in the commercials himself. The cartoon is simple but also extremely memorable.
7. Farmers Insurance Group Prof. Daniel Burke
While the characters name is not the easiest to remember, J.K. Simons stars in the Farmers commercials as Prof. Daniel Burke from the University of Farmers. Using hands-on learning experiences, this memorable professor teaches his students about automobile insurance, and what Farmers Insurance Group has to offer.
6. Erin Esurance from Esurance
As a double agent, Erin Esurance is an animated cartoon mascot brought to life by the company Esurance in the year 2004. Being an undercover agent is hard work, and protecting the world from evil is one of her biggest goals. The other goal that Erin Esurance has is making sure that people are not paying more than they need to for their auto insurance policies. Getting the best prices for automobile insurance means getting a free quote on car insurance from Esurance, and undercover super agent Erin Esurance is here to let the world know.
5. Snoopy and thought Peanuts Gang for MetLife
In the year 1985, Snoopy became a fixture in MetLife commercials. The Peanuts came to life and warmed people's hearts around the world before this. MetLife utilized Snoopy and his supporting cast to help people feel secure with the insurance policies the company sells. By purchasing a car insurance policy from MetLife, you are getting insurance from a company that is financially secure and customer service friendly. The company still uses the Peanuts Gang in its commercials, though not quite as much is it used to in previous years.
4. Flo from Progressive
Featured in Progressive commercials since 2008, actress-comedian Stephanie Courtney has been the friendly spokesperson for Progressive Insurance for many years. Flo has appeared in over 100 commercials for the company, and few people know that the concept for the character was an accident built on during her audition. With over 5 million likes on Facebook and a huge Twitter following, Flo from Progressive is highly known and well loved.
3. Jake from State Farm
The concept behind these commercials is that boring sales calls are turned into hilarious sketches. Generally speaking, Jake is only featured for a few seconds and only says a few words, but they are incredibly recognizable and highly memorable. The actor who plays Jake is a former State Farm agent, and while he does not currently play the role any longer, people still remember his commercials.
2. Mayhem from Allstate
Created by Leo Burnett Worldwide in the year 2010, this is one of the more recent mascots, and also one of the best. Actor Dean Winters plays a character that winds up in every not so great situation a driver can. Mayhem has his own YouTube playlist, which has over 2 million views. He has 1.9 million Facebook followers and a massive number of Twitter followers as well. Playing a villain in the commercials, he recommends that people get Allstate insurance to stay protected from Mayhem like him.
The Mayhem character was created to increase awareness about Allstate as a brand, and it worked exceptionally well. Dean Winters character allowed them to target a younger audience but also had a lot of crossover with all demographics. The ad campaign surrounding the character was extremely creative, even winning awards.
1. The Duck from Aflac
The number one mascot for a car insurance company is the Aflac Duck. The Aflac Duck is the characters official name, making its first appearance in the year 2000. The duck quacks the company's name and has been featured in over 70 commercials. For many years, the duck did not have an actual voice, but in the year 2009 a voice was created. The character has been featured on numerous social networks and has its own accounts there. With over 750,000 followers on Facebook and over 60,000 followers on Twitter, The Aflac Duck has become not only a prevalent character but also massively increased Aflac's recognizability to consumers. The commercials that feature the duck are often hilarious, catapulting The Aflac Duck to the number one spot.