Enter your ZIP Code
to get insurance quotes in your area
How much cost GMC Terrain car insurance?
GMC Terrain General Information
Over the years, features have been added to the GMC Terrain. Trims that are available include the SLE, SLT, and the Denali in the year 2020. These vehicles can haul up to 3,500 pounds and are advertised to have between 28 and 30 miles per gallon highway. The Denali has premium upgrades from the other two models.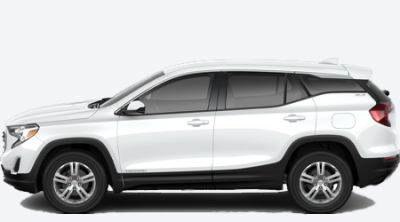 How much does it cost to insure my GMC Terrain
GMC Terrain Insurance Rates by Model Year
| | |
| --- | --- |
| Model Year | Total Premium |
| 2020 GMC Terrain | $1,335 |
| 2019 GMC Terrain | $1,317 |
| 2018 GMC Terrain | $1,303 |
| 2017 GMC Terrain | $1,298 |
| 2016 GMC Terrain | $1,276 |
| 2015 GMC Terrain | $1,257 |
| 2014 GMC Terrain | $1,221 |
| 2013 GMC Terrain | $1,188 |
| 2012 GMC Terrain | $1,136 |
| 2011 GMC Terrain | $1,091 |
| 2010 GMC Terrain | $1,064 |
Compare all GMC Terrain insurance rates.
No junk mail. No phone number. No fees.
How Much Does It Cost To Insure A GMC Terrain By Year?
With an average auto insurance price of $60 per month, the GMC Terrain is $38 less expensive than the average vehicle. Each year, the average insurance rate for a model of vehicle can be different. This is due to design changes and upgrades that happen, as well as insurance companies taking into consideration the longevity of the car being insured. People can save money on auto insurance by taking advantage of discounts and shopping around using the free auto insurance quote tools here.
GMC Terrain Safety Rating And Damage Threshold
Safety ratings are essential for keeping your families, loved friends, and yourself safe. The IIHS gives the GMC Terrain a Good rating in all categories except for two. The headlight results received a rating of Poor, while the Front Crash Prevention Results were Superior. Compare prices to get the best car insurance rates available for the GMC Terrain here.