Enter your ZIP Code
to get insurance quotes in your area
How to Get Car Insurance for 18-Year-Old Drivers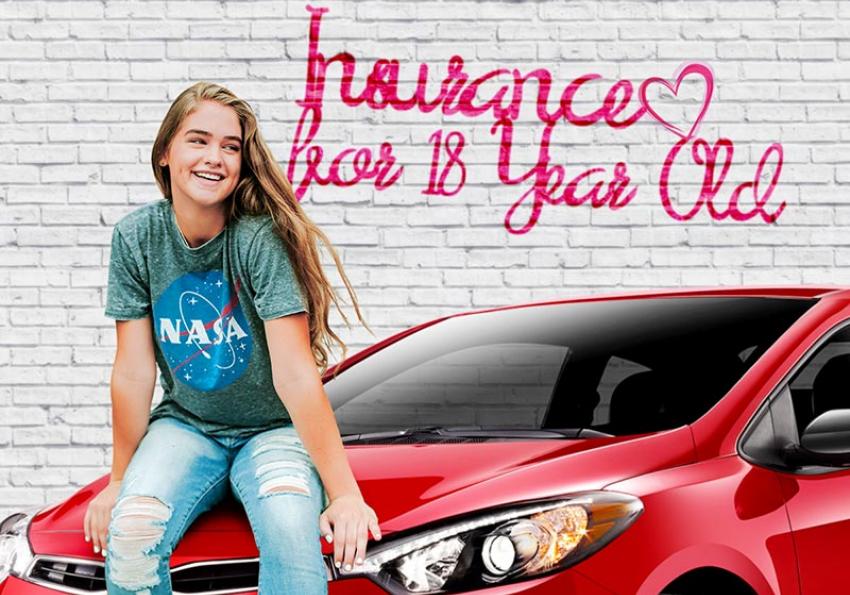 18-year-olds who want to get car insurance may have a hard time. That's because younger drivers are often seen as more reckless by insurance companies so they may have to pay a bit more. However, there are some things that young drivers can do in order to get covered at a reasonable rate whether they are still under the care of their parents or striking out into the world alone.
How Much is Car Insurance for an 18 Year Old?
18-year-olds usually fall into the idea of "student car insurance" this is for people who are either in high school or college, typically under the age of 25 years. For this group of insurance seekers, who represent about 13% of the driving population, rates are somewhat higher than local averages. For example, for the average 18-year-old driver in the US with coverage at the state minimum, yearly coverage is about $5,400 per year! This varies greatly by the state with some states as low as $900 and others as high as $11,000 per year. The reason this is so high is that young drivers make mistakes more frequently than other drivers and they are more likely to drive fast or get into accidents because of a lack of experience.
Car Insurance for an 18-Year-Old Woman
At the age of 18 years, women actually pay a bit less for car insurance. They tend to be a bit more careful when driving, according to the statistics at least. The average for a woman is around $5,000. Somewhere around age 25 the lines cross and women get more expensive car insurance, but only a bit. So, for women at this age, being a girl is a benefit.
| Insurance Company | 6-Month Premium | Monthly Premium |
| --- | --- | --- |
| Allstate | $2,677 | $446 |
| Farmers | $3,059 | $510 |
| Liberty Mutual | $2,532 | $422 |
| Nationwide | $2,018 | $336 |
| Progressive | $3,356 | $559 |
| State Farm | $1,454 | $242 |
| USAA | $1,173 | $196 |
Car Insurance for an 18 Year Old Man
18-year-old men can expect to pay on average $5,800 dollars per year for car insurance. They are more expensive to insure than women because according to statistics they are a bit more reckless at this age. However, both men and women at age 18 are about $2,000 less to insure per year than they are at age 16, and the savings just go down from there as student drivers get older.
| Insurance Company | 6-Month Premium | Monthly Premium |
| --- | --- | --- |
| Allstate | $3,211 | $535 |
| Farmers | $3,535 | $589 |
| Liberty Mutual | $2,790 | $465 |
| Nationwide | $2,531 | $422 |
| Progressive | $3,805 | $634 |
| State Farm | $1,801 | $300 |
| USAA | $1,317 | $220 |
Teen Driver Safety
There are many things that teens can do in order to drive safely, and they should do any and all of them. Every single state has a "graduated driver's license" policy or GDL. This limits a teen's exposure to high-risk situations once they get their license. Each state's policy is different, so make sure to check your state's regulations. Most places have a learner's permit, where the student driver can only drive with supervision from a parent or a certified instructor. Then there is a period of time where the driver may be licensed but can't drive with people in the car. Many states also have a policy, which bans any sort of cell phone usage by young drivers, even hands-free. Finally, once teens reach a certain age or have had their license for a certain period of time, they can drive like the rest of the adults in whatever situation they want.
The most important factor in teen driver safety is definitely an education. Make sure you talk to your teenagers about the dangers of driving under the influence of any substance, most importantly alcohol. Make sure you let them know about the ways they can be a good driver, and perhaps most importantly, act as a good example of a safe driver for them to follow when they get behind the wheel of a car. Sign them up for a driving course that will prepare them for the road, and take them out to practice driving too.
When Should You Add a Teen to a Parent's Policy?
Most car insurance companies don't need you to ensure your teen until they actually have their driver's license. This means that they can be uninsured when they are in the learner's permit phase. But it's always important to check with your car insurance company first, because each one and each state may have a different policy. So, in most cases, it will be when your teen actually has a driver's license, but it may be before that!
How Young Drivers Can Get More Affordable Car Insurance
Yes, it's true that car insurance is more expensive for teens and 18-year-old drivers, but there are plenty of ways they can save. If you are an 18-year-old in school and you get good grades, you can save big. In some cases, it can be 25% or more. For more insurance companies good grades mean above a B average. Taking a driver's education course can also help you save on your car insurance so it's a good idea even if it is not required by your state. Once 18-year-old drivers get on the road, establishing and maintaining a clean driving record will give them the good driver discount for most insurance companies after they've been driving for a few years, causing their insurance rates to go down.
Setting the Ground Rules
When you have a young driver you need to set up the rules for your household that you are comfortable with. Of course, these rules need to match local laws about how many people new drivers can have in the car and cell phone usage, but in general, some parent's rules can be more strict. You may choose to limit the time of day that your teen can drive on the road, or where they can drive (for example, highways versus surface streets.) Setting up rules can help your driver learn in a safe way!
What Affects Car Insurance Prices For 18-Year-Old Drivers?
Many variables affect auto insurance prices for drivers who are 18 years of age. Some variables pertaining to automobile insurance policies cannot be changed. The age of a person is an excellent example of this, as a person cannot decide to work harder and faster to get to age 19 earlier. There are other variables as well in this category.
Other variables used to determine the rates a person pays for automobile insurance include the type of car a person is driving, their driving record, their grades if they are in school and many others. Another major factor in determining the premiums a teen pays for car insurance is whether they are on their own policy, or if they have been added to a parent's policy.
Older drivers tend to be able to bundle car insurance policies with other types of automobile insurance. Policies car insurance can be bundled with include homeowner's insurance, life insurance, business insurance, and more. By adding a teenager to an already existing policy that has a more substantial amount of discounts, less money can be spent overall on the policies.
Car Insurance Discounts For 18-Year-Olds
One of the most noticeable ways that people save money on car insurance plans is through auto insurance discounts. Car insurance discounts are available for drivers of all ages, but some age demographics have discounts that are designed for them.
For drivers who are 18 years of age, a good student discount is available, as an example. If you are 18 years old and a driver, while also being in school, the focus you have on your studies can impact the rates you pay for auto insurance. Car insurance providers are comfortable giving discounts for this because students who are good drivers are statistically less likely to get into accidents than drivers who are not doing as well in their studies.
Defensive driving courses are also available and can be a great way to save money. Other discounts that are available for teen drivers include safety systems discounts, antitheft systems discounts, and more. When comparing automobile insurance providers, take a few minutes to check up on the discounts companies offer.
Another way to save money on insurance coverage as a teen is to pay for the entirety of the policy in advance. This is one of the biggest ways you can save money on automobile insurance. Car insurance companies take comfort in knowing that you have coverage for the entirety of the policy and that they have received their money to pay for it. Many companies also track your driving and give you an additional safety rating when given permission. This can result in even further discounts on your insurance plan.
Average savings for good student and good driver discount
| Age | Male | Female |
| --- | --- | --- |
| 16 | $439 | $248 |
| 17 | $348 | $222 |
| 18 | $338 | $197 |
| 19 | $278 | $160 |
What Are The Best Cars For An 18-Year-Old?
Every year car companies release a large array of vehicles. Some of these vehicles are perfect for families and have lots of seats and a storage room. Other cars are big on gas efficiency. People use vehicles for a wide range of purposes. Drivers who are 18 years of age can benefit from purchasing a car that is known for its reliability and safety ratings. With some vehicles being riskier to insure than others, and teen drivers paying the highest rates on average for auto insurance coverage, any help saving money a person can get is a massive benefit.
Take advantage of the free quotes at American Insurance to find the best prices for auto insurance plans available. Comparing policies is a fantastic way to keep more money in your pocket, as each company utilizes the variables they have received in different ways. This means some auto insurance providers will end up charging you less on average than others.
FAQs
When Should You Add A Teen To A Parent's Policy?
If you have an 18-year-old and are looking into whether or not to add them to your policy, there are a number of variables that will impact your decision. One of the most prominent variables to consider is whether or not they live with you. Another aspect to consider is whether or not your 18-year-old teenager has a good driving record. Being aware of both of these things will help you make an educated decision on how to proceed with automobile insurance for your teenager.
The 18-Year-Old Lives With Parents And Has A Clean Driving Record
If an 18-year-old has a good driving record, and also lives with you, it can be debatable about whether or not to add them to your insurance plan. Overall, you will still save more money on car insurance if they are added to your plan. If they have a good driving record, however, it may still be a good idea to compare rates from different car insurance companies to verify how much you would be saving. Encouraging your teenager to continue having a good driving record is essential, as rates can go up drastically if they get into an accident regardless of whether they are on your policy or not.
The 18-Year-Old Has A Good Record But Doesn't Live With Parents
18-year-olds who have good driving records but do not live with their parents will need to get their own auto insurance plan. Make sure to shop around for the best prices using the tools at American Insurance to find the top rates on car insurance policies for your teenager.
The 18-Year-Old Lives With Parents But Has A Bad Driving Record
People who are 18 years of age, and living with their parents, can see benefits to being added to their parent's auto insurance plans. If they have a bad driving record, however, more research should be done to see what the best course of action is moving forward. Car insurance plans of people with bad driving records, when added to another person's policy, will increase the rates that a person pays. Overall, parents who add a teen with a bad driving record to their plan can often see lower overall expenses than what the two policies would cost separately.
The 18-Year-Old Has A Bad Record And Doesn't Live With Parents
An 18-year-old who has a bad record and does not live with their parents will need to get their own policy. They may need to shop around to get adequate insurance coverage to suit their needs. Look at all possible discounts that are available and consider lowering the amount of insurance coverage they get if it is logical to do so.