Enter your ZIP Code
to get insurance quotes in your area
How to Get Car Insurance for 18-Year-Old Drivers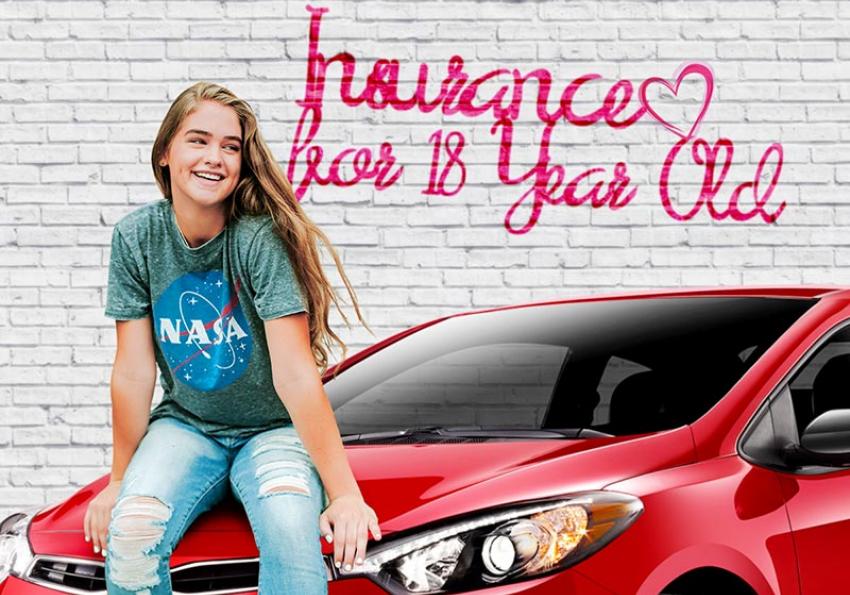 18 year olds who want to get car insurance may have a hard time. That's because younger drivers are often seen as more reckless by insurance companies so they may have to pay a bit more. However, there are some things that young drivers can do in order to get covered at a reasonable rate whether they are still under the care of their parents or striking out into the world alone.
How Much is Car Insurance for an 18 Year Old?
18 year olds usually fall into the idea of "student car insurance" this is for people who are either in high school or college, typically under the age of 25 years. For this group of insurance seekers, who represent about 13% of the driving population, rates are somewhat higher than local averages. For example, for the average 18-year-old driver in the US with coverage at the state minimum, yearly coverage is about $5,400 per year! This varies greatly by state with some states as low as $900 and others as high as $11,000 per year. The reason this is so high is that young drivers make mistakes more frequently than other drivers and they are more likely to drive fast or get into accidents because of a lack of experience.
Car Insurance for an 18 Year Old Woman
At the age of 18 years, women actually pay a bit less for car insurance. They tend to be a bit more careful when driving, according to the statistics at least. The average for a woman is around $5,000. Somewhere around age 25 the lines cross and women get more expensive car insurance, but only a bit. So, for women at this age, being a girl is a benefit.
Car Insurance for an 18 Year Old Man
18-year-old men can expect to pay on average $5,800 dollars per year for car insurance. They are more expensive to insure than women because according to statistics they are a bit more reckless at this age. However, both men and women at age 18 are about $2,000 less to insure per year than they are at age 16, and the savings just go down from there as student drivers get older.
Teen Driver Safety
There are many things that teens can do in order to drive safely, and they should do any and all of them. Every single state has a "graduated driver's license" policy or GDL. This limits a teen's exposure to high risk situations once they get their license. Each state's policy is different, so make sure to check your state's regulations. Most places have a learner's permit, where the student driver can only drive with supervision from a parent or a certified instructor. Then there is a period of time where the driver may be licensed but can't drive with people in the car. Many states also have a policy, which bans any sort of cell phone usage by young drivers, even hands free. Finally, once teens reach a certain age or have had their license for a certain period of time, they can drive like the rest of adults in whatever situation they want.
The most important factor in teen driver safety is definitely education. Make sure you talk to your teenagers about the dangers of driving under the influence of any substance, most importantly alcohol. Make sure you let them know about the ways they can be a good driver, and perhaps most importantly, act as a good example of a safe driver for them to follow when they get behind the wheel of a car. Sign them up for a driving course that will prepare them for the road, and take them out to practice driving too.
When Should You Add a Teen to a Parent's Policy?
Most car insurance companies don't need you to insure your teen until they actually have their driver's license. This means that they can be uninsured when they are in the learner's permit phase. But it's always important to check with your car insurance company first, because each one and each state may have a different policy. So, for most cases it will be when your teen actually has a driver's license, but it may be before that!
How Young Drivers Can Get More Affordable Car Insurance
Yes, it's true that car insurance is more expensive for teens and 18-year-old drivers, but there are plenty of ways they can save. If you are an 18 year old in school and you get good grades, you can save big. In some cases it can be 25% or more. For more insurance companies good grades means above a B average. Taking a driver's education course can also help you save on your car insurance so it's a good idea even if it is not required by your state. Once 18 year old drivers get on the road, establishing and maintaining a clean driving record will give them the good driver discount for most insurance companies after they've been driving for a few years, causing their insurance rates to go down.
Setting the Ground Rules
When you have a young driver you need to set up the rules for your household that you are comfortable with. Of course these rules need to match local laws about how many people new drivers can have in the car and cell phone usage, but in general, some parent's rules can be more strict. You may choose to limit the time of day that your teen can drive on the road, or where they can drive (for example, highways versus surface streets.) Setting up rules can help your driver learn in a safe way!