Enter your ZIP Code
to get insurance quotes in your area
How to Get the Best Car Insurance Coverage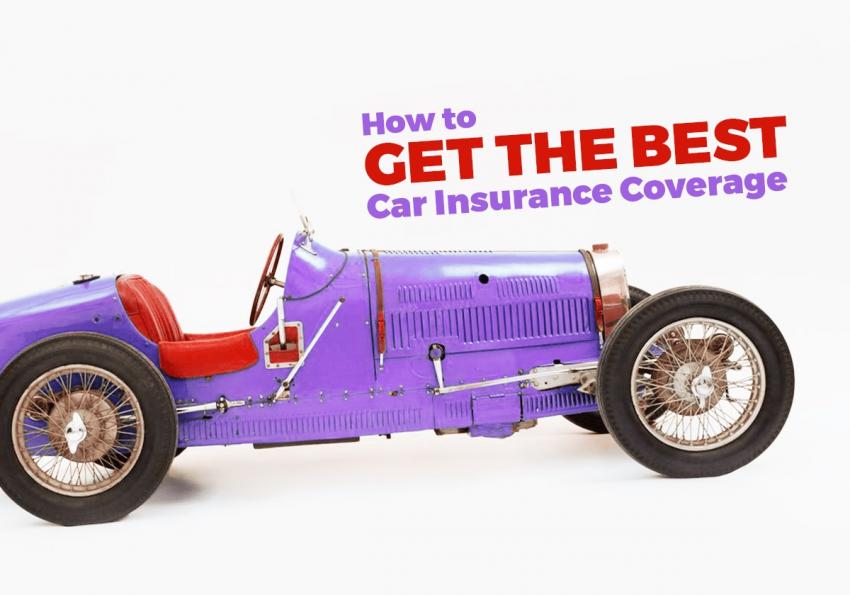 When you want to get the best car insurance coverage it can be hard to know what to do. There is so much information floating around out there and you might want to know more about car insurance so that you can get the best auto insurance options. If you already have the coverage you can get multiple quotes to see how you can save. That's probably the number one tip. Otherwise, you can keep reading to find out more ways to save.
What is Car Insurance Coverage
Well, car insurance coverage is comprised of quite a few things. There are many aspects to car insurance that you may or may not understand at this point. However, once you are done reading this article, you will know about car insurance inside and outside! Keep reading to find out about all the different potential components of car insurance. Remember to always get information about your needs for your particular state. Each one has different minimums required to meet the laws, so read up on those. However, here are the different components of car insurance to consider.
Types of Liability Coverage
Almost every state requires some type of liability insurance coverage for car insurance. This simply means that even if you cause a car accident you will not have to pay for the damage you caused. This is the primary reason for car insurance - so that someone else doesn't have to pay for your mistakes and vice versa.
Bodily Injury
Bodily injury liability coverage covers any type of medical costs or even funeral costs that occur as a result of the accident. Even with health insurance costs, it's quite pricey for people to get healthcare coverage so you may find yourself on the hook for quite a pretty penny if you don't have enough of this type of coverage. Most experts recommend getting more than the amount required by your state because these costs can be high.
Personal Property Liability
This type of coverage makes sure that you will be able to cover the costs of any repairs to a person's car that gets damaged. It will also help you to pay for any personal belongings of the car accident victim that get damaged in the accident too. If you want to make sure you will not be on the hook for expensive repairs, you'll get a plethora of that type of coverage.
Other Types of Coverage
There are other types of coverage which are very important for car insurance too. These types are not always required by states for car insurance, but they are still very useful and you should definitely get them.
Medical Payments Coverage
This type of coverage helps to pay for medical payments no matter who is at fault in the accident. The amount of coverage offered is usually lower than the bodily injury option, but it can still help a whole lot. This is a very useful type of coverage because it can even cover you personally if you're at fault in the accident.
Collision
Collision is what happens when your car has an accident with something that is not another car. It's unfortunate that telephone poles don't come equipped with car insurance, but they do not. Well, get collision coverage in case your car collides with something that is not another car. You'll be glad you have it in this case.
Comprehensive
This type of coverage covers you when something totally out of left field happens. If you have someone who smashes your window, that would be covered under this. If a flood washes away your car or damages the engine, comprehensive would cover it. If a fire ravages your car, that would also be covered. Again, trees that fall on your car don't come with car insurance so you need to get comprehensive coverage.
Uninsured and Underinsured Motorist Coverage
When you get into an accident with someone who doesn't have the right amount of car insurance or worse, no insurance at all, you need this special type of coverage so you don't have to pay for someone else's mistake.
Optimal Level of Car Insurance Coverage
It's really hard to say what is the optimal level of car insurance. First of all, you need to get a look at the state's requirements for where you live. Some people think that you may want to get the most amount possible especially if you have a very nice car, have been a bad driver in the past, or do not have health insurance and want the car insurance to cover any medical injuries from a car accident. The optimal level of insurance coverage is really a personal story that only you can decide. You could get different quotes and experiment with different levels to see how it affects your quote.
How to Get the Best Car Insurance Coverage At a Minimal Price
1. Have Good Credit
Having good credit can affect your car insurance rates in all states except two. If you have good credit you will have cheaper car insurance. If your credit is bad, don't worry, there are plenty of ways you can improve it like paying down debt and paying all your bills on time. It kind of is a bit sad to some people that bad credit can give you a lower car insurance rate since people with bad credit often have other financial troubles, but you can repair your finances and save on your car insurance.
2. Have an Affordable Car
Since your car insurance rates are partially based on your car, since that is a large part of what is getting insured, buying a cheaper car can get you a lower rate on car insurance. When you have an expensive car you will have to cover it and all the expensive parts on it too, just in case. However, a cheaper car isn't as expensive to insure. You can even skip collision and comprehensive coverage if you don't care that much about your car's aesthetics.
3. Be a Good Driver
Your car insurance record is largely based on your driving record. So, if you are a good driver, you will be able to get a discount on your car insurance. If you haven't had a good driving record lately, don't worry. Most car insurance companies give you a discount again after you've been a good driver for three years or thereabouts. If you have been a really bad driver and have had your license suspended you will really need to take some time to become a good driver again. Consider taking some driving courses to show insurance companies you're serious about being better.
4. Bundle Car Insurance
If you bundle your car insurance with other types of insurance or other car insurance plans in your household, you could save a lot of dough. Most car insurance companies also offer other types of insurance, making bundling easy. They tend to give discounts for this and it's easier because you only have to look in one place for all of your insurance information.
5. Safety Features
Add safety features like a car alarm or anti-lock brakes to your vehicle to save even more. Just like how home insurance can be cheaper with things like smoke alarms because it can stop disasters, so can car safety devices. They may deter theft or vandalism and even prevent accidents in inclement weather.
6. Go Paperless
When you go paperless for car insurance, you may find that you get a slight discount because the company can save money on mailing costs. Plus, it's great for the planet and you'll feel better not having so many bills flying around and cluttering your house or your junk drawer.
7. Try a New Type of Insurance
There are newer modern usage or mileage-based car insurance plans. These plans allow you to base your coverage on how much you actually use your car, so if you don't drive all that much, it could be great for you. These types are on the newer side but so far people have been happy with them. Giving them a shot can't be bad, it just means if it doesn't work for you, you would have to get a new quote and start all over again, which is easy to do right here.
Rental Car Insurance Coverage
When you get a rental car, most car insurance will cover you. You don't always need to get those expensive plans from other companies. However, you really need to read the fine print because not everyone covers you. So, before you sign away that rental car insurance, double check your plan to make sure you are definitely covered.
So, now that you know all about car insurance coverage, it's time for you to get covered yourself. Get a quote for free right here and make sure you are safe on the road. You'll sleep better at night knowing that you and your family are covered for car insurance no matter what happens.