Enter your ZIP Code
to get insurance quotes in your area
Car insurance rates for coupes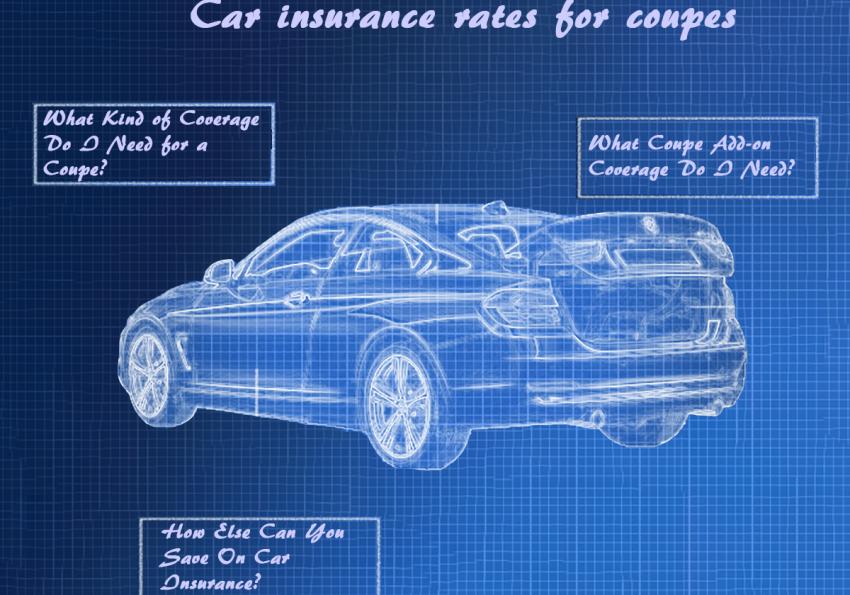 A coupe and a sedan are the two most prevalent types of cars on the market and have been for some time. Generally speaking, a coupe has two doors and a sedan has four doors.
An automobile is a pretty big consumer purchase for most households. The average cost of a small car is around $20,000 and mid-size car cars cost about $25,000. SUV's and luxury cars go up in costs from there. So, it's a lot of money to pay out for a new vehicle. Cars are also expensive to fix if you get into an accident. The U.S. Department of Transportation has estimated that the average cost of a car crash where no one gets hurt is around $3,500. Given that there are more than 6 million car accidents in the United States every year. The odds aren't negligible that you could get into an accident. The risk to property and bodily injury is one of the reasons why virtually every state requires vehicle owners to insure their cars in order to legally operate them on the road.
Cheapest Coupes to Insure
The cost to insure a coupe or any car for that matter will depend upon a lot of things. But as a rule of thumb the more you pay for your car, the more your insurance will be. Expensive cars are usually expensive to repair. These days there are many more electronic components in vehicles, so repairs aren't just about bodywork any longer. When you buy a coupe, you can almost always choose from at least a few trim lines. A trim line is a package of add-on features in a car. You can buy a plain vanilla version of your coupe or a higher trim line that can contain things like more expensive upholstery, better audio equipment, and other features. You can also frequently choose a higher-powered engine for your sporty coupe. Just be aware that higher power means you are better able to accelerate, so your chances of speeding may be higher. For that reason, insurance companies may charge more for faster coupes.
Average insurance premiums coupes
Average auto insurance premium: coupe
Audi A5 - $2,051
BMW 4 Series - $1,981
Dodge Challenger - $2,497
Chevy Camaro - $1,661
Kia Forte Coupe - $1,591
Honda Accord Coupe - $1,436
Honda Civic Coupe - $1,644
What Kind of Coverage Do I Need for a Coupe?
First of all, almost every state requires vehicle owners to carry liability insurance on vehicles. Liability insurance protects you from damages you cause if you are responsible for a car accident. A typical liability policy has three components: a maximum amount it will payout for the death or injury of a single person in an accident you cause, a higher amount maximum payout in the event that two or more people are injured, and a separate maximum payout figure for any property damage you cause. Some states also require what's known as personal injury insurance which helps pay for your own medical bills in the event you are injured in a crash. Car insurance is governed primarily at the state level, so be sure to check what the minimum required coverages are for your own particular state.
What Coupe Add-on Coverage Do I Need?
As we mentioned, liability insurance only covers damages to the other party in an accident you are responsible for causing. In order to protect your own car from damages, you should consider collision and comprehensive insurance. A collision insurance policy will pay the costs of repairing your own vehicle after an accident up to the maximum amount defined in your policy. The policy kicks in after you have met your deductible, which is the out of pocket expense you pay yourself. Comprehensive insurance covers your vehicle from a variety of other risks such as storm damage, theft, vandalism, hitting an animal, and other risks that are generally categorized as being out of your control. These are the two most popular types of insurance coverage beyond liability for coupe owners, but they are not the only ones. You can also look at getting uninsured/underinsured coverage. This type of policy will help you if the cost of your medical bills and property damage exceeds the amount of insurance coverage of the driver who caused your accident.
Finally, coupe owners can consider getting other types of protections such as roadside assistance which helps you if you break down, gap insurance which can help pay off your lease, or financing in the event your coupe is totaled in an accident, and a variety of other specialized policies.
Do Different Kinds of Coupes Have Different Insurance Considerations?
The quick answer is yes! Statistics show that cars with powerful engines are more likely to exceed the speed limit and more likely to get into accidents. As a result, insurance companies charge more to insure them than lower-powered vehicles. So, take that into consideration when buying a coupe. Coupes with highly computerized electronic components are very attractive to consumers but those same features can drive your annual insurance premiums higher. When shopping for a car, just keep in mind that the car insurance costs will usually rise in parallel to the cost of your car.
How Else Can You Save On Car Insurance?
In addition to the make and model of your car, insurance prices are driven by a lot of personal factors. First and foremost, having a safe driving record will almost always result in getting the best insurance rates. If you have good credit, you will also get preferred rates compared to drivers with weaker credit scores. Statistics show that young drivers get into accidents at higher rates than older drivers, so motorists in their teens and twenties will pay substantially higher rates. The very best way to pay less insurance for your coupe is to compare rates between insurance providers. At General.com, our online tool makes it quick and easy to get multiple free quotes. You'll save money!