Enter your ZIP Code
to get insurance quotes in your area
What Happens When You Don't Pay Your Insurance Premium For Your Car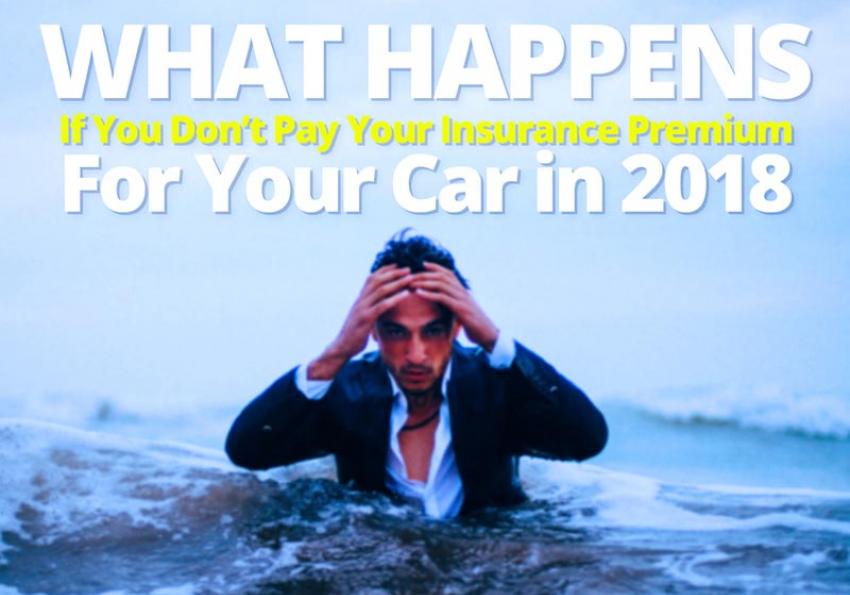 What Happens If You Don't Pay Your Bill
A good number of states have laws that allow car insurance companies to classify people as high-risk drivers, and thereby raise their rates, for people who have had their insurance lapse for a period. In some states, this lapse is as little as 30 days. If you forget, or avoid, paying your car insurance premium a number of things can happen.
First off, when you go to reinstate your automobile insurance policy, you may find that your rates have gone up significantly. You would need to restore your car insurance policy because unpaid car insurance simply cancels, and often pretty quickly. Instead of continuing to charge people and have to possibly seek out the money that they are owed for months of car insurance, automobile insurance companies instead tend to take a month or two of car insurance payments in advance. After the advance paid car insurance runs out, the insurance policy is canceled unless additional payments are made. This saves the auto insurance companies from having to pay out claims when a driver that is deemed at fault isn't even paying their insurance premiums.
Buying Car Insurance After A Lapse
If you find out that your insurance policy has been canceled due to nonpayment, it is essential to set up a new car insurance plan straightaway. The longer a person drive without car insurance, the more likely they are to get into an accident while not covered. While car insurance can become rather pricy after a lapse in coverage, there are many ways that people can save money on their car insurance while their status as a high-risk driver is in place.
One strategy that people use to save money on car insurance is making sure that they are not paying for more coverage than they need. Sometimes, car owners can completely remove or decrease an amount, or type, of insurance that they have. It is critical to make sure not to eliminate needed coverage. For example, if you are leasing a car or have a loan out from a bank or other company, the lending or leasing company may require that you have full coverage insurance on the automobile. This is because they have more money invested in a vehicle than you do and want to protect that investment.
After owning the car for a certain amount of time, drivers may be able to lower the amount of insurance coverage they have on that car even if they still have money out on loan. If caught without full coverage insurance or insurance that meets all of the requirements of their lender or lessor, they may be put on a much more expensive plan which they pay the lending or leasing company directly to get. It is rolled into loan payments to them. This can be part of your agreement with a company and is not optional. Not only do these policies cost more, but they are also not designed to protect you as the driver of the vehicle. The plans are in place to protect the company that is loaning the money or leasing the car to you. It is vital to avoid this type of insurance add-on from your lending company, as it burns a hole in your pocket financially, and does not create many benefits for you.
What to Do After a Car Insurance Lapse
Drop Certain Coverage. Raise Your Deductibles. Drive A Different Car
Another way to save money on car insurance, even as a high-risk driver, is to raise your deductible. People that have higher deductibles are less likely to make claims, which lowers the cost of insurance for these categories of people. It is still essential to make sure that you have the means in place to pay for your deductible if an auto accident happens. If you are unable to pay for the deductible when a car accident occurs, it may take quite a bit longer for you to get the necessary repairs you need on your vehicle. This can make it hard to get to work, visit family, and do all of the other essential things that a car is necessary for. Some people even consider purchasing an inexpensive car to lower rates even further.
Shop Around For Rates
Another way to save money is to shop around. Take a look at different automobile insurance companies, each one of them weighs variables differently. Due to this, it is easy to find a reasonably large fluctuation in the cost of car insurance plans. Taking the time to talk with an insurance agent and get online quotes can help save you a lot of money on your auto insurance. To make sure that drivers have access to car insurance, even when they are at a higher risk level, many states have created groups that can assist drivers in this category.
Some states require that auto insurance companies take on a certain percentage of their business as high-risk drivers. Others look for additional ways to help make sure that these drivers are covered, such as issuing requirements for driving classes to help get them covered. These are designed to decrease the number of people that car insurance companies can outright reject drivers for. While there are still conditions that need to be met for this to happen, many states work hard to make sure that people who have made mistakes will eventually be able to get car insurance. This does not mean that the car insurance will not be costly, but does mean a higher likelihood of access for more people.
Lower Rates In The Aftermath
Perhaps the most significant way to save money as a high-risk driver is to work at not being a high-risk driver anymore. By maintaining your coverage for at least six months, a year, or whatever the required amount is for your state, you could be removed from the high-risk driver category. When this happens, your rates will go down. For people who are high-risk drivers not because of lack of payment but because of other things, there are other ways to work on improving your situation. People that have been in multiple accidents, and made multiple claims for them, for example, have options. These accidents, and the tickets that are associated, will eventually drop off of your driving record. By focusing on safe driving, accident avoidance, and not getting tickets, your car insurance rates can go down. In addition, for other variables that factor into the amount you pay on your car insurance premiums, there may be other actions that you can take. By paying attention to your driving record, your credit score in some states, and when you need to pay your car insurance bills, you can move towards more affordable rates and greater financial flexibility.
Car insurance companies know when you have not been covered by insurance for a period of time. Your best bet is to pay your car insurance bills on time and avoid lapses in your automobile insurance coverage. Even if you are not planning on using your vehicle for six months, it may make sense to get an insurance policy for your garaged car. Part of insurance rates is determined utilizing car usage numbers. If you are not using your car, you can likely insure your vehicle for a lot less money.
The Penalty For A Lapse In Car Insurance
The penalty for a lapse in car insurance varies from one state or province to the next. One of the direct penalties that can happen for not having car insurance is getting a ticket. Also, not having an automobile insurance policy can also have other penalties. These include having your driver's license suspended, your car registration suspended or having to pay reinstatement fees when you do get the ability to drive back.
Not only that but if you have a lapse of insurance of more than 30 days, you can also see your car insurance rates go up. Insurance companies put people into high-risk categories if they have extensive lapses in coverage. This is because people who are in a high-risk category are the ones statistically more likely to let their insurance lapse again or get into an accident.
The way to avoid all of these penalties is to keep a valid car insurance policy. People do not have to have coverage beyond the minimum limits required by the state that they live in to fulfill insurance requirements unless the vehicle is financed. Always carry proof of insurance on you whenever you are driving; if you are pulled over, you will need to present proof of insurance to the police officer. Some states allow people to provide proof of insurance in digital formats, and others do not. Verify, for your state, how your proof of insurance needs to be presented to the police if needed.
How To Avoid Having Your Car Insurance Cancelled For Non-Payment
Avoiding having your car insurance canceled for non-payment can most easily be done by making your payments on time. Some companies allow extensions for people who make them aware a late payment is going to come (in advance of the payment being late.) Other companies do allow insurance coverage to be reinstated when canceled after an account is caught up. Most insurance providers do not reinstate auto insurance policies more than once, however.
Final Notes
Knowing what will happen if you fail to pay your auto insurance premiums is essential. Many factors and variables allow you to decrease your car insurance rates, and many of them work regardless of whether you are considered a high-risk driver or not. This means that by avoiding becoming a high-risk driver, you can save even more money on car insurance.