Enter your ZIP Code
to get insurance quotes in your area
Pre-Trip Truck Inspection Checklist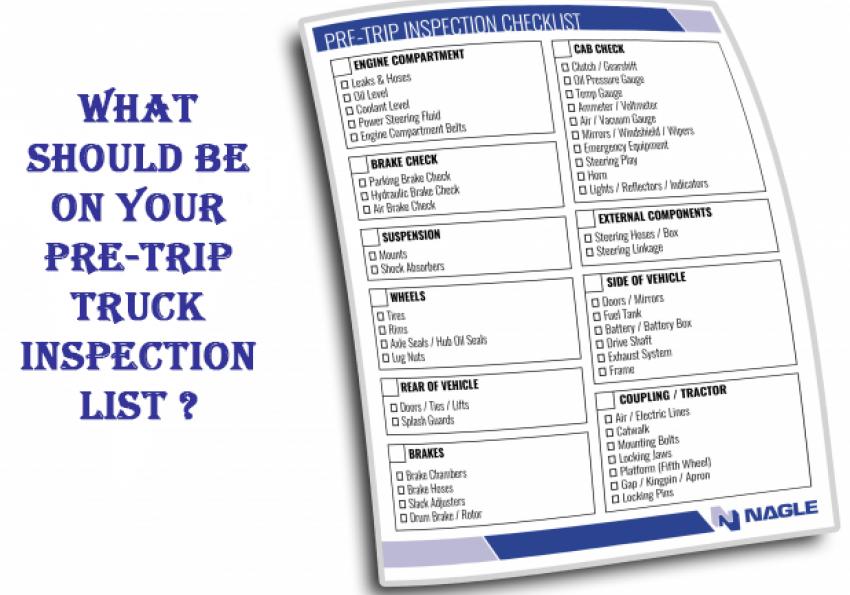 There are many laws in regards to commercial driving that most people are not aware of unless they are involved in the industry. Pre-trip inspections are required by law, but also have many other benefits. Preventing accidents is one of the major positives of completing a pre-trip truck inspection checklist, and it can also save people from getting tickets, help people save time, and can help ensure the safety of the public. It is essential to be awake, alert, and prepared as you check each part of your truck.
In most cases, your trucks will have a post and pre-trip book. Familiarizing yourself with this is essential, and it can give you information about previous concerns, ongoing concerns, and more. Begin your inspection after reviewing the book. Many people find it most beneficial to follow the same order every time they do their inspection. This can help prevent people from forgetting steps or overlooking items on the checklist accidentally.
Truck Pre-Trip Inspection Checklist
Turn the engine off and disengage the brake, in addition to using chocks to prevent your vehicle from moving while the inspection is performed. There are multiple items people must check that should be on the list, including documentation and stickers, cab inspection, tires, fuel, air tanks, spare parts, trailer, connections, load, fifth wheel, and the inner cab inspection. In addition, lights, breaks, flags and signs, and other equipment inspection is on the list.
How To Perform A Class A CDL Pre-Trip Inspection
Performing a Class A pre-trip inspection should be done in the same order each time. This helps create consistency so that no items are overlooked or forgotten.
Stickers and Documentation
Trucks are mandated to have a variety of documents, stickers, and licenses. This can depend on the area you are driving in, but most often include a valid license plate, a maximum loaded weight of the complete unit or gross vehicle weight, and a truck/tractor weight only. Check all of these things, as well as other documentation and stickers as required in the state. Some companies do have additional documentation and stickers that should be verified.
Inspection of the Cab
The inspection of the cab is a very important part of the inspection process. Make sure to check the mirrors to ensure that they are properly aligned and tightened. Wipers should be checked to make sure that they are properly installed and have spring attached and rubber that is in good condition. The windshield should also be checked for cracks and chips. Door latches and handles should be checked to make sure that they are secure.
Make a note of all problems or repairs. This includes checking each component on the agenda by pulling, touching, twisting, and tugging was needed to ensure each piece is attached properly. Items that should be checked include the steering column, tie rods, shocks, leaf springs, wiring harness, and others. Check for cracks in the frame as well as for cracks inside the hood. The air filter may need to be cleaned or replaced, and brake pads and hoses should also be inspected. Engine mount bolts, the vehicle fan, and the vehicle fan belt also need to be looked at.
The fluids in the vehicle should also be checked and topped up, including oil, coolant, steering fluids, and washer fluid. Check for leaks as you top them up.
Tires Need To Be To Checked
Take a look at the pattern of wear on the tires. This will give you information about whether or not they are overinflated, underinflated, or inflated properly. The tread depth should be even, something to check for. If tires have more wear on the center, they are overinflated, and if there is more wear on the outer edges of the tire, the tires are underinflated. Also, check tire pressure, inboard/outboard sidewalls, both the inside and outside of the rims, the hub oil, the lug nuts, and check for stuck rocks and mud between dual tires as well.
Check The Fuel Systems
Trucks are required to display fuel stickers, so make sure to check and make sure that these are visible. Also, visually check the fuel levels and check the strapping as well.
Check The Air Tanks
Each day, the air tanks should be drained to make sure there is no water present in the hoses. Liquids that are trapped in an air brake system can rot the lines and cause deadly malfunctions.
Spare Parts
Truck drivers should always make sure that their vehicle is stocked with necessary spare parts. This includes bulbs/lights, fuses, open-ended wrenches, tape, and air brake parts. Some of the air brake parts to make sure you include are air brake antifreeze and fittings.
Trailers and Connections
Both the trailer and the truck frame should be checked for missing bolts, loose supports, cracks, rust, and other signs that the structural integrity could be failing. Make sure to secure hanging objects, as well as landing gear. Check the lights, reflectors, and reflective tape. Also, ensure the license plate is clean and legible.
Other items that should be checked include the license plate light, electrical connections, and any other connections that are used. Check the tongue for loose wires or hoses. Make sure that the required documentation is properly stored. This includes things like registration and permits. Connections should also be checked for signs of excess wear and drivers should make sure that glad-hands are both clean and tight.
Check The Load
Drivers must ensure that the load they are carrying is secure and that there are no loose objects. Making sure that there has not been falling, spilling, dislodging, or shifting during travel is essential. It is also important to check the cargo you are carrying while en route to your destination to ensure that it is not shifting.
Inspect The Fifth Wheel
Ensure that the fifth wheel is greased, free of cracks, free of missing bolts, and is tight and secure. Make sure that you have visually checked that the jaws are closed as well.
Do An Inner Cab Inspection
Keeping the inner cab clean is very helpful when it comes to doing this inspection. Make sure that you have the items you need available within the cab at all times. Necessary items include a complete first-aid kit, flares, emergency triangles, a clearly marked fire extinguisher, a spare bulb kit, and any supporting documents and required licenses.
Also, drivers should inspect seats, seatbelts, horns, wipers, free clutch movement, gauges, steering, and the running lights on the vehicle.
Check Other Lights
Trucks are legally required to have operational signal lights at all times when they are being operated. To prevent tickets, make sure that each light is working before you set out on your trip. Lights that need to be inspected include headlamps, running lamps, signal lamps, clearance marker lamps, backup lamps, high-low beam indicators, other indicators, and all reflectors should be checked.
Test The Breaks
Testing the brakes every day can help ensure safety. Note the results of this procedure in the proper spot.
Flags and Signs
Flags should be legible, in the proper place, and clean.
Other Equipment Inspection
As a driver, your winch will need to be checked, and other equipment should also be inspected. Make sure to look for potential fraying or slippage, and that the line or sling is in good condition. Also, make sure that the block is in good condition.
Overlooked Items On A Truck Pre-Trip Inspection Checklist
Some of the overlooked items on a truck pre-trip inspection checklist include cleanliness, chock your wheels, brakes, emergency kit, reflectors, seatbelts, wheel lug nuts, and paperwork. These are all vital to check and are sometimes overlooked.