Enter your ZIP Code
to get insurance quotes in your area
How much cost Mitsubishi Lancer car insurance?
Mitsubishi Lancer General Information
The Mitsubishi Lancer is a sub-par compact car from the manufacturer that was discontinued in 2017. It had good handling and available all-wheel-drive but otherwise it fails in almost every other category. It's insurance rates are slightly lower than other cars in its class and while it did receive a four-star safety rating it definitely had some weak spots.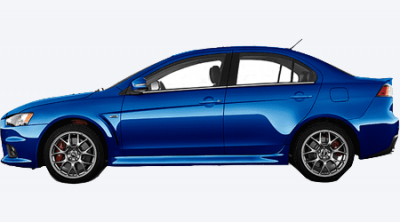 How much does it cost to insure my Mitsubishi Lancer
| | |
| --- | --- |
| Model Year | Total Premium |
| 2017 Mitsubishi Lancer | $1,517 |
| 2016 Mitsubishi Lancer | $1,495 |
| 2015 Mitsubishi Lancer | $1,469 |
| 2014 Mitsubishi Lancer | $1,424 |
Compare all Mitsubishi Lancer insurance rates.
No junk mail. No phone number. No fees.
The Mistubishi Lancer had a 148 hp 2.0 liter four-cylinder engine and came standard with a five speed manual transmission. All-wheel-drive was available but did not come standard with the base model. It was front wheel drive otherwise. Its fuel economy was 30/27/34 combined, city, and highway mileage which went down slightly with manual transmission. It had a lower price point in 2017 but didn't make up for it with any bells and whistles.
Mitsubishi Lancer Safety Rating And Damage Threshold
The Mitsubishi Lancer had few safety features with anti-lock brakes, brake assist, seven airbags, and rearview camera available on all but the base model. The NHTSA gave the Lancer a four-star rating while IIHS gave a marginal rating on driver restraints otherwise the lancer was acceptable or good in all other areas. There have been no recalls but there is an ongoing investigation into air bag ACU overstress. The damage threshold for the Lancer is $13,972 which is 75% of base cost at $18,630.