Enter your ZIP Code
to get insurance quotes in your area
How much cost Mazda RX8 car insurance?
Mazda RX8 General Information
The Mazda RX8 was Mazda's answer to a muscle car that made a comeback in the early 2000s. It has some issues but overall the Mazda RX8 was a solid vehicle at a reasonable price that could compete with other sports cars in its class. Mazda has a history of producing safe affordable vehicles and the RX8 was no different. The RX8 went out of production in 201.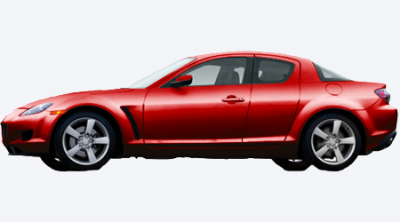 How much does it cost to insure my Mazda RX8
| | |
| --- | --- |
| Model Year | Total Premium |
| 2011 Mazda RX-8 | $1,278 |
| 2010 Mazda RX-8 | $1,248 |
Compare all Mazda RX8 insurance rates.
No junk mail. No phone number. No fees.
The RX8 had spunk. It was evident that it could move but the problems with the vehicle centered around it fuel efficiency and that it burned oil. The RX8 has a 232 hp 1.3 liter rotary engine and a manual transmission. The RX8 overall is a fun vehicle but it had issues with extreme gas consumption with only 18 mpg in city and 24 on the highway. You could use it as a commuter vehicle, but it wouldn't be cost effective for you.
Mazda RX8 Safety Rating And Damage Threshold
There was no data from IIHS or the NHTSA about the Mazda RX8 but Mazda has a good record of putting reliable safe vehicles on the road. The RX8 came equipped with anti-lock brakes, stability controls, and other safety features common in 2011. There are no driver assisted safety features for the RX8. The damage threshold for the Mazda RX8 is $25,300 however as stated above due to the RX8 no longer being in production that number may have gone down significantly in the last decade.