Enter your ZIP Code
to get insurance quotes in your area
How much cost Lexus RX car insurance?
Lexus RX General Information
Lexus RX is a small SUV but it is decidedly a luxury vehicle sporting a V6 engine and all the bells and whistles afforded the Lexus brand. Its price tag is relatively high but its lower end in the insurance department. The safety features allow for easy cruising where ever you may need to go whether it's commuting or a leisurely trip. While the RX may look like an aggressive vehihcle it is decidedly about comfort.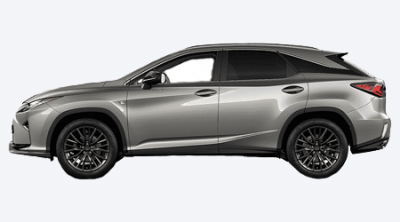 How much does it cost to insure my Lexus RX
| | |
| --- | --- |
| Model Year | Total Premium |
| 2020 Lexus RX 350 | $1,664 |
| 2019 Lexus RX 350 | $1,639 |
| 2018 Lexus RX 350 | $1,631 |
| 2017 Lexus RX 350 | $1,623 |
| 2016 Lexus RX 350 | $1,598 |
| 2015 Lexus RX 350 | $1,575 |
| 2014 Lexus RX 350 | $1,530 |
Compare all Lexus RX insurance rates.
No junk mail. No phone number. No fees.
The Lexus RX is powered by a 295 hp 3.5L V6 engine with options for two electric motors to make the vehicle into a hybrid. The base fuel economy is adequate compared to other cars in its class at 23/20/27 combined, city, and highway mileage per gallon. There are no specs on the hybrid fuel efficiency currently but with two electric engines it can be a significant upgrade. It has onboard Wi-Fi as well as a wealth of infotainment toys.
Lexus RX Safety Rating And Damage Threshold
The Lexus RX has several standard driver-assistance safety features including: automated emergency braking, lane departure warning with lane keeping assist, and adaptive cruise control. The NHTSA gave the Lexus RX a five-star safety rating and the IIHS gave the RX a superior overall rating. The vehicle to pedestrian crash prevention fell slightly from superior to advanced but overall the vehicle to keep you safe and alive. The damage threshold for the car is $36,000 based on 75% of the vehicles cost at $48,000. The threshold may change depending on your state and their laws.