Enter your ZIP Code
to get insurance quotes in your area
How much cost Hyundai Veloster car insurance?
Hyundai Veloster General Information
People look at multiple features when deciding to purchase a vehicle, and some prefer models that have hatchbacks for more storage. The Hyundai Veloster offers many customizable features that buyers love, including a hatchback option. Some customizable features add costs to a person's car insurance premiums, while others will decrease the rates. This vehicle brings flexible options that do both.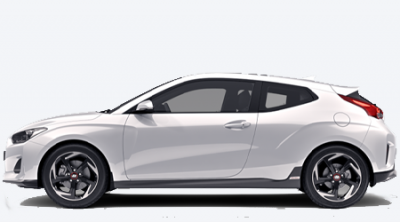 How much does it cost to insure my Hyundai Veloster
Hyundai Veloster Insurance Rates by Model Year
| | |
| --- | --- |
| Model Year | Total Premium |
| 2020 Hyundai Veloster | $1,441 |
| 2019 Hyundai Veloster | $1,422 |
| 2018 Hyundai Veloster | $1,412 |
| 2017 Hyundai Veloster | $1,408 |
| 2016 Hyundai Veloster | $1,388 |
| 2015 Hyundai Veloster | $1,365 |
| 2014 Hyundai Veloster | $1,330 |
| 2013 Hyundai Veloster | $1,298 |
| 2012 Hyundai Veloster | $1,246 |
Compare all Hyundai Veloster insurance rates.
No junk mail. No phone number. No fees.
How Much Does It Cost To Insure Hyundai Veloster By Year?
The Hyundai Veloster costs less to insure than the average vehicle, though only by about $15 per year. The car has been around for multiple years, and each year will see different rates based on safety features, safety ratings, damage thresholds, and more. Numerous other variables are taken into consideration when determining a person's insurance rate. This includes a person's gender, marital status, driving record, age, the make, year, and model of a vehicle, and others. Use the free quote tool on this site to get the best rates for auto insurance available.
Hyundai Veloster Safety Rating And Damage Threshold
With multiple years of the Hyundai Veloster produced, there are different safety ratings and damage thresholds for each. Use the information on this page to get the top information about both. Vehicles that have a better safety rating and damage threshold tend to have lower rates when it comes to automobile insurance. With other factors also considered, you'll want to compare insurance rates between vehicles you are interested in when making a purchase. Also, you will want to compare prices over multiple years if you are looking at one model in particular. The tools on this site are here to make it easier.