Enter your ZIP Code
to get insurance quotes in your area
How much cost Chevrolet Equinox car insurance?
Chevrolet Equinox General Information
Chevrolet Equinox boasts a better engine than similar vehicles in its class, but still lacks pickup. Categorical the Chevy Equinox is a good mid-range offering for SUVs but it doesn't lead the pack. Insurance rates are on average only slightly elevated above other sport utility vehicles and is a reliable source if not the most exciting in its category. The basic model doesn't offer all wheel drive which may slightly elevate insurance rats for this vehicle.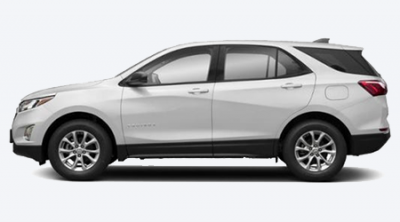 How much does it cost to insure my Chevrolet Equinox
| | |
| --- | --- |
| Vehicle | Total Premium |
| Chevrolet Equinox | $1,372 |
| Toyota RAV4 | $1,313 |
| Infiniti QX30 | $1,587 |
| Ford EcoSport | $1,310 |
| Lexus NX 300 | $1,594 |
Compare all Chevrolet Equinox insurance rates.
No junk mail. No phone number. No fees.
The Chevy Equinox is a popular vehicle for its class but while it does have reliability and popularity in its favor it does have some drawbacks. It is efficient for an SUV but it's fuel economy did drop marginally with the all-wheel-drive feature. The six-speed automatic is reluctant to downshift when more power is needed. However overall it handles well in most areas despite some shortcomings.
Chevrolet Equinox Safety Rating And Damage Threshold
The 2020 Chevy Equinox managed a five-star rating from the NHTSA but did not receive a top pick from the IIHS. Trouble spots included the headlights which were listed as acceptable or marginal depending on the options available. The structure and safety cage were listed as acceptable for The Chevy Equinox. The overall evaluation was superior but its front crash prevention with regard to Vehicle vs pedestrian was slightly lower at an advanced rating. The child seat anchors were listed at acceptable levels.