Enter your ZIP Code
to get insurance quotes in your area
Covering All Family Members Under The Same Policy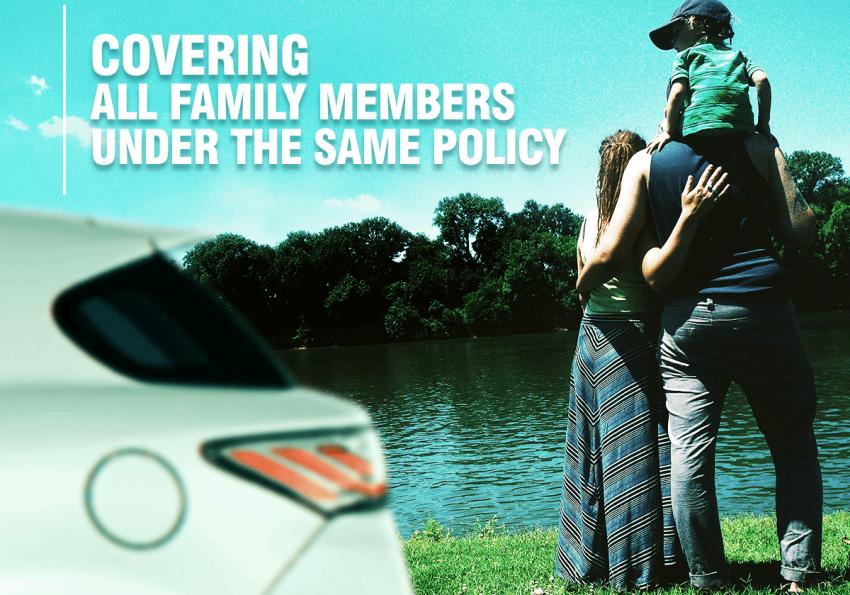 In the United States, having an automobile insurance policy, a valid one is required for all licensed drivers operating motor vehicles. In many cases, when a young person receives their driver's license, they're still living at the same location as one or more of their parents. Because automobile insurance for young people can be more expensive, due to being high-risk drivers as demographic, many people choose to buy a family insurance plan to help save costs. There are other benefits to purchasing this type of policy as well. Keep reading for more information about the benefits of family car insurance plans.
Understanding Family Auto Insurance Plans
When purchasing a family auto insurance plan, you are getting a policy designed to protect all of the driving members of your household. Protecting your family and loved ones is a priority for most people. Regardless of whether you are just getting married and want to look into the benefits of a family plan for that reason, or you are the parents of teenagers who are just getting their driver's license or vehicle for the first time, there are a number of options for family car insurance plans, many of which can be tailored to suit your needs. As your family grows, you made decide to modify the car insurance policies included in your plan to save money and/or provide more car insurance protection.
Different Forms of Insurance Coverage
With almost any type of insurance policy, there are different forms of insurance coverage that are available. Car insurance is no different, even when you are looking at family insurance plans. Insurance companies will offer a basic form of insurance to cover the state minimums in your area.
Most states require liability insurance, which pays to replace or repair the other driver's vehicles that are damaged or totaled completely in an automobile accident you are at-fault for. This type of insurance can also cover property damage and medical costs if the property is damaged or medical costs are expenses other people incur in an accident.
Collision insurance protects you financially if it is your car that is damaged in an accident, regardless of who is at fault for the damage. If you have family members that are driving expensive or new cars, it is recommended to purchase collision insurance for that person/vehicle. It may also be required if you are leasing or financing a vehicle.
In addition to collision coverage, many people choose to purchase comprehensive insurance from a trusted automobile insurance provider. This covers all damage or replacement costs if your vehicle is damaged by weather and a number of other non-collision factors.
Make sure to look at your automobile insurance policy to determine what is covered for the policies you are considering. Policies can vary, and not everything is covered in each, so understanding what you are getting with your auto insurance policy is important.
Advantages
There are many advantages to getting a family insurance package, including reducing the amounts of money your family spends on car insurance, making sure that your teenagers are covered, ensuring that their coverage is maintained, and getting additional discounts from having a group car insurance plan.
Family Packages Impacts Insurance Cost
Family car insurance plans and have a large effect on the cost you pay, especially if you have a college student or teenager that you want to provide insurance for. By getting a family package through your insurance company, you can lower your rates substantially.
There are even more benefits to getting a family car insurance policy for your teen if they are a college student and do not drive very often. Make sure to take the time to research car insurance policies and shop around. The rates people pay for car insurance plans can vary wildly because car insurance providers look at different variables in different ways when determining your costs.
Insuring Your Teenagers
There are many reasons that people get family auto insurance. One reason is to save money by adding a teenager to their insurance policy. When young adults get their first car, if they get an insurance policy on their own it can be incredibly expensive. Many families choose to add teenagers to their own plan to save them money.
Discounts
One of the most significant discounts for car insurance that people can get is a multicar discount. When one family is buying insurance policies for multiple people through the same company, they can get significant discounts on auto insurance. Statistically speaking, multiple family members in one family getting into expensive automobile accidents at the same time is unlikely. Additionally, car insurance companies want to sell more policies to increase their profit margin.
Final Notes
If you have decided to get a family auto insurance policy, you will want each person in your family to know how to keep costs down. Maintaining a safe driving record, avoiding texting while driving, and taking advantage of all of the discounts available, are all fantastic ways to save money on car insurance policies. Free car insurance quotes are available on this website, including for family plans. Start saving money today.