Enter your ZIP Code
to get insurance quotes in your area
Car insurance rates for SUV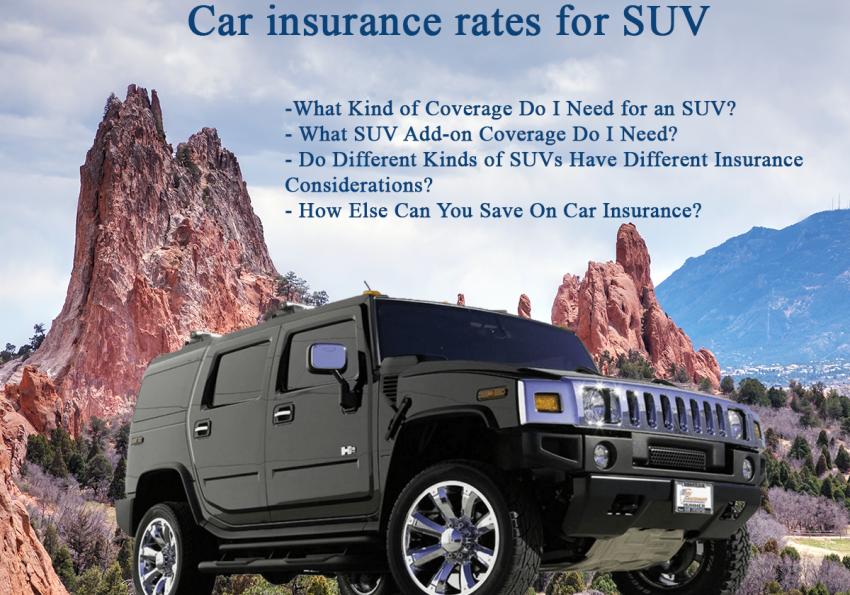 It is estimated that there are more than 280 million vehicles across the country driving approximately 3 trillion miles per year. With all that activity on the roadways, it shouldn't come as a surprise to find out that there are more than 6 million accidents every year. Those accidents result in more than 34,000 deaths annually and cause an estimated $280 billion of direct costs for medical bills and property damage. And when you factor in all of the indirect costs like lost wages and reduced productivity, the Department of Transportation has estimated that the total cost of car accidents is hundreds of billion higher. The cost of a serious car accident could ruin a family. That's where car insurance comes in.
An auto insurance agreement is a contract that agrees to cover losses from certain well-defined risks up to a maximum level defined in your policy. Before your policy starts paying out claims, you will need to meet your deductible. A deductible is the defined amount you must pay out of pocket before your coverage begins. The amount you pay for insurance will be determined by the depth of financial protection you want, your personal factors, and the make and model of your car. Sport Utility Vehicles or SUVs are a very popular segment of the American automobile market. They come in a variety of sizes from subcompacts to midsized to luxury and the price of car insurance rises with the size of the vehicle. On average an SUV will be slightly less to insure than some other types of cars such as sedans.
Cheapest SUVs to Insure
All things being equal, the cost of your insurance will rise or fall in tandem with your purchase price. Luxury cars in general are more expensive to insure and the same holds within the SUV class. Lower cost compact SUVs like a Honda CR-V may cost a thousand dollars less to ensure than a full-sized SUV like a Ford Explorer. Luxury trim lines that add upgraded audio systems and other expensive electronics can add to your insurance bill. It is potentially more expensive to repair or replace such items. But be aware that car insurance rates will vary, sometimes dramatically, between insurance companies. It pays to look for discounts.
| | |
| --- | --- |
| Vehicle | Cheapest Insurance Cost |
| Honda CR-V | $1,636 |
| Toyota RAV4 | $1,747 |
| Chevrolet Equinox | $1,632 |
| Ford Escape | $1,646 |
| Chevrolet Tahoe | $1,929 |
| Chevrolet Traverse | $1,711 |
| Toyota Highlander | $1,764 |
| Jeep Grand Cherokee | $1,845 |
| Toyota 4Runner | $1,862 |
| Ford Explorer | $1,927 |
What Kind of Coverage Do I Need for an SUV?
Car insurance is primarily overseen at the state level and the exact regulations can vary widely. Virtually every state requires drivers to be covered by liability insurance. This type of policy covers you from damages in an accident that you are at fault for causing. Liability insurance typically has three expressed dollar maximum payout numbers. First, it covers for the death or injury of s single person injured in an accident you caused. There is a separate maximum payout figure in the event that more than one person is hurt in the accident. And, finally, there is a maximum payout amount for any property damage you have caused in an at-fault accident. Some states require personal injury protection insurance which helps pay for medical costs for yourself or your passengers if you are hurt in a crash. Check with your state for the exact amount of financial responsibility you need to demonstrate to meet the requirements for registering your vehicle.
Many people feel it is worth having more financial protection than the bare minimum specified by your state regulations. Decide how much coverage you want and can afford when you buy your SUV.
What SUV Add-on Coverage Do I Need?
In addition to liability and personal injury protection, there are many other types of financial protection you can get for your SUV. If you live in an area that is prone to extreme weather, such as floods, hurricanes, and tornadoes, you may want to consider getting comprehensive insurance. This type of policy protects you from those types of things as well as from vandalism, theft and other types of risks generally considered to be outside of your control.
Collision insurance will help pay for repairing your car in the event it is damaged in an accident, regardless of whose fault it was. Collision insurance will also be more expensive at higher cost SUVs. Experts generally recommend taking out collision insurance if your vehicle is new. But cars depreciate rapidly. Older vehicles may not have a lot of residual, or book value remaining. You should calculate whether the cost of your deductible and annual collision premium would be more than the actual book value of your car.
SUV owners can consider getting uninsured/underinsured protection. This type of coverage kicks in if another driver causes you damages that exceed the maximum payouts of their policy. And, as the name implies, it covers you for damages caused by a driver without insurance.
Do Different Kinds of SUVs Have Different Insurance Considerations?
Luxury SUVs will cost more to insure than other types of SUVs. Having expensive add-ons like high-end rims, audio gear, plush fabrics, and the like can add to your annual insurance premiums. Small SUVs will generally be cheaper to insure than larger ones. Keep in mind what your state requires and what your pocket allows when it comes to insurance.
How Else Can You Save On Car Insurance?
If you have no accidents or serious moving violations like DUI or reckless driving on your record you will almost certainly pay less money for your SUV car insurance. Being a safe driver can save you hundreds of dollars. If you have good credit, you will be seen as a better risk and will consequentially pay less for your coverage. You can save money if you have more than one car to insure and bundle your coverage together.
Finally, the best way to get SUV insurance rates is to get free quotes from a variety of carriers. Quotes are non-binding so there's no reason to not shop around. Insurance rates vary from carrier to carrier and you will save money by making insurance companies compete for your business. Try our free online tool at General.com to get multiple quotes easily and quickly. We'll help you save money on your insurance.