Enter your ZIP Code
to get insurance quotes in your area
Car insurance rates for Minivan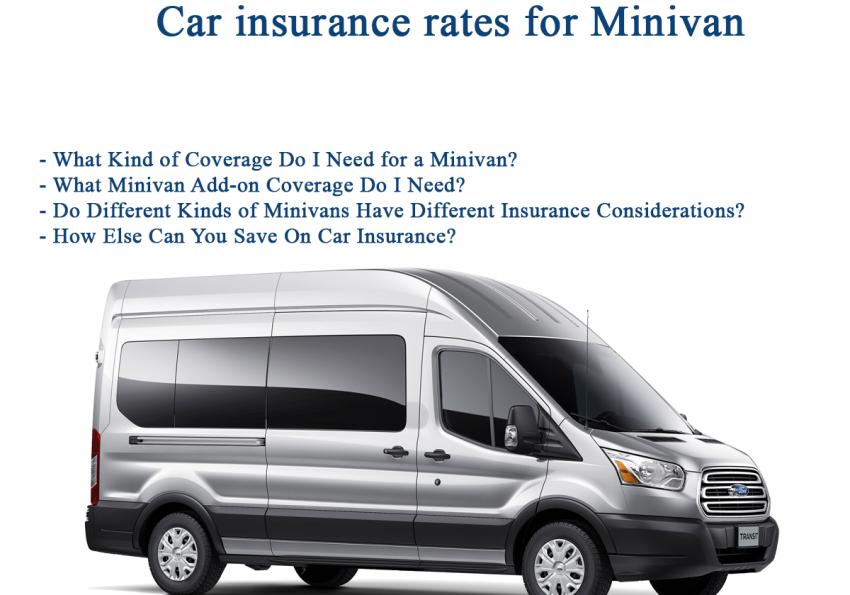 Cars are expensive acquisitions. The average cost of the family-friendly minivan is about $32,000 according to the Kelley Blue Book. Given the prevalence of car accidents on the American roadways and the potential for injury or worse in the event of a serious car crash, it is no wonder that virtually every state requires vehicle owners to carry insurance. In most states, you won't be able to even register your minivan without providing proof of insurance. Car insurance can seem pretty complicated at first glance, so here are the basics. Auto insurance is a contract whereby, in return for annual payments called premiums, a vehicle owner's damages from a car accident will be covered by the insurer. Policies are characterized by the types of damages they cover, the maximum amount the insurer will pay out in claims, and the amount of the deductible the vehicle owner must first payout of pocket before the insurance payments kick in. You will have choices about all three of these items and you will find that the broader your financial coverage, the more your annual premiums will be. So too, the lower the deductible level you choose, the higher your premiums will be.
There are over 6 million accidents on roads and highways every year in the United States. 34,000 people are killed annually in crashes and hundreds of thousands more are injured. The total direct cost to the economy is estimated at almost $300 billion annually. Insurance is a necessary protection for you, your family, and your minivan.
Cheapest Minivans to Insure
Minivans, in general, are cheaper to insure than most other types of cars – up to a couple of hundred dollars annually, on average. However, insurance prices usually move in tandem with the purchase price of a minivan. For example, a Toyota Siena will have both a higher sticker price and a higher average annual insurance premium than a Kia Sedona. When deciding on which additional accessories you want with your new minivan, keep in mind that premium trim lines can increase your insurance costs. Advanced electronics, fancy exteriors, and plush fabrics are nice luxuries, but they may cost more to replace in the event of an accident. Keep this in mind when buying your minivan. Your upfront purchase price may have an ongoing "tail" when it comes to insurance.
Average car insurance rates for minivans
Chrysler Pacifica - $1,744
Honda Odyssey - $1,634
Kia Sedona - $1,619
Toyota Sienna - $1,556
Dodge Grand Caravan - $1,634
Minivan insurance price average - $1,632
What Kind of Coverage Do I Need for a Minivan?
The basic building block of car insurance is liability insurance. If you are at fault for causing injury or damage in an accident, you will likely be held responsible for the resulting financial cost of that damage to the other party. Liability insurance covers those medical and property costs up to the stated maximum in your particular policy. The insurance industry as a whole is governed primarily at the state level and virtually every state requires vehicle owners to carry liability insurance. In addition, each state defines the minimum level of liability coverage it requires drivers to carry so be sure to check your local carriers for details. The cost of insuring the exact same make and model of a minivan will vary from state to state. Some states require additional types of insurance besides liability such as personal injury protection and uninsured/underinsured coverage. Personal injury protection, known as PIP, will help cover your own medical bills in the event of an accident. If you get in a serious accident with an uninsured driver or a driver carrying only a bare minimum of coverage the latter product will help cover your damages. Check carefully for all of the minimum requirements in your state.
What Minivan Add-on Coverage Do I Need?
There are two main types of add-on coverages you can consider getting for your minivan: collision insurance and comprehensive insurance. Collision insurance helps pay to repair your own minivan after a crash and your coverage will be governed by the details of the maximum payouts and deductibles contained in your individual policy. If you have a new minivan, taking out collision insurance makes a lot of sense. If your minivan is older and has a low book value (remember, cars depreciate rather quickly), you may want to calculate whether the premiums and deductibles are more than what your vehicle is worth.
Comprehensive insurance offers financial protection for a variety of risks that are generally thought of as out of your control. Things like storm-related damage, fire, and theft. If you live in an area prone to extreme weather or flooding, you may want to consider getting comprehensive insurance to protect your investment.
Do Different Kinds of Minivans Have Different Insurance Considerations?
When shopping for minivans you will have a broad array of choices and price points. Lower priced minivans like the Kia Sedona can be bought for under $30,000 while the top of the line models like the Toyota Sienna and the Honda Odyssey easily top the $40,000 mark. The more expensive your minivan the more likely it is that your insurance will cost more, too. Luxury trim lines are more expensive to replace or repair after an accident so insurance companies need to charge more for covering those damages.
How Else Can You Save On Car Insurance?
The number one best way to save on your car insurance is to be a safe driver. Minivan owners with no accidents or serious moving violations on their record will almost always be given the lowest insurance rates. If you have more than one vehicle, you can get discounts by bundling your coverage together. If you are a current or retired member of the armed forces, you should be aware that many companies may offer you discounts and some companies like USAA cater exclusively to that market segment. Lastly, keep in mind that insurance costs will vary widely between carriers for the exact same coverage. Therefore, it pays to shop around. Get free quotes from three or more companies and consider using our no cost, no-obligation quote tool at General.com. before you buy.