Enter your ZIP Code
to get insurance quotes in your area
What is Personal Property Insurance?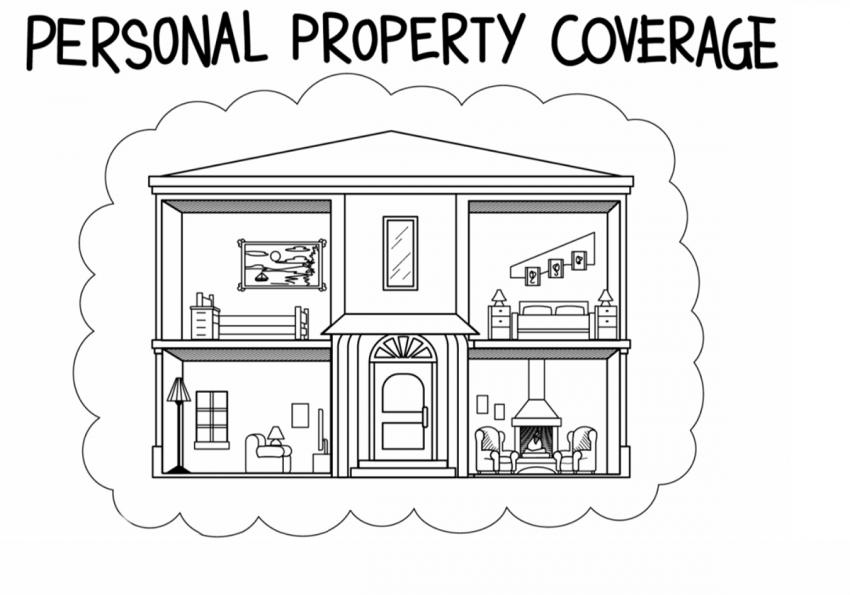 Over the years, people build up numerous assets that are worth money. These assets include things like furniture, televisions, other electronics, clothing, jewelry, and numerous other items. No matter if you are a person who rents or a person who owns a home, if these items are damaged, destroyed, lost, or stolen, replacing them can cost more money than a person can easily afford. Some of these items are essential for getting through day-to-day tasks like eating, sleeping, and getting ready for work.
Think about all of the items that you have in your home or apartment, and ponder which ones would be no fun to have to replace. Your dining room table? Your mattress? Your more expensive clothing? A homeowner's insurance policy can include personal property coverage that can help protect you financially.
What Is Personal Property Coverage?
You can stay financially protected if the contents of your home are damaged or stolen by purchasing a personal property coverage plan. There are multiple different types of plans, which are generally rolled into your standard home insurance plan. This type of plan is available for people who own homes, but also people who rent. Condo homeowners insurance, mobile home insurance, manufactured home insurance, standard home insurance, and renters insurance, all have elements of personal property coverage within them. In some cases, people will need to purchase additional insurance coverage. This is because not all expensive items are included in the standard insurance policy. If you have larger amounts of jewelry, artwork in your home, musical instruments, and other items, they might be on the exclusion list for your personal property coverage. Add-on coverage might be needed in these cases.
How A Personal Property Insurance Claim Works
If you need to make a claim on your personal property insurance, you will want to take pictures of the items that have been damaged by a covered peril. Covered perils include things like lightning, hail, wind damage, explosion damage, smoke damage, vandalism, theft, falling objects damage, and damage caused by vehicles, among other things. Read over your policy to determine what is covered and what is not before making your purchase.
This type of claim works like any other type of home insurance claim. You can file claims online or over the phone, and a claims adjuster will come and assess the damage. Once the validity of the claim is determined, they report back to the insurance company. If your application is approved, you will receive a payment. The insurance company determines how much it would cost to repair or replace the object. After you make the repairs or replace the object, the insurance company will reimburse you for the cost. Make sure to document all communications and keep receipts. If the items are more expensive than predicted, insurance companies may reimburse you for the extra costs.
What Does Personal Property Insurance Cover?
Personal property coverage can cover numerous items in your home. To protect the contents of your house, you will want to get adequate insurance coverage. A simple walk-through of your home can help you determine how much stuff you have. Some of your home items are more expensive than others, including rugs, artwork, sporting goods, computers, and appliances. All of these things are at risk of being destroyed or stolen. A homeowners insurance policy covers these things, as well as furniture, clothing, televisions, dishes, wine and spirits, toys, and more.
Numerous perils can be covered, including things like loss due to fire damage, loss due to flooding, and the theft of items from your home or other places. The amount of coverage you will need depends on the value of the contents of your home. Also, you'll want to check and see if there are any things that you need to get add-on policies for. Many personal property insurance policies do not cover the loss of jewelry or musical instruments, as examples. Read over your entire plan to get the information you need, and take a look at your house inventory to determine if everything you want to be covered is.
How Much Does Personal Property Insurance Cost?
The cost of personal property insurance depends on the number of assets that you have in your home that will be covered by the policy. Keep in mind, your homeowner's insurance policy generally includes insurance coverage for personal property in it. Look at not only everything that is included, but also the listed exclusions. The costs of this type of coverage are rolled into your homeowner's insurance rate. Additional add-on insurance will be an upcharge; however, something to keep in mind. Once you know the rebuild cost of your home, as well as the value of the contents inside, you will be ready to get free quotes for homeowners insurance on this website. Finding the best prices for homeowners insurance can help you save money. Be sure to get the amount of insurance you need to cover all of the items in your home, as well as the replacement cost of your dwelling.
In some cases, people who are renting have less space to put contents. Because of this, there is a greater likelihood that the value of all of these assets is lower and the costs of personal property insurance are lower on average.
Saving On Personal Property Insurance Costs
When it comes to insurance of any type, multiple factors and variables are taken into consideration to determine a person's premiums. These include the amount of coverage needed, the quality of the coverage, and the location you are at. In many cases, these things are not easy to change. There are, however, things that you can change to help you save money on insurance costs. These include things like your deductible, your credit rating, and your history of filing claims.
Sometimes it makes sense to file a claim, and other times, it does not. Paying out-of-pocket for things like smaller item thefts can help you save money in the long run. You can also work to improve your credit rating, which will help you not only with your insurance rates, but other things as well. Also, some people choose to select a higher deductible to save money. Make sure, however, that your deductible is affordable if an emergency occurs.
As always, you want to shop around for the best rates for personal property insurance. Getting the top prices for personal property insurance is essential. Using the tools here, you can get free quotes for personal property insurance to help you save.