Enter your ZIP Code
to get insurance quotes in your area
How much cost Dodge Dart car insurance?
Dodge Dart General Information
The Dodge Dart is a compact car. It did have a good safety rating and a touch screen but it was a lack luster offering in a sea of compact cars. The insurance rates are at the low end because it scored rather well in both NHTSA and IIHS ratings. Five-stars rating and good marks on its crash tests couldn't make up for issues the vehicle had with reliability and routine maintenance with four recalls.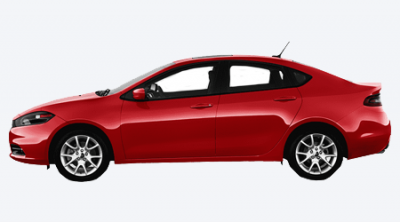 How much does it cost to insure my Dodge Dart
Average Insurance Costs by State
Alabama
$658
Alaska
$873
Arizona
$782
Arkansas
$679
California
$751
Colorado
$738
Connecticut
$988
Delaware
$1065
Florida
$1128
Georgia
$767
Hawaii
$735
Idaho
$536
Illinois
$733
Indiana
$637
Iowa
$561
Kansas
$633
Kentucky
$760
Louisiana
$1111
Maine
$582
Maryland
$966
Massachusetts
$977
Michigan
$1049
Minnesota
$717
Mississippi
$748
Missouri
$684
Montana
$654
Nebraska
$617
Nevada
$906
New Hampshire
$718
New Jersey
$1222
New Mexico
$695
New York
$1152
North Carolina
$611
North Dakota
$576
Ohio
$635
Oklahoma
$737
Oregon
$744
Pennsylvania
$828
Rhode Island
$1037
South Carolina
$772
South Dakota
$557
Tennessee
$675
Texas
$859
Utah
$712
Vermont
$642
Virginia
$691
Washington
$811
West Virginia
$846
Wisconsin
$601
Wyoming
$617
Compare all Dodge Dart insurance rates.
No junk mail. No phone number. No fees.
The Dodge Dart has a 160hp 2.0 liter four cylinder engine and offers a six speed manual transmission with the basic model. Its mileage was on par with other vehicles in its class at 24 mpg in the city and 33 mpg on the highway. There were some options for customization such as a 1.4 liter four cylinder or 2.4 liter four cylinder engine as well as five different trims. The stereo and the power windows are the only discernible features in the base model, making it a shabby model that doesn't even offer air conditioning.
Dodge Dart Safety Rating And Damage Threshold
The Dodge Dart does well in crash tests across the board earning a good rating overall from the IIHS and a five-star rating from NHTSA, but it doesn't come standard with any driver-assisted features although they are options. The damage threshold for the Dodge Dart is $13,567 which is 75% of the base price. The damage threshold will change with any options added and may actually be lower since the vehicle is no longer in production.