Enter your ZIP Code
to get insurance quotes in your area
How much cost Dodge Avenger car insurance?
Dodge Avenger General Information
The Dodge Avenger was, before it was taken out of production, a standard mid-size sedan. Apart from its engine it had few features worth caring about when put against other vehicles in its same class. It had reliability issues, few features, and poor gas mileage. The Avenger is a safe vehicle with a four-star rating from NHTSA and a Good rating from IIHS.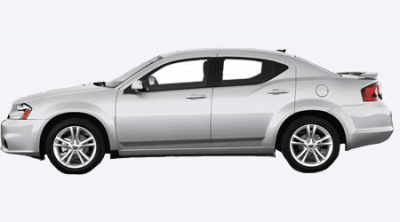 How much does it cost to insure my Dodge Avenger
| | |
| --- | --- |
| Model Year | Total Premium |
| 2014 Dodge Avenger | $1,402 |
| 2013 Dodge Avenger | $1,370 |
| 2012 Dodge Avenger | $1,320 |
| 2011 Dodge Avenger | $1,274 |
| 2010 Dodge Avenger | $1,248 |
Compare all Dodge Avenger insurance rates.
No junk mail. No phone number. No fees.
The Dodge Avenger is a mid-sized sedan that was discontinued in 2014. Its base engine is a 2.4 liter four cylinder with a four speed automatic transmission. It had the option of a 3.6 liter V-6 with a six speed automatic transmission but the original model gave it plenty of power. The vehicles mileage was a combined 22 mpg with 19 mpg in the city and 29 on the highway.
Dodge Avenger Safety Rating And Damage Threshold
The Dodge Avenger had few safety features but electronic stability control did come standard. Ratings from the NHTSA set the Avenger at four stars. The front passenger side had a rating of three stars which brought down the overall score. The IIHS gave the Avenger an overall rating of good. The lowest score was marginal with regard to the driver restraints during a crash. The damage threshold is $16,192 based on 75% of the price of the vehicle. This number may change based on the state, age, and price of the vehicle at the time of purchase.