Enter your ZIP Code
to get insurance quotes in your area
Car insurance rates for Sedan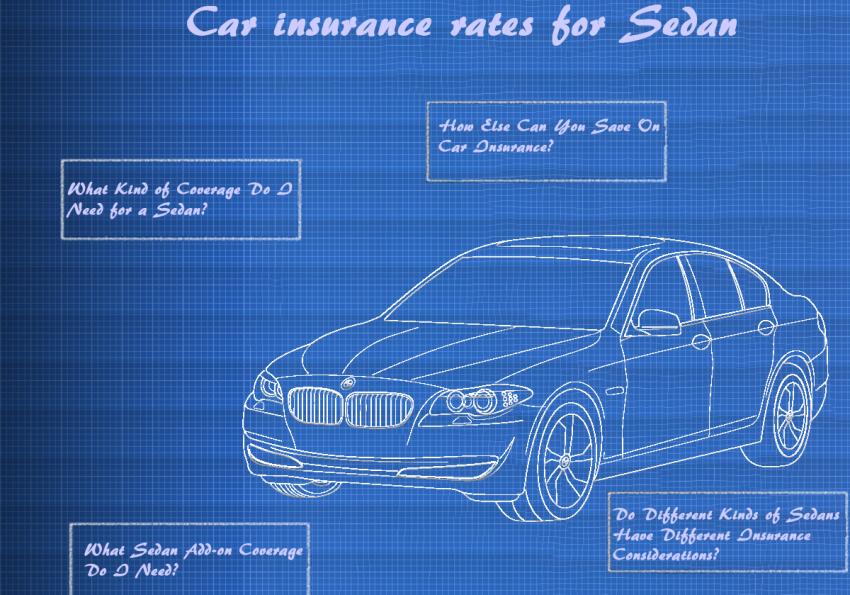 In case you were wondering, a sedan usually has four doors while a coupe has two doors. The sedan is the basic non-luxury vehicle in the world of automobiles. Sedans carry passengers more comfortably in the back seat and are a popular type of vehicle.
There are no shortages of vehicles on the American roadways. There are more than 280 million registered vehicles in the country and, by some estimates, Americans drive over 3 trillion miles per year in aggregate. With that much volume, it will come as no surprise to find out that there are more than six million accidents annually in recent years, causing well over 30 thousand fatalities and hundreds of thousands of injuries. The National Highway Traffic Safety Administration has estimated that the total direct costs of car crashes approaches $300 billion annually and have a net financial impact on our economy of hundreds of billions more when you factor in all of the indirect costs. So, while automobiles are a critical component of the modern lifestyle, there is a large element of financial risk to owning and operating a sedan. And that's where insurance comes in. Auto insurance helps pay for the resulting medical and property damages from car accidents. Without insurance protection, a single serious car crash could drain you financially. If you cause an accident, you can be held responsible for paying the bodily injury expenses and property damage to the other party.
Cheapest Sedans to Insure
Sedans come in all shapes and sizes and with different levels of accessories. The rule of thumb for insuring sedans is rather simple. It is very likely that the more your car costs, the higher your annual insurance bill will be. And that makes sense when you think about it. Although accident-related medical costs for injuries aren't determined by the type of vehicle you were in, the price of property damage is a function of the cost of the car. More expensive cars are more expensive to repair so they generally cost more to insure. Carmakers offer sedan buyers a lot of different trim lines, offering nice luxuries such as expensive audio equipment, leather interiors, and more advanced electronics. Higher priced items like these usually cost more to repair. So, when choosing your sedan keep in mind that your insurance premiums may be influenced by your choices of make and model.
Sedans will cost less to insure than other types of vehicles like trucks or hybrids, but prices vary greatly between insurance providers. Before making your choice of sedan consider researching the insurance costs before laying down your money. Insurance companies will give you free quotes, so it pays to shop around before you buy.
Average annual car insurance cost for sedans
Chevrolet Cruze - $1,605
Honda Accord - $1,624
Honda Odyssey - $1,631
Nissan Altima - $1,746
Honda Civic - $1,807
Toyota Camry - $1,689
Toyota Corolla - $1,728
What Kind of Coverage Do I Need for a Sedan?
Car insurance is heavily regulated at the state level so the details of required insurance will be determined by where you live. Every state requires vehicle owners to demonstrate financial responsibility in order to legally operate a vehicle. In most states that responsibility requires motorists to buy car insurance. There are many different types of coverage and liability is the main type of insurance and the one that most states require. Liability insurance will cover the damages you cause if you are at fault for initiating an accident. It pays for the resulting medical bills and property damage of the other party, and most states will not let you register your sedan unless you have proof of liability coverage. Some states also require vehicle owners to carry personal injury protection which helps pay for their own accident-related medical costs if you get hurt in a crash. Getting into a crash with an uninsured driver places an extraordinary risk on us all. The only way you could recoup your damages would be through the court system. So, some states require drivers to carry uninsured driver protection.
What Sedan Add-on Coverage Do I Need?
Almost every state will set a minimum level of insurance coverage that motorists must carry in order to legally drive. But those levels are relatively low compared to the potential costs involved in a serious accident. So, the first thing sedan owners may want to consider is increasing the maximum level of payout for liability damages in your policy. It may cost more in annual premiums, but it will give a bigger financial cushion. Keep in mind that liability coverage covers the other guy's costs in an accident. In order to get financial protection for your own potential medical and property damage costs, you should consider comprehensive insurance and collision insurance. Comprehensive insurance will reimburse you if your car suffers damage from extreme weather, if your car is stolen or if you hit an animal while driving. There are other "out of your control" factors covered in most comprehensive policies. If you live in an area that is susceptible to flooding or extreme storms like tornadoes and hurricanes you may want to consider getting this type of policy.
Collision insurance is the type of insurance policy that helps pay for repairing your own car if it is damaged in a crash. Most experts think it is a good idea to consider getting collision insurance on a new car, but it may not be worth it on an older vehicle. Do the math to see if it's a worthwhile investment for you.
Do Different Kinds of Sedans Have Different Insurance Considerations?
As we've mentioned, higher-priced sedans will generally cost more to insure. But different insurance companies can charge very different rates for the exact same make and model of the sedan. So it pays to be a smart shopper and compare quotes before you pull the trigger on your insurance. Cars depreciate in value rather quickly. The residual value of your car is defined as the amount you could expect to receive if you sold it. So, if you have an older sedan, consider its residual value when looking at comprehensive and collision coverage. Factor in the cost of the premiums and the amount of your deductible and compare it to the residual value of your car.
How Else Can You Save On Car Insurance?
If you have more than one vehicle, most car insurance companies will offer you a multi-vehicle discount. The best way to easily reduce your insurance costs is to be a safe driver. Finally, you should get free quotes from as many companies as possible. You will see for yourself how much prices can vary and you can spot the best bargain. Try using our free online quote tool at General.com and we'll help you find the lowest cost insurance carrier.