Enter your ZIP Code
to get insurance quotes in your area
Car insurance rates for Pickup Truck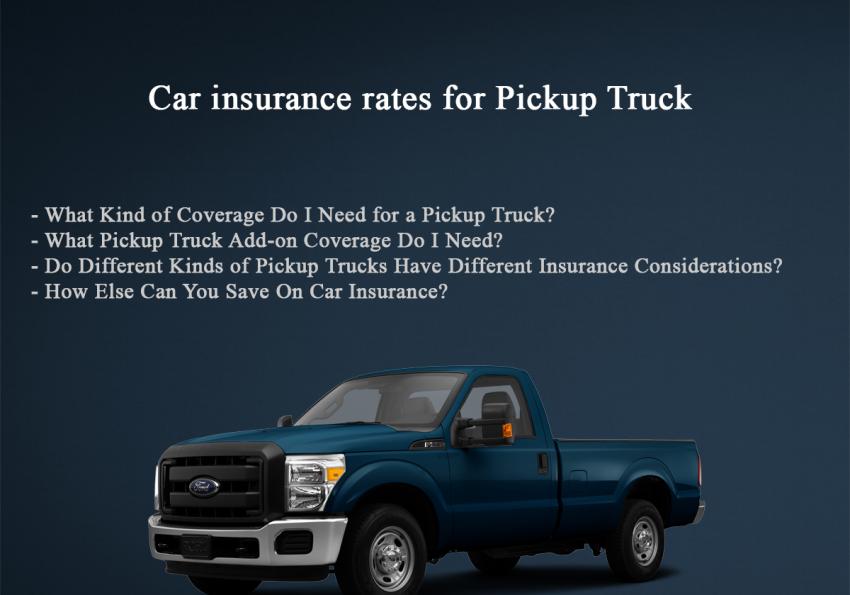 There are around 280 million vehicles in the country and the total miles driven is over 3 trillion per year, by some estimates. So it should come as no surprise to hear that there are more than 6 million vehicular accidents on American roadways. These accidents result in almost $280 billion of direct costs for medical bills and property damage and hundreds of billions more when you count the indirect costs of car crashes like lost wages, reduced productivity, etc. If you are involved in an accident you can be held liable for the resulting damages and those costs can be financially ruinous. That's why most states require all vehicles registered within their borders to be covered by insurance. Insurance helps pay for bodily injury and property damage from car crashes. Pickup trucks come at various price points but the average price is around $40,000 nationwide. That's a lot of money. Most financial advisors recommend that vehicle owner carry as much insurance as they can comfortably carry in their monthly budgets.
Cheapest Pickup Trucks to Insure
The good news is that pickup trucks are, generally speaking, less costly to insure than most other types of vehicles. One reason is that the rear half of the pickup, or bed, is mainly made of steel and is relatively easy to repair or replace in the event of an accident. Pickup trucks come in a wide range of styles. You can get a basic, stock pickup or you can upgrade to a really tricked out ride. The plainer your pickup truck is, the less you will probably pay in annual car insurance. So, keep this in mind: low cost equals lower expenses. Pickup trucks are especially popular in rural areas and those areas tend to have fewer accidents than more heavily congested urban areas. As a result, the cost of insuring pickups is lower in the country than it is in the city.
Chevrolet Colorado
Chevrolet Silverado
Ford F-150
GMC Canyon
GMC Sierra
Honda Ridgeline
Nissan Frontier
Nissan Titan
Toyota Tacoma
Toyota Tundra
What Kind of Coverage Do I Need for a Pickup Truck?
The basic type of auto insurance for a pickup truck is a liability policy. If you are the party responsible for causing an accident this type of coverage will pay the costs of resulting death, bodily injury, or property damage. Your liability coverage pays the other party or parties for their losses up to the maximum amount defined in your policy. Virtually every state requires vehicle owners to carry liability insurance to help defray the potentially enormous cost of a serious accident. Car insurance is primarily governed at the state level and each state sets its own minimum levels of expected liability insurance. Typically, your liability policy starts to pay the costs of property damage and bodily injury suffered by the other party or parties in an accident that was your fault. The number of your maximum payouts and the deductible you must pay before your coverage kicks in is variable and you will have a range of choices from your carrier when you obtain your insurance.
What Pickup Truck Add-on Coverage Do I Need?
I order to have your own potential losses from a crash covered you must purchase additional coverage over and above your liability insurance. There are a few types of add-on coverage you should consider. First is collision insurance. As its name implies, collision coverage will pay for the repairs of your own pickup truck if it is damaged in an accident. Like liability insurance, your collision policy will have a well defined maximum payout amount for your repairs. If the cost of repairing your vehicle is more than the book value of your car, your insurance company will likely deem it "totaled" and pay you the residual value of your pickup truck. There are other risks to a car besides having an accident. A product called comprehensive insurance will cover your pickup from damage from severe weather or floods, from theft and vandalism, and form a variety of other risks generally seen as out of your control. If you live in an area that is flood-prone, or subject to tornadoes or hurricanes, you may want to consider getting comprehensive insurance for your pickup truck. You can get personal injury protection which helps cover any potential medical bills in case you are hurt in a crash. Some states require personal injury protection (known as PIP) so do your research. Most of the time you will not be able to register your pickup truck without showing proof that you are carrying the state-mandated minimum coverages. Finally, there are other products like gap insurance, which can pay off your truck financing or leases in the event it is totaled; roadside assistance, which will come to your aid in the event your truck breaks down or you accidentally lock yourself out of it, and temporary car rental insurance, which can provide you with a rental car to tide you over while your truck is in the shop.
Do Different Kinds of Pickup Trucks Have Different Insurance Considerations?
The price of insurance for your pickup truck will generally track with the purchase price. The more expensive your truck is the more expensive your coverage will be. If your pickup truck is a plain, sturdy work vehicle with no fancy extras, you will pay lower prices than if you get a higher trim line. Advanced electronics are more expensive to repair and replace than plain steel, so your premiums may be higher if you get these kinds of upgrades.
How Else Can You Save On Car Insurance?
The price of insurance for your pickup truck will also be determined by your personal information. If you have an accident or serious moving violations on your driving record, insurance companies will see you as being higher risk and price your policy accordingly. So try to be a safe driver and you will realize cost savings on your insurance. If you have more than one vehicle you can save by bundling them together under your policy. Virtually every major insurer will give multi-vehicle discounts. Insurance premiums can vary pretty drastically so do yourself a favor and compare prices. Get at least three free quotes and you will see who provides you with the cheapest coverage. Try our inline tool at General.com for no cost, no-obligation quotes.